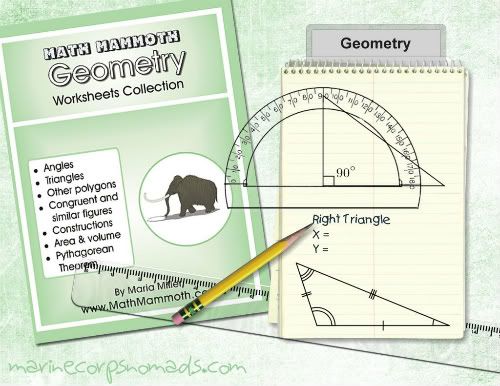 Math Mammoth offers both full curriculum math products as well as topic/grade based products and practical application products.  Last year, we had the wonderful opportunity to try out some of the practical application math products (Make It Real Learning).  This year, since Munchkin is working on geometry, we decided to try out the green series geometry worksheet set.
Part of the Math Mammoth "green" series, Math Mammoth Geometry Worksheets Collection contains geometry-related worksheets for grades 5-8. The worksheets have been pulled out from Math Mammoth Grade 5, 6, and 7 Worksheets Collections, plus two worksheets related to Pythagorean theorem come from the Math Mammoth Algebra 1 collection.

These problem sheets are written with teachers' needs in mind: each one is exactly one page, concentrating on one topic (with the exception of some "review" worksheets); therefore is easy to assign for students.
The timing on the arrival of this geometry worksheet set was perfect for us.  During Daddy's surgery and recovery, we wanted to continue with schoolwork, but we didn't want to tackle new subject matter.  Enter in the geometry worksheets from Math Mammoth.  Because these worksheet sets do not contain teaching material, they are perfect for review of topics that we've already covered this year.  Using the worksheets over the last few weeks has allowed me to see how much information Munchkin has retained from her current studies.  It's also helped cement the concepts in her mind.  She likes that the worksheets are straight forward, and she knows exactly she must complete for the day.
With the pdf download version, I'm able to print out just the worksheets that I want to use.  I then use the teacher's answer key (on my computer) to correct the worksheets.  Recently, the pdf download was updated to allow students to input their answers using a keyboard and drawing tools in adobe acrobat 9 or later.  I think it's great that Munchkin would be able to do her math directly on her tablet.  Obviously, I would still need to grade it, but this feature is a nice improvement for students who would rather use a computer/tablet instead of writing out the answers on paper.  Plus, it saves on printing costs.
Topics included in this geometry 83 worksheet set (plus answer key) include:
angles
triangles
quadrilaterals, other polygons, and circles
congruency and similarity
geometric constructions
area
volume
Pythagorean Theorem
The Math Mammoth Green Series Geometry worksheets are available for immediate download for only $9.00.  You can see a great number of product samples at the Math Mammoth website in addition to
free instruction videos
.
I received a free download of the Math Mammoth Green Series Geometry worksheets as a member of the TOS Homeschool Crew to help facilitate the writing of a frank and honest review. A positive review is not guaranteed; all opinions are my own.