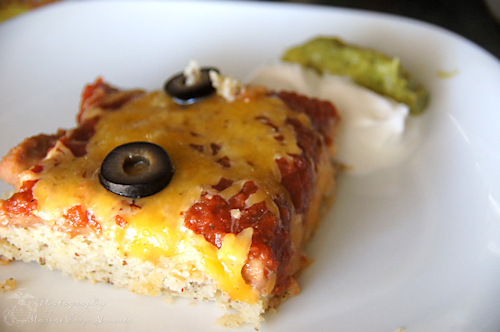 Munchkin's best friend is visiting us from NC, and I decided to be crazy and try something completely different for lunch. It smelled great cooking, and I think it turned out well. It's always a risk trying something new when you have company. lol! I think the girls liked it. Both D and I enjoyed it. D will be having it for lunch tomorrow as well since he needs something that he can take to work with him.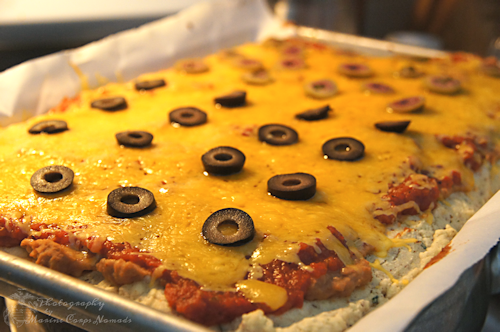 Gluten Free Mexican Pizza Bake Recipe
Ingredients:
3 Cups Pamela's Baking and Pancake Mix
1 Cup milk
3/4 Cup butter (melted)
1 Tbsp Mexican seasoning (mix of cilantro, garlic powder, cumin, parsley, and cayenne pepper)
1 can vegetarian refried beans
1 container of Roasted Tomato Wholly Salsa
2 Cups shredded cheese
8 large olives (sliced) – I used black olives & jalapeno stuffed green olives.
Sour cream
Guacamole
Directions:
Preheat oven to 375 degrees F. Line jelly roll pan with parchment paper.
Combine baking mix, seasoning, milk, and butter.
Pour into prepared pan and spread evenly.
Bake for 14 minutes.
Remove from oven and spread refried beans over biscuit base.
Spread salsa over the refried beans.
Evenly sprinkle cheese over the salsa.
Bake until cheese is melted and bubbly.
Remove from oven and top with sliced olives.
Serve with guacamole and sour cream (if desired).