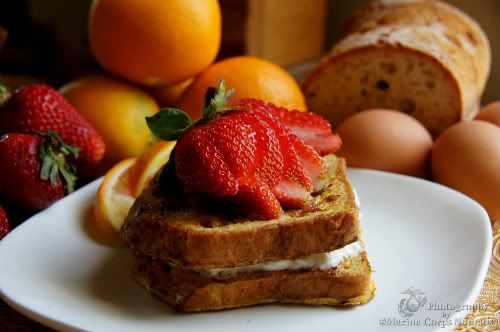 Project 365 – #155
Today, I decided to make something a little different for brunch.  I had some fresh fruit from the Bountiful Baskets that I had just picked up, so I decided to incorporate some of those items into the meal.  I had some Udi's multi-grain bread that had been left out a little too long (oops!) which meant that I needed to use that up.  I thought it would be fun to make some french toast as I haven't made that for some time.  I wanted to make it a little special, so I went for a stuffed french toast.  It was a huge hit – even with Munchkin who doesn't always care for things such as stuffed french toast.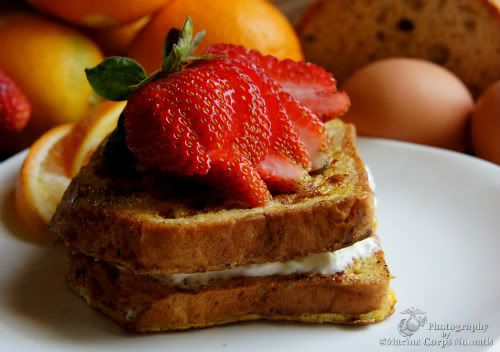 Gluten Free Stuffed French Toast with Strawberries Recipe
Ingredients:
8 slices Gluten Free Bread
4 Eggs
1/4 C Milk
1 tsp. Cinnamon
4 oz. Cream Cheese
2 Tbsp. Sour Cream
1/2 tsp. pure vanilla extract
Fresh orange juice from 1 orange wedge
1 Tbsp. Honey (more if you want a sweeter filling)
Diced strawberries (2 or 3 depending on size)
Strawberries and orange slices for garnish
Directions:
Beat together eggs, milk, and cinnamon.
Soak toast (both sides) in egg mixture.
Place on hot skillet and cook until egg is cooked (turn down heat if they get dark too fast)
While cooking the french toast, start to prepare the cream cheese filling.  Cream together sour cream, cream cheese, and honey.  Squeeze in the fresh orange juice, add pure vanilla extract, and fold in the diced strawberries.
Once the french toast is finished, spoon some of the filling onto one of the pieces of french toast.  Top with a second pieces of french toast.
Serve with your favorite syrup or french toast topping.  Garnish with strawberries and orange wedges, if desired.
This post is featured in The Christian Home – Issue 18.