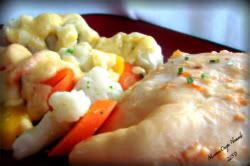 Grapefruit & Prickly Pear Roast Chicken
Ingredients:
3 large boneless, skinless chicken breasts
1/2 tsp minced garlic
2 Tbsp Prickly Pear sauce
1 large grapefruit, juiced
Directions:
Combine grapefruit juice, prickly pear sauce, and minced garlic.
Place chicken breasts in a baking dish.  Pour sauce over chicken breasts.
Cover with plastic wrap and refrigerate for a few hours.
Place baking dish in oven and turn oven to 400 degrees F.  Bake for approximately 40-45 minutes or until internal temperature reaches 165 degrees F.
This post is part of Gluten Free Wednesdays