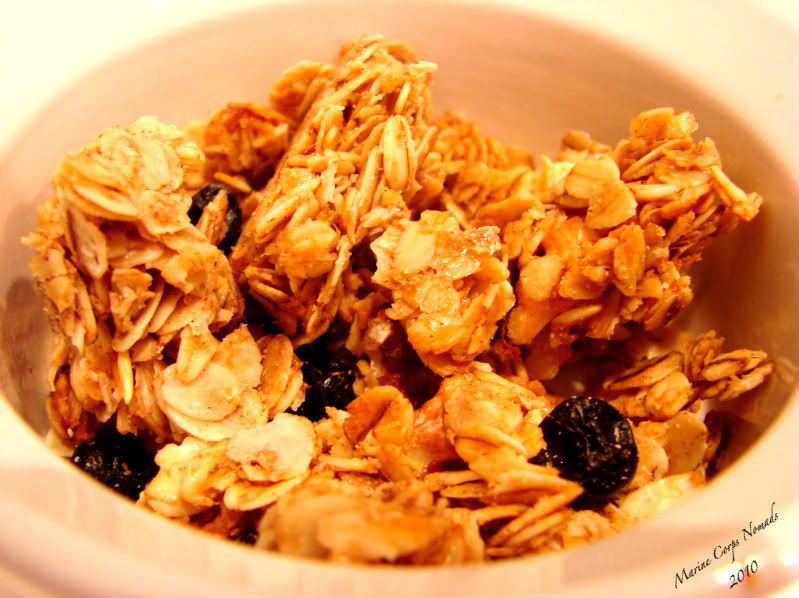 This recipe is based on Crystal's Lazy Granola.  It is easy and delicious.
Gluten Free Lazy Granola
Ingredients:
1 C brown sugar
1 C coconut oil
1 C honey
2 Tbsp cinnamon (we like cinnamon, so you may want to reduce this)
3 tsp vanilla extract
1 tsp almond extract
13 C gluten free oats
2-3 C dried fruit (optional)
1-2 C nuts (optional)
Directions:
Mix brown sugar, oil, and honey in a small saucepan being to a low boil.  Once boiling, remove from heat.
Stir in cinnamon, vanilla extract, and almond extract.
Pour sugar mixture over gluten free oats in a large bowl. Mix until oats are well coated. Stir in nuts, if desired.
Grease jelly roll pans (I used 2 9X13 pans).  Spread oat mixture in pans.
Bake at 375 degrees F for 10 minutes.  Take out and stir.  Return to pans to oven.  Turn off oven.  All granola to sit in oven for several hours.
Pull out and cool completely.  Break into pieces.  Add dried fruit, if desired.  Place in quart-sized bags.  Eat immediately or store in freezer to eat later.
Yield: 5 quart-sized ziploc bags
This post is part of Gluten Free Wednesdays.