ALEKS is an online math program that covers courses from elementary to college. You can watch this little overview video to give you a glimpse into how ALEKS works.
The homeschool parent is given control over their child's account through the master account. In the master account, parents are able to assign quizzes (automatically generated based upon course work or specialized by the parent), change courses, view progress and class attendance, and much more. In addition to the master account, parents receive weekly email updates on their child's progress.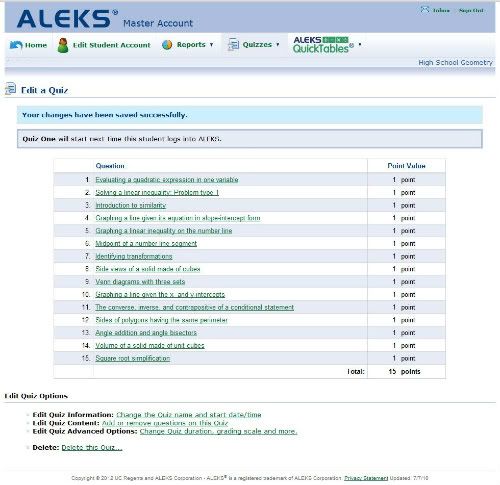 One of my favorite things about ALEKS is the immediate feedback and grading for Munchkin. In addition, the program is always adjusting to her needs. ALEKS really is a mastery program rather than just getting through the problems. It was easy for Munchkin to work independently. I was able to assign quizzes on certain days for her to test her knowledge. The quizzes are immediately graded, and I am sent the results. (I can also review everything through the master account.) With all of the craziness going on, I really appreciated the automatic grading because it meant that me getting behind on grading did not set her back or keep her from moving on with her work.
While Munchkin does like working with ALEKS for her Geometry, she does have a few complaints. There are technical glitches in the system which, at times, cause her to need to log out and log back in to be able to complete a problem. Sometimes the problems on the page won't completely load. She said this happens at least once a day. It was annoying, but not enough of an issue to be a deterrent at this point in time. If it started to happen more frequently, then it would be a problem. Her other main complaint was that she can't work with ALEKS on her tablet. She hopes that at some point ALEKS will make the program compatible with tablets.
I appreciate that ALEKS has embraced the homeschool community and created a resource section just for homeschoolers to help them maximize their use of ALEKS in the home setting. I also like that I can print out worksheets for use when we're away from the computer and internet access. The answer key is automatically generated and sent via email as well as placed in the master account.  Overall, we have had good success with ALEKS at our house.
ALEKS is currently offering a free 2 month trial for new users. A subscription to ALEKS is:
$19.95 per student, per month, or
$99.95 every 6 months, or
$179.95 every 12 months.
I received a free trial as a member of the TOS Homeschool Crew to help facilitate the writing of a frank and honest review. A positive review is not guaranteed, and all opinions/experiences are my own.