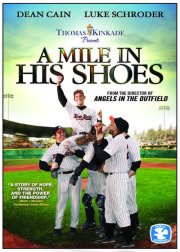 Arthur "Murph" Murphy (played by Dean Cain) and his minor league baseball team, the River Rats, need a miracle to get them out of their current losing streak and horrible season. On his way to try to sign a promising player, he unexpectedly finds himself stuck on the side of the road. This little bit of misfortune allows him to stumble upon Mickey, a young farm boy with an incredible pitching arm. Because he has Asperger's syndrome, a form of autism, Mickey's parents are hesitant to allow Mickey to try out for the baseball team. Eventually, Mickey's parents agree to let him try out when Murph convinces them that the team will benefit their son. In time, Murph will come to realize that Mickey will be a blessing not only to the team but also to himself.
We sat down to watch this PG movie as part of our Family Movie Night. We even had some yummy kettle corn as we watched. A Mile in His Shoes is based on a true story which we usually enjoy. The story itself was inspirational to watch. Mickey was able to overcome some of his difficulties through baseball, and he inspired so many people in the process. While the acting was good, it was really the story of an amazing young man that really drew us into the movie.
It was a clean, family friendly movie.
About A Mile in His Shoes:
From the director of "Angels In the Outfield" comes an inspiring story about a special boy with an amazing gift, and the coach who believed. Dean Cain and Luke Schroder star in the gmc movie based on the book "The Legend of Mickey Tussler".
Length of movie: 89 minutes
Special Features: The Making of A Mile in His Shoes ~ Trailer ~ Thomas Kincade Painting Gallery
**Giveaway**
One of my readers will receive their own copy of A Mile in His Shoes. Giveaway is open to everyone and ends 1/25.
I received a copy of this movie to help facilitate the writing of a frank and honest review. All opinions are my own.