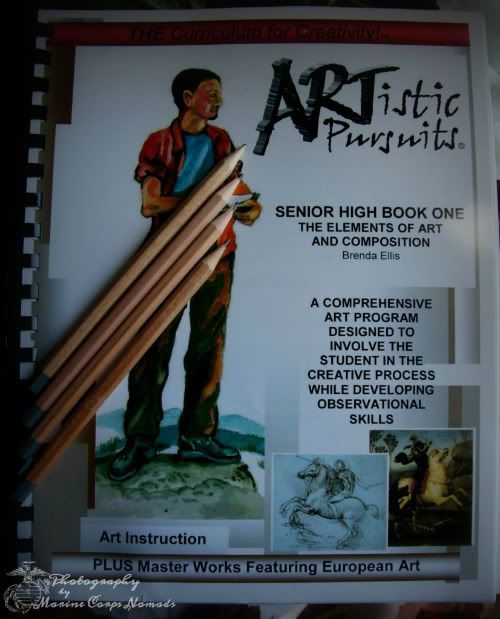 Artistic Pursuits Senior High Book 1 ($42.95) is designed to be a one year course worth one high school credit.  It uses three grades of drawing pencils, vine charcoal and compressed charcoal.
The contents of the course include:
Space
Line
Texture
Shape
Form
Value
Contrast and Unity
Balance
Rhythm
Depth by Overlapping
Depth by Position and Size
One and Two Point Perspective
Atmospheric Perspective
Proportion, the Face
Proportion, the Figure
Clothing the Figure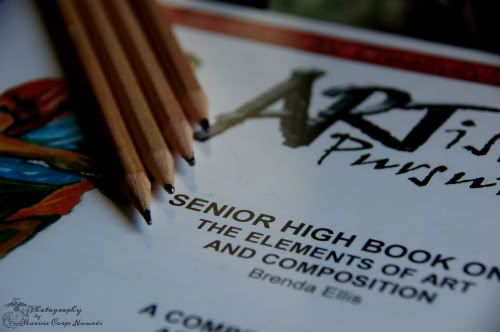 While Munchkin adores drawing and art, we don't always get around to it in school because it usually takes too much preparation time for me.  Artistic Pursuits is different.  It's set up so the student can independently work through the lessons.  The supplies needed for the high school level book 1 are very minimal, so it's not cost prohibitive.  Munchkin was able to just pick up the book and start the program.  In fact, she started it during all of the craziness with Daddy's surgery and had no issues working on her own.
Each unit is broken down into 4 lessons:
Building a visual vocabulary – students learn about the topic through words and pictures. They apply the concepts learned to real life situations.
Art Appreciation and Art History – students learn about the topic through learning about and studying the masters. They apply their observations to their own work of art.
Techniques – students learn how to use materials and tools to create their own work of art.
Application – students do a final project incorporating what they have learned.
The curriculum is set up to have 2 full hour classes per week which will give you 32 weeks of lessons.  Right now, Munchkin is working on her art some each day as she is really enjoying it.  She does need to pay more attention to some of the tips that are being given, but that has nothing to do with the curriculum.  It's just something that she needs to work on for herself.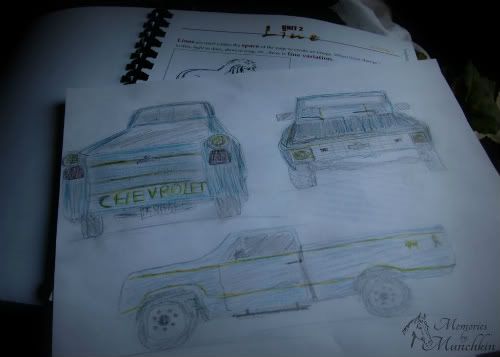 In Unit 2, Munchkin was given the task of finding something that interested her and drawing it.  Because she's gung ho about her truck, she chose to draw her truck from several different angles.  She then took it a step further than what was assigned and added color.  One of the things that I really appreciated in this particular unit was how it was pointed out (verbally and visually) how it takes an artist several tries to get their masterpiece right.  Because Munchkin struggles with wanting art to be perfect, this was a wonderful thing for her to read and see.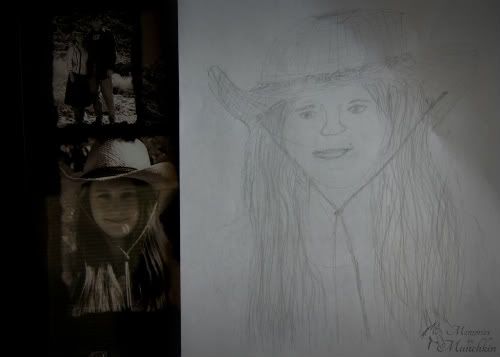 Unit 2 concludes with the student drawing a self-portrait. Knowing how much Munchkin dislikes drawing people, let alone trying to draw herself, I wasn't sure how she would handle it.  Thankfully, the instruction really helped her work her way through the project.  She's still not happy with the result, but she made the effort which makes me happy.  She looks forward to learning more as she makes her way through the curriculum and plans on updating her portrait as she learns new skills.
I think this is a great curriculum that is easy to use for both parent and child. It gives the student the necessary foundation to begin understanding art and various artistic concepts/techniques while allowing the student to explore what they are learning in their real life environment.  It teaches the students that they don't have to be perfect, and that it's okay – even encouraged – to make multiples changes to a piece of art.  For us, this curriculum was a great fit, and we highly recommend it.
I received a copy of Artistic Pursuits as a part of the TOS Homeschool Crew to help facilitate the writing of a frank and honest review. A positive review is not guaranteed. All opinions are my own.