Since CHRISTmas is right around the corner, we decided to watch the Polar Express as part of our family movie night.  I kept reading about how others had made a fun routine out of it by everyone wearing pjs, drinking hot chocolate, and eating cookies.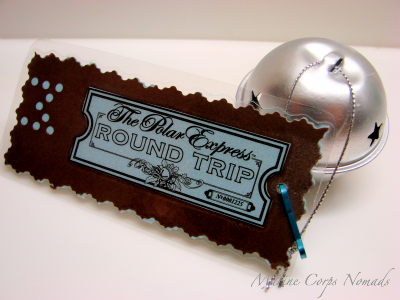 I decided to make ours a little more special by creating tickets based upon the polar express party pack that I found online.  I printed out the tickets on some light blue paper.  I cut out the tickets and glued them to brown cardstock.  I then took a small hole punch and punched out a letter on the tickets for each of us.  I then attached some blue paper behind the brown cardstock.  Using some scrapbook scissors, I cut out the tickets.  To make them more durable, I laminated the tickets.  I punched a hole in the top of the ticket and attached the tickets to a large silver bell.  These will be our ornaments for this year.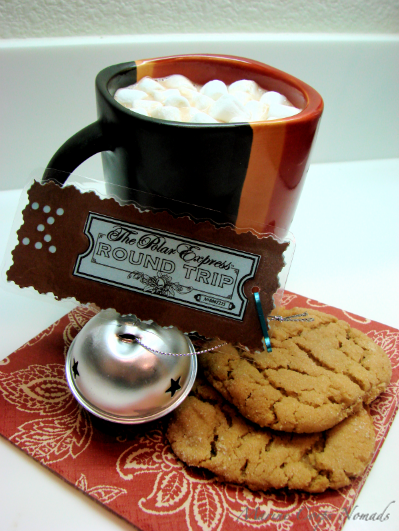 When it was time for us to watch the movie, we all got our pjs on and put our new ornaments on the tree.  The lights were off except for the CHRISTmas tree.  Once everyone was seated, I served hot chocolate and cinnamon peanut butter cookies.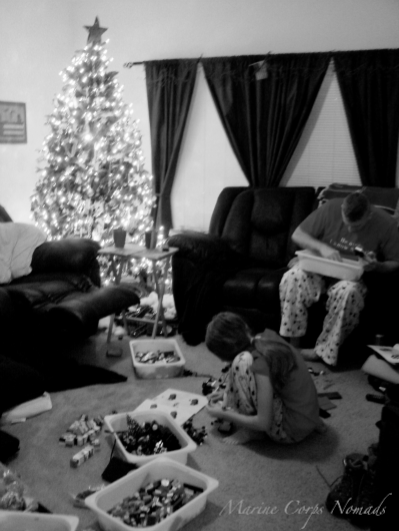 After we finished up the snack, Munchkin and D started to assemble our CHRISTmas train.  I helped out by looking for all of the various pieces.  If you have lots of Legos, you know how all of the pieces tend to get mixed up.  Well, maybe they don't at your house, but they do at ours.
It was a really fun evening, and it may even become a new CHRISTmas tradition.
This post is linked to Holiday Bliss