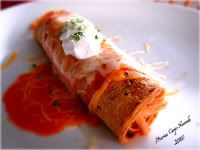 Gluten Free Enchiladas
This enchilada recipe is easy since it all begins in the crockpot.  I usually start out with frozen chicken breasts.
Ingredients:
3 boneless, skinless chicken breasts
2 cans of enchilada sauce
gluten free wraps (corn tortillas, sandwich petals, brown rice tortillas)
shredded cheese
sour cream
Directions:
Place frozen chicken breasts in crockpot and cover with 1 can of enchilada sauce.
Cook on high for 4 hours.
Shred chicken breasts and put crockpot on low for 1-2 hours.
Warm gluten free wraps and place 1/4 – 1/2 C of shredded chicken in wrap.
Roll up wrap with seam on the bottom and place in shallow baking dish.
Top with enchilada sauce and shredded cheese.
Bake at 350 degrees F until cheese is bubbly.
Serve with sour cream (if desired).
This post is part of Gluten Free Wednesday