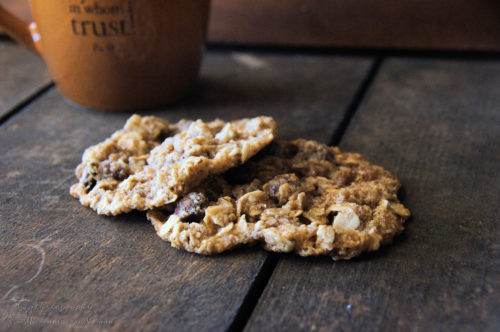 I'll be the first to admit that cookies are a real weakness for me. The store bought cookies aren't as tempting, but cookies fresh from the oven… Those cookies can't be beat. Lately, I've been craving some of my gluten free oatmeal raisin cookies, but it's been so busy around here that I'm just now getting around to baking them.
I had originally planned on baking a batch of the cookies for my family and another batch or two for the Marines as a Christmas gift, but I that didn't happen. Instead, at the last minute, I made 3 pans of gluten free lasagna as well as 2 gluten free apple crisps and put together 2 large salads. I wanted to make sure that the Marines that my husband worked with that weren't going home for Christmas or who were working that day had a homemade meal.
It's times like that where I wish I had one of those double ovens as I could bake a lot more all at once. Since I had limited oven space and a limited amount of time, I decided that I would skip making the gluten free oatmeal raisin cookies for the time being. I would tackle making cookies at a later date when I didn't have so much going on in the kitchen.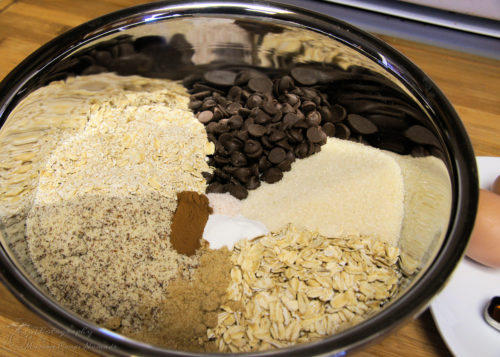 After Christmas passed, it was finally time to pull out all of the ingredients to make the gluten free oatmeal raisin cookies. I quickly realized that I didn't have any raisins or dried fruit. Of course, I had already put all of the dry ingredients in the bowl, so I decided that I would use chocolate chips instead of dried fruit/raisins. Sometimes you just have to think on the fly when you're baking and don't want to run out to the store to get missing ingredients.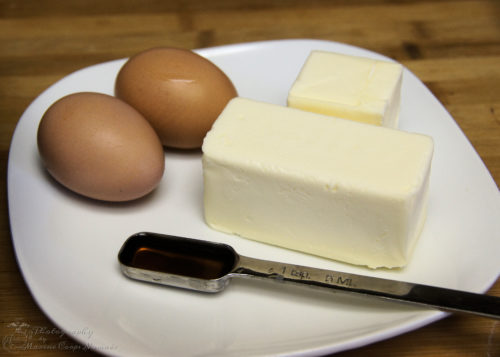 I headed out and grabbed a couple of fresh eggs from the chickens. Being able to go to your backyard to get fresh eggs never gets old. Some day, I hope to be able to make my own butter as well, but that's not happening right now. I pulled out the butter from the fridge earlier to allow it to come to room temperature. The vanilla is some of my homemade vanilla extract.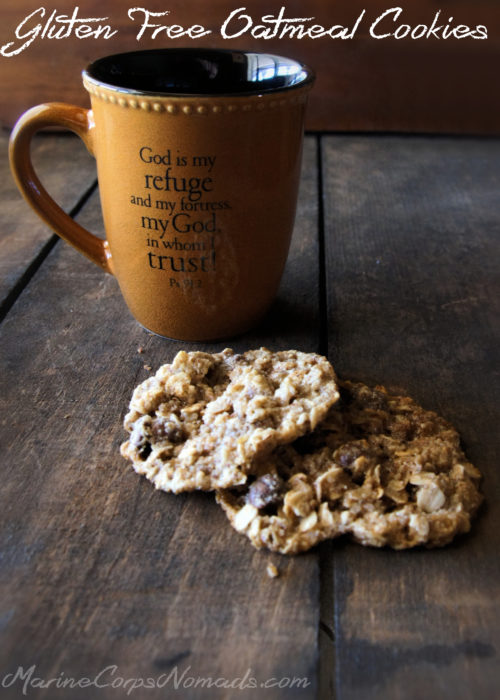 It wasn't long before the smell of fresh baked cookies filled the air. The heat from the oven added a warmth to the cool living room. I pulled them out of the oven. The cookies always look a little wet when they're first removed from the oven. They continue to cook as they cool slightly on the cookie sheets. It's hard to wait, but it's important to allow time for the final stage of cooking to take place. Carefully, I move them off the warm cookie sheet onto the cooling rack to finish cooling off prior to eating the cookies or storing them in an airtight container.
Of course, the cookies never make it directly into containers. I normally have little helpers in the kitchen to taste test, but since I'm here baking alone today, I had to do a little taste-testing on my own.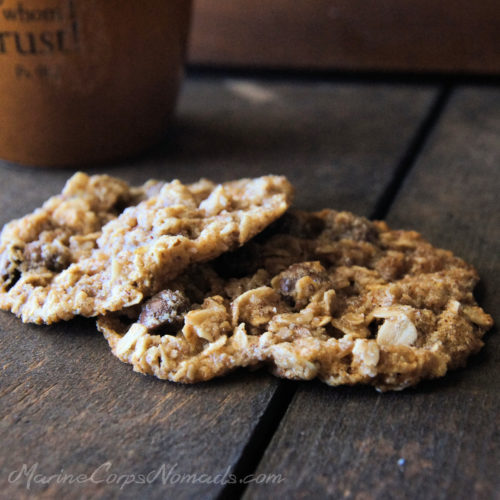 The gluten free oatmeal cookies are a little sweeter than normal with the chocolate chips, but they're still good. If I had a choice, I'd still go with the classic gluten free oatmeal raisin cookie over oatmeal chocolate chip cookies. Either way, they make a nice snack on a crisp winter day.
While I'm not feeling like ice cream sandwiches today due to the cold weather, these gluten free oatmeal raisin cookies are perfect for making homemade ice cream sandwiches. I place the cookies in the freezer to firm up and allow the ice cream to soften on the counter before assembling the sandwiches. Once assembled, I individually wrap them in plastic wrap and place in the freezer until the ice cream is once again firm. Delicious!
Gluten Free Oatmeal Raisin Cookies
Ingredients
3/4 C butter, softened
3/4 C white sugar
3/4 C packed light brown sugar
2 eggs
1 tsp vanilla extract
1 1/4 gluten free flour
1 tsp baking soda
3/4 tsp cinnamon
1/2 tsp salt
2 3/4 C gluten free rolled oats
1 C raisins or other dried fruit
Instructions
Preheat oven to 350 degrees F.
In large bowl, cream together butter, white sugar, and brown sugar until smooth
Beat in eggs and vanilla until fluffy
In different bowl, stir together flour, baking soda, cinnamon, and salt
Gradually beat in dry ingredients into butter mixture
Stir in oats and raisins
Drop by teaspoonfuls onto ungreased cookie sheet
Bake 8-10 minutes until golden brown
Cool slightly; place on wire cooling rack
Cool completely and store in airtight container
http://marinecorpsnomads.com/2016/12/gluten-free-oatmeal-raisin-cookies.html