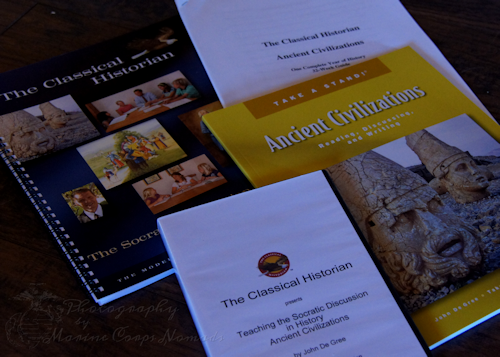 The Classical Historian history curriculum moves past the basic who, what, why, when, and how questions of history. It doesn't focus on just learning facts and dates for historical events, places, and people. Instead, it focuses on analytical, critical thinking skills – a Socratic Discussion of history.
About The Classical Historian – Socratic Discussion in History Curriculum:
The curriculum has several different components including dvd teaching (for both the teacher and the students), history texts, Take a Stand! Reading, discussion, and writing book, a 32-week lesson guide with answer key for Take a Stand!, and The Socratic Discussion in History book. The history curriculum is available for 2 different age groups grades 6-8 and 9-12. The available curriculum for junior high includes Ancient History, Medievil History, and American History. Senior High curriculum choices include Modern World History, Modern American History, and Gov't and Economics.
Our Experience:
We received the Ancient Civilization dvds, The Socratic Discussion in History book, Take a Stand! Ancient Civilizations guide, and 32-week lesson guide. While it is stated that you can use these books with your own core history books, it would be quite difficult (in my opinion) as everything is geared towards using the recommended texts/resources which we did not have on hand. Because of this, we were unable to fully utilize the curriculum. Here are some observations based upon our limited use:
The dvd teaching makes this curriculum easier to use. To use the curriculum as intended, there is some teacher preparation required roughly a week in advance which is noted in the lesson plans. Unlike some curriculums out there, this does require teacher involvement throughout the entire process, so it's not really set up for independent learning. The lesson plans and activities are set up for a group/larger family environment, so many things just didn't work in our "only child" home setting.
The curriculum and lesson plans are easy to follow. I always appreciate the inclusion of an answer key. Obviously, the teacher does need to grade essays, oral presentations, and other activities. I would have liked to have a grading rubric for these things, but it's not a crucial element for the program. The Take a Stand! Book has some wonderful pre-writing activities to help the student create better written pieces.
This curriculum is based on the classical model of learning, therefore it is broken down into the 3 classical style phases of grammar, logic, and rhetoric. The games, while a good teaching tool for all ages, are geared towards the grammar stage of learning where students are focusing on memorizing facts such as dates, events, and biographies. The curriculum itself is geared towards the logic and rhetoric phases of learning. In the logic phase, students learn how to analyze history as well as learn the basics of writing and speaking. In the rhetoric phases, students work on solidifying the skills of oral and written expression.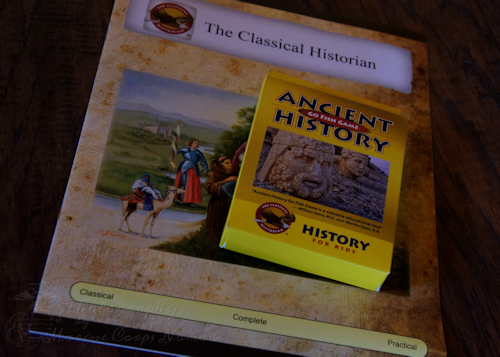 Educational Games:
Because the games are a good learning tool for all ages, we were also given the opportunity to try out the Ancient History Go Fish Game. The Go Fish Card Game can be used for 4 different games including:
Go Fish – Players try to capture 4 cards in the same category.
Collect the Cards – Players give each other hints about the card in their hand. Other players try to guess what is on the card and in turn, win the card.
Chronology – Players try to quickly assemble the cards within specific sets in the correct order. (This is a timed game.)
Continents – Players try to quickly place the cards under the correct continent cards. (This is a timed game.)
While these Go Fish card games can be played with just 2 people, we quickly found that it would have been a lot more fun with additional players. That being said, Munchkin loves these types of educational games and eats up the facts in them. She also enjoys just looking over the deck of cards to learn more fun facts. She likes to use them to stump her Daddy and other people with trivia questions.
Currently, The Classical Historian offers 3 different Go Fish history games for ages 6 and up. You can purchase the games individually for $11.95 or as a set for $29.95. In addition, they offer 3 different Memory games for ages 7 and up. They are available individually for $14.95 or $39.95 for the set. They also have a mega set that includes all 6 games for $59.99.
Final Impressions:
The Go Fish games really are a fun, education tool for a variety of ages. In our opinion, they are best used in a group setting rather than with just two people. They can be used as trivia cards and not just playing cards.
The Socratic Discussion in History looks like a wonderful history curriculum if you are looking to move beyond just facts and want your students to become critical thinkers rather than a passive observers of history. By the time you and your student(s) complete this course, you should have learned historical analysis, history content, Socratic discussion, and analytical writing. In my opinion, it's best to purchase the recommended additional texts rather than trying to use your own core history text. If you are plan on using this with an only child, you will probably need to tweak things a bit to make it work in your home.