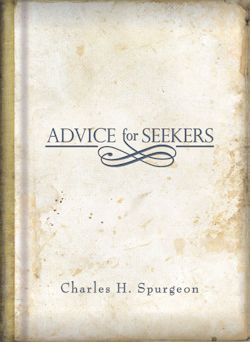 Advice for Seekers Book Description:
Many people get lost in their faith walk by using the map of their own understanding rather than the guidance of God. Spurgeon, one of Christianity's most enduring influences, helps set the seeker on the path of peace. In his classic work, Advice for Seekers, Spurgeon offers Scriptural truths to help remove the obstacles so the simplicity of the Gospel of Jesus Christ can be grasped.
From his own experiences and his years of ministry, C.H. Spurgeon shares a gentle spirit of grace through his words to comfort and encourage those desiring to know the Lord.
About the Author:
A prolific author and pastor, Charles Haddon Spurgeon (1834-1892) remains a respected and influential source of inspiration and study. His classic collection of devotions for morning and evening remain a beloved treasure of wisdom and teaching for Christians
Book Details:
Hardcover: 142 pages

Publisher:

Attic Books

(January 15, 2013)

Language: English
ISBN-10: 0890517037
ISBN-13: 978-0890517031
Retail Price: $14.99
My Thoughts:
Before I dig into the content of Advice for Seekers, I need to point out the physical appearance of this book. Attic Books has done it again – produced a new, reprinted version of the book that looks like a classic book. The hardcover has the look of an old book even though it's new. The pages have that ragged torn look even though they are heavy and well made. The print is easy to read, but it still has the old book feel to it. Because this book was recreated from the original 1896 Words of Advice for Seekers by Charles H. Spurgeon, it maitains the original spelling and style.
Fair warning…. Spurgeon does not mince words in this book. As pastor recently said, you might want to make sure you have your steel toe boots on when you start reading. While he's not harsh, he does tell it like it is. For me, this is encouraging. I personally don't care for tip-toeing around subjects. I want someone to tell me like it is. I want them to make me think, make me truly reflect on the Lord and His teachings which are contained within the Bible. Charles H. Spurgeon is not luke warm in his stand for the gospel of Christ.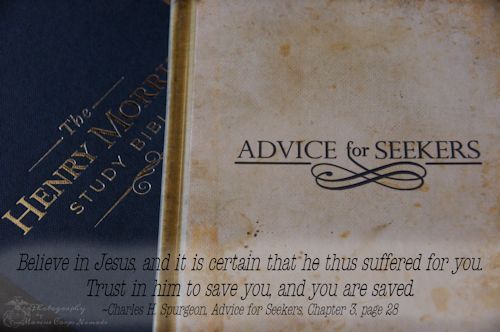 The topics covered in this book include:
Do not try to save yourself

Despised ones seeking Jesus
Seekers touching Christ
Still no light and why?
We wait for light
The invitation
Something to be set right
Hindrances to coming to the light
Seekers encouraged – the substitute
Seeking
How Luther sought and found
Saved through faith
May I believe?
A needless question answered
Advice for Seekers isn't the type of book that you quickly read through and then move on to something else. Instead, it's the type of book that you read through slowly – chapter by chapter, study the scriptures, and then meditate and pray about the words being read.
Read more about what others are saying about Advice for Seekers.