Special thanks to Paw Posse for providing the Ultra Paws Dog Boots for us to test out with Wiley.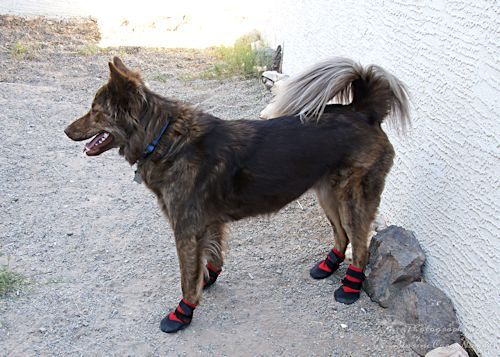 Around here, the summer temps soar which means the desert sand gets hot – really hot. Even the callused, rough paws of our two crazy pups have to be protected in the heat of the day on hikes. The problem is that many types of dog boots don't stay on well – at all. That's not the case with Ultra Paws Dog Boots.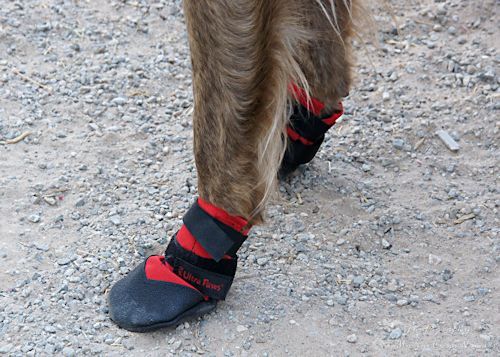 Ultra Paws Dog Boots have a unique 2 velcro-strip fastening system with foam comfort pads that allow the boots to be put on comfortably and securely which means no lost boots. When you're paying good money for dog boots, you'd hate to see one get lost when they're out playing and hiking. The entire boot flexes to allow the boot to conform to the paw of the puppy/dog. Of course, even with a comfortable boot, the boots take some getting use to for pretty much all dogs. It's the getting use to part that can be quite amusing for the owner.
Wiley was the pup being put to the test. He has no problem having his feet handled, so getting them on (if we're inside) was not too difficult. I did take it slowly and gave him lots of praise and attention throughout the process. At first, he didn't move as he wasn't sure what to think of the boots. He then went to work trying to get these crazy things off his paws, but they stayed put. From there, he went to prancing and jumping around as he tried to figure out these things on his paws. Wyatt started chasing him, so we took the action outside. (Please forgive the appearance of the backyard as we just put a huge bale of hay back there (thus the tarp) and Munchkin had her guinea pig cage liner out drying.)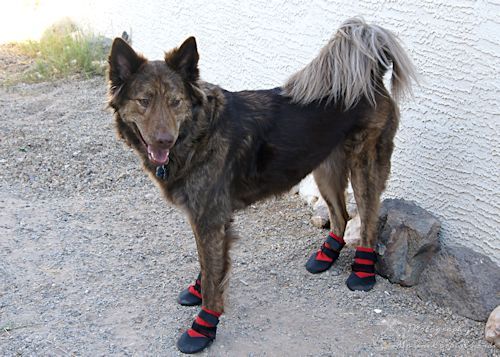 Ultra Paws Dog Boots come in different colors and sizes, and the boots sport a quality dog gear guarantee. The sizing chart at PawPosse.com worked well for us in determining what size we would need for Wiley. We received the Dog Boots That Stay On (Durable Ultra Paws) which work well inside as well is in grass, dirt, and sand. These boots are also water resistant, so they'll work nicely on rainy days or at the beach/lake. For a more hard core hiking model, you'll want to look at the Dog Hiking Boots (Rugged Ultra Paws).
Update… We have since purchased a pair of Ultra Paws Dog Boots for Wyatt. He's not as happy with having his feet handled so getting them on him definitely takes a little more effort. One thing we noticed is that it's critical to have their nails well trimmed for the boots to fit properly.
Our guys don't need to wear these all the time as their feet are conditioned for the environment, but they're good to keep on hand for those times when we're in nasty terrain. They also work well for foot injuries as it keeps them from chewing on their feet. We lightly bandage the foot and then place the boot on it.