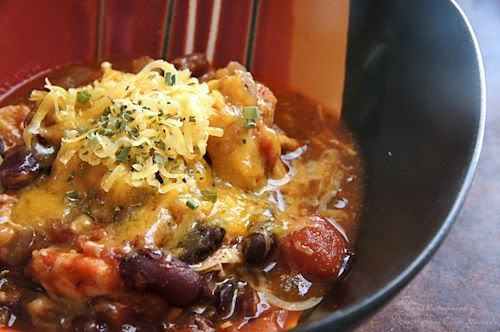 I love meals that require just a little prep time and don't require a lot of work on my part – especially when we're busy or I'm not feeling well. Yesterday, I did another one of my "dump" crockpot recipes, and it was a huge hit around here. You can just eat it in a bowl (as pictured above), or you can heat up some corn tortillas on a cast iron skillet and use this as a yummy filling – taco style.
Slow Cooker Mexican Chicken Recipe
Ingredients:
3 boneless, skinless chicken breasts
1 medium onion, rough chopped into small pieces
1 15 oz. can kidney beans
1 14.5 oz. can diced tomatoes
2 Tbsp taco seasoning
1/2 tsp garlic powder
Directions:
Dump all ingredients into the slow cooker and cook on low for about 4 hours. Times will vary depending on your crockpot as some run hotter than others. It's okay to leave it in longer as it just allows the flavors to come together more.
About 30 minutes prior to serving, shred all the chicken breasts. (You can do this in the crockpot or take them out if it's easier.) As the juices soak up into the shredded chicken, the mixture will thicken.
When it's time to serve, you can ladle it up into some bowls with the broth and top with some shredded cheese and a sprinkle of cilantro and chives.
Other options and notes:
Instead of serving in a bowl, you can serve this up taco style. You will need to drain some of the broth or you'll have some really messy tacos on your hands. I like to warm up my corn tortillas on a cast iron skillet – flipping once. I then add a little bit of cheese which melts quickly. Once the cheese is melted, I top with the Mexican chicken and sprinkle with a little more cheese. I then remove the tacos from the skillet and top with a little sour cream, cilantro, and chives.
If you want a more filling meal, you can add a cup (or so) of brown rice to the crockpot during the initial dump. You will need to periodically check to make sure there is enough liquid in the crockpot as the rice soaks up the majority of the liquid during cooking.
You can also make the rice separately and just serve the Mexican chicken over rice.
I used all organic ingredients for this meal.
For the 3 of us, we always end up with left-overs. For a large family, you will obviously need to increase the recipe or have a filler such as rice.
This recipe was featured in The Christian Home Magazine issue 67.