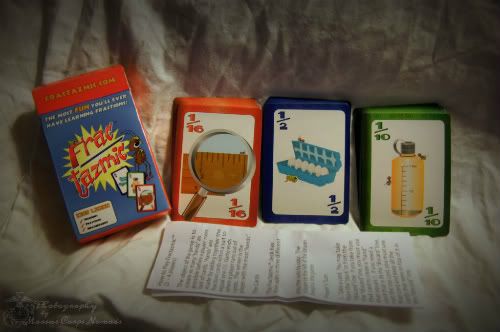 From the maker of the award winning game Pyramath™ comes a brand new game – Fractazmic™.  Fractazmic™ is a card game that helps children learn to use fractions while playing a game.  Each deck includes 60 brightly colored math cards.  While playing the game, players will learn to convert and add fractions. The game helps reinforce the relationship between fractions and measurements through the use of fractions in real life situations.
The Fractazmic™ deck has three suits in three different colors:
sixteenths (red): 1/16, 1/8, 3/16, 1/4, 5/16, 3/8, 7/16, and 1/2
twelfths (blue): 1/12, 1/6, 1/4, 1/3, 5/12, and 1/2
tenths (green): 1/10, 1/5, 3/10, 2/5, and 1/2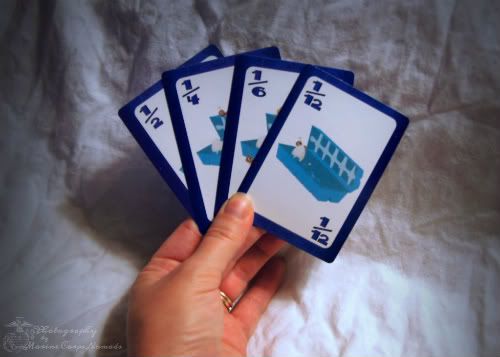 The cards in each colored suit can be combine in multiple ways to make a "hand" equaling 1. The object of the game is to create as many of these "hands" as possible before the player runs out of cards. The game ends when a player runs out of cards. The winner is the player with the most "hands".
While this is the traditional way to play, there are alternative game play ideas in the downloadable Math Success Booklet.  Fractazmic™ ($6.95/deck)  is for 2-4 players, but it can be played by just one child.  It's great for anyone who needs a little extra practice with their fractions which means that mom and dad are going to be brushing up on their fractions if they want to be competitive in the game. **wink**
You can even play the online version of Fractazmic™ for free for a chance to win a deck of Fractazmic™ cards.
So we sat down to play and quickly figured out that converting fractions on the fly is not easy.  I started to think that a cheat sheet would be a great idea.  **grin**  Thankfully, the visual cues on the cards helped when you get stuck with conversions. I can see why this game will be wonderful to really cement fraction concepts and use with repeated play.  With more regular play, we all would get faster with the conversions and working with fractions.  Munchkin does not like fractions, but she was actually asking to play this game.  Her competitive nature and love of games beat out her dislike of fractions.  I can definitely see her working on this in her spare time just so she can beat mommy and daddy.
As a mom and her teacher, I love it when learning can be fun.
I received a deck of Fractazmic™ cards as a member of the TOS Homeschool Crew to help facilitate the writing of a frank and honest review. A positive review is not guaranteed, and all opinions are my own based upon our experiences with the product.