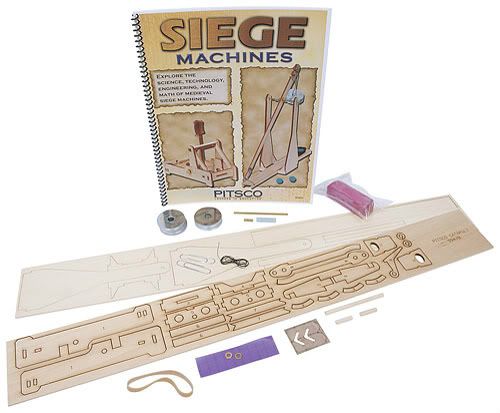 Travel back in time… back to a time where catapults and trebuchets were known as normal weapons of choice for various adversaries.
Pitsco, a company known for their vast array of hands-on learning products and kits, is now offering the Medieval Machines Pack ($21.95) which features a Trebuchet Kit, Catapult Kit, Mass Plates, and the Siege Machines book.
In this pack, students learn about catapults and trebuchets through hands-on activities that cover three areas:
Science: Tension versus torsion, elasticity, gravity and levers, and force and motion
Math: Metric conversion, calculating averages, and prediction
Experiments: Mass versus distance, testing rubber bands, targeting, and more
They will discover the history of medieval siege machines as well as the concepts required to build and use them.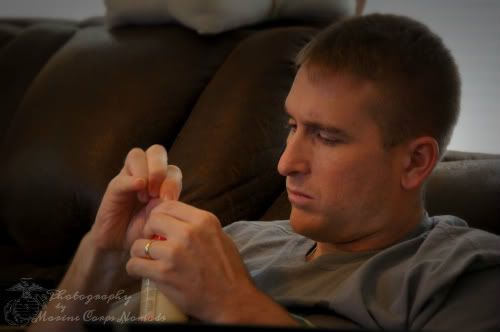 Both Daddy and daughter were rather excited when they heard that we were being given the opportunity to review the Medieval Machines Pack.  We love hands-on learning as it's a great way to cement ideas.
When the kit arrived, Munchkin started reading the Siege Machines book that came with the set.  It is packed with information which would help turn this hands-on activity into a fun unit study.  Munchkin and Daddy decided that their first project would be the catapult.  They both read through the instructions carefully.  Even with doing that, they made a few mistakes, but they were corrected.  D recommends doing a dry fit of everything before doing the gluing to avoid some of their mistakes.
Once the glue on the catapult had dried, they set out to "play" with their new toy. They tested in with various size clay balls, and were quickly excited about how far their canon balls flew.  They preceded to move on to other objects including Lego guys and pom pom angry birds.  I did have to remind them that they needed to be careful about what they were shooting as I didn't want anything to get broken. lol!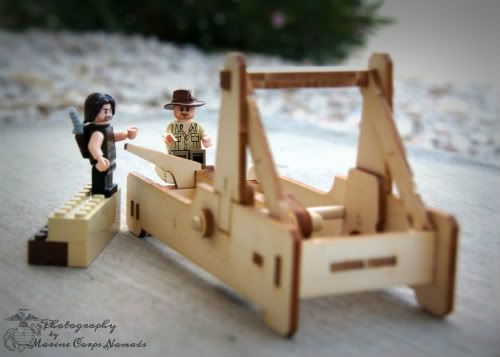 Since D helped Munchkin a good bit with the catapult, he wanted her to do the vast majority of the work on the trebuchet.  She read over all of the instructions.  (Note: she felt the pictures in the instructions were lacking, and she'd love to see them updated to better – more clearly – show details.)  After a brief measuring error, the Trebuchet went together okay, but they quickly had issues with it not staying together.  They reglued the problem areas and waited for the glue to dry.  After testing out the Trebuchet, D determined that the stress created on certain areas due to the design was the reason that the Trebuchet would not stay together.  He says that it needs a base or at least a cross bar at the bottom to stabilize the design.  Daddy is going to work on a little tweak which should allow it to work without coming apart.  (Note: we used wood glue for our projects. Other glue may allow the Trebuchet product to work as is.)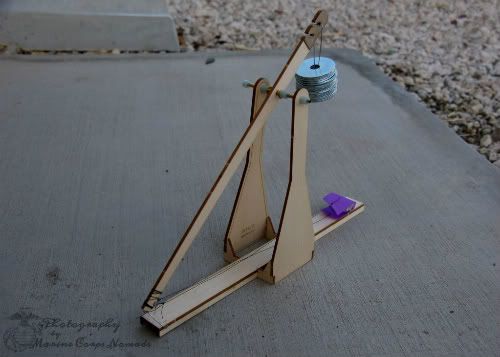 Overall, we think the Medieveal Machines pack is great.  Yes, we had a few issues (some our fault, some not), but we would have no problem recommending it.  While the parts of the kit may not look that impressive when they arrive (punch-out wood pieces), they are quite sturdy.  It's a great fun and educational activity kit.  I personally appreciated having this project for Daddy and daughter to work on together.  Just be warned – this product could cause all kinds of projectiles to go soaring around your house. **grin**
I received the above mentioned product as a member of the TOS Homeschool Crew to help facilitate the writing of a frank and honest review. A positive review is not guaranteed, and all opinions are my own.