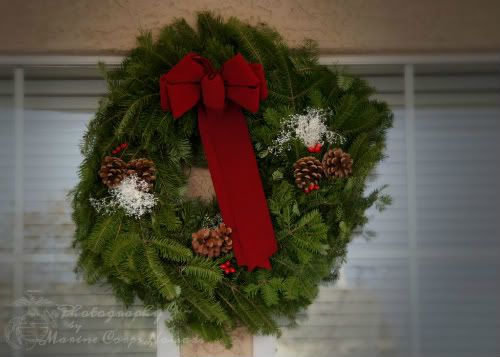 Living in the Arizona desert, I find myself missing the aromatic smell of fresh pine.  When we lived on the East Coast, we pretty much always had pine trees in our yard.  While I didn't always care for the tree sap, I did enjoy the fragrance.  All those memories surrounding pine trees, seemed to flood back into my mind when I opened my box from Wreaths of Maine.  Inside the box was a beautifully packaged Balsam Fir Christmas wreath.
To keep the bow looking pretty, it's packaged inside of the wreath. The recipient of the wreath can then place it on the wreath prior to hanging it up.  We immediately placed the wreath on our outside window where it would be out of direct sunlight.  While we could place it on the front door, D tends to knock into items on our front door, and I didn't want the wreath to have to deal with that wear and tear.  The wreath arrived in beautiful condition.  I admit that we giggled a bit at the instructions as they were talking about the wreath doing fun in really cold temps.  Obviously, we have the opposite issue here.  We have warm temps to deal with here.  I plan on following the instructions for using the wreath indoors (misting it with water periodically).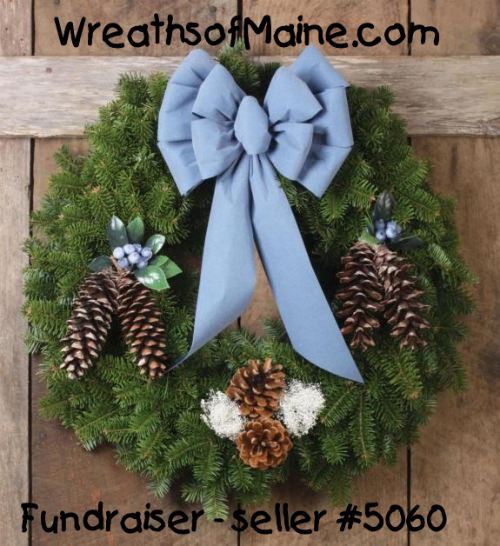 We were excited to learn about the Wreaths of Maine fundraiser program.  They sent us all of the materials to check out, and we immediately decided to try to do a fundraiser for Munchkin's truck fund.  Selling wreaths is easy and can be done in-person (door-to-door, people you know) or online.  The seller receives an id number to share with those who will order online.  If you're doing the fundraiser in person, you'll fill out the order forms and then use the enclosed labels which include your seller id number to submit the orders.  They will mail you a commission check once the orders have been filled.
To help with the sales process, Wreaths of Maine allow sellers to purchase a demo wreath at a reduced price.  It's a great opportunity for kids to earn money to help them achieve their financial goals.  In addition, it helps them learn business skills.  Unlike many fundraisers, the Wreaths of Maine mail-order wreaths allow individuals to participate (homeschool fundraiser), not just groups.  In fact 90-95% of the wreaths sold by the company, are sold by homeschoolers.  How cool is that?
Wreaths of Maine offers a nice selection of wreaths, swags, sprays, and even a  9-foot-long Presidential pine rope.  The wreaths come with a personalized gift card and instructions on how to keep your wreath beautiful and fresh for the maximum amount of time.  Wreaths start at $31.00 and go up to $42.00.  Shipping is $3.95 per item for the continental U.S.
You can follow Wreaths of Maine on Facebook and Twitter.
I received a wreath and fundraiser kit as a member of the TOS Homeschool Crew to help facilitate the writing of a frank and honest review. A positive review is not guaranteed, and all opinions are my own.