Say goodbye to everyday cupcakes and hello to eye-catching, fun cupcakes.
Recently, I have been making cupcake wraps to jazz up my cupcakes, so I was intrigued when I heard about Roundabouts Cupcake Sleeves.  Sheri Mersola, the inventor of Roundabouts, decided to take typical cupcake wraps and kick them up a notch or ten.  Roundabouts transform cupcakes into mini works of art – centerpieces for parties and get togethers.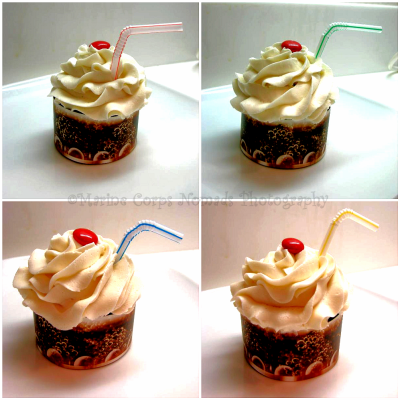 We received a package of the root beer float sleeves to review.  Yesterday, Munchkin baked some delicious gluten free chocolate cupcakes, so we could try out the cupcake sleeves.  They were extremely easy to use.  After the cupcakes were baked and frosted, we took the sticky end off the sleeve and wrapped it around the bottom of the cupcake.  Very easy.  The next step is to decorate the cupcakes.  For the root beer floats, the instructions showed adding a bendy straw.  Munchkin decided that they also needed a cherry on top, so we used a red m&m for the cherry.
The Roundabouts Cupcake Sleeves are resistant to grease and oily substances.  They are non-toxic, chlorine free, and made on quality acid free stock.  The packaging is eco-friendly and very easy to store because of the slim design.  They currently have 70 different designs plus they offer personalization and customization.  The root beer float design is $8.99 for a package of 12 sleeves.  We give Roundabouts Cupcake Sleeves 2 thumbs up and highly recommend them.
***Giveaway***
I'm very excited that I am able to offer a package of Roundabouts Cupcake Sleeves to one of my readers, and the winner gets to pick which design they want to try!
Mandatory: Visit Roundabouts Cupcake Sleeves and tell me which design you would like to try.
Additional entries: One entry per item unless otherwise noted.
Follow this blog on google friend connect
Subscribe to this blog (rss or email)
Follow @MarineCorpsNomd on Twitter
Follow @RoundaboutWraps on Twitter
Like Marine Corps Nomads on Facebook
Like Roundabouts Cupcake Sleeves on Facebook
Tweet about this giveaway @MarineCorpsNomd (1 tweet per day)
Spread the word about this giveaway (giveaway site, blog, digg, delicious, technorati…) (1 entry for each site, leave link)
Enter any of my other current giveaways. (when applicable, only 1 additional entry for this method)
Giveaway is open to U.S. residents and ends on February 18th.
I received a sample of Roundabouts Cupcake Sleeves through Tomoson.com to help facilitate the writing of a frank and honest review.   All opinions are my own.