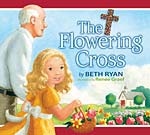 The Flowering Cross
by Beth Ryan
Young Katie and her family reach out to an old man, Papa Jack (deemed quite mean by most people in town) and show him God's love through the actions.  In return, each year, he allows Katie to pick flowers from his beautiful garden to place on the flowering cross at church.  Every year, Katie hopes that Papa Jack will come to church with them.  Will this be the year that he decides to come to church?
The Flowering Cross is a lovely children's story that shows the importance of showing God's love to others even if they don't seem to deserve it.  Through these simple actions, someone may come to know Christ.  The colorful illustrations help the story to come to life.  The verses and faith imprints allow the reader to think a little deeper into the meaning of the story.
While this book is technically a little young for Munchkin, she enjoyed the story and lesson, plus she really liked that there were instructions at the back of the book for making your own flowering cross for Easter.
Reading level: Ages 4-8
Hardcover: 32 pages
Publisher: Thomas Nelson (March 2, 2010)
Language: English
ISBN-10: 1400315379
ISBN-13: 978-1400315376
Retail Price: $12.99
I received a copy of The Flowering Cross from Thomas Nelson for the purpose of this review.  All opinions are my own.  No other compensation was received.