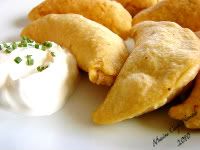 Gluten Free Pierogies
Ingredients:
2 C gluten free flour
1/2 tsp salt
2 large eggs + 1 large egg yolk
1/2 C sour cream
1/4 C butter
warm water
Directions:
Start boiling a pot of water.
Combine butter and gluten free flour until butter is pea-sized.
Add salt, eggs, and sour cream.
If needed, add warm water to form dough that is soft, but not sticky.  (You may or may not need the water.)
Roll out dough to 1/8″ to 1/4″ thickness.
Use cookie cutter, biscuit cutter, or cut to create circles of dough.
Fill using favorite filling (we use a potato & cheese mixture). Use about 1 Tbsp of the mixture.
Fold dough over filling (we the edges with the warm water) and seal.
Drop in boiling water. Cook for 3-4 minutes until pierogies float to the top of the water.
If desired, fry the pierogies.  Serve with sour cream.
Potato filling: we used mashed potatoes with sour cream, cheese, and bacon mixed in.
This post is part of Gluten-Free Wednesdays