Thanks to Once Again and Moms Meet for partnering with me to bring you this gluten free no bake protein energy bites recipe.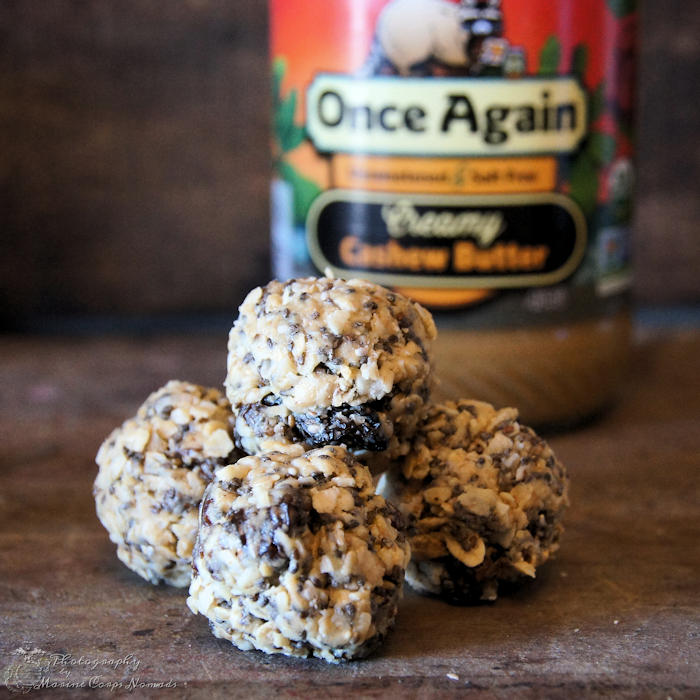 Nutritious snacks keep us going on the trail.
I'm always trying to come up with different nutritious snacks for when we're out hiking, backpacking, or climbing. We need a power-packed bite or two to give us a boost of energy to keep moving. It's essential that we have a grab-and-go snack that isn't heavy or overly sweet as those types of things don't sit well in the tummy when you're super active. With that in mind, I decided to try my hand at some no bake protein energy bites.
The gluten free no bake protein energy bites use gluten free oats and nut butter as the base. You can use sunflower seed butter, peanut butter, almond butter, or cashew butter depending on taste preferences and food allergies. I like to use honey as my sweetener, but you can use another liquid sweetener if you prefer not to use honey.
While I used chia seeds for my bites, you could also use flax seeds. The add-ins are where you can really personalize your no bake protein energy bites. This time, I used goldenberries, but you could also use chocolate chips, raisins, dried fruit, nuts…. The end result is 23-24 bite-sized protein balls that taste great.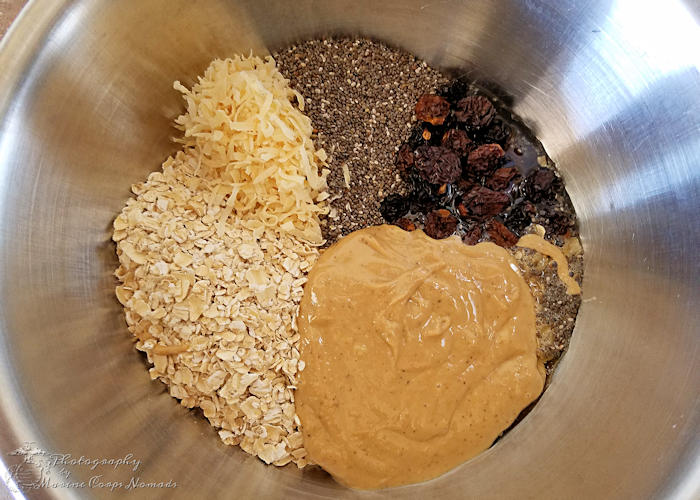 Gluten Free No Bake Protein Energy Bites are kid-friendly.
These energy bites are a great kid-friendly recipe as they're easy and fun to make. You could even use some mini m&ms for a pop of color. Mini-chocolate chips work better than regular chocolate chips in these small bites.
Combine your oats, chia seeds, add-ins, honey, and nut butter in a bowl. If you're using a nut butter that doesn't have salt, you'll want to add a pinch of sea salt. If your nut butter is already sweetened, you'll probably want to decrease your honey. Since you need to keep your wet ingredients consistent, you'll want to use a little more nut butter. When using natural nut or seed butters, make sure you thoroughly mix the oil back into the butter prior to using it.
Once the ingredients are thoroughly combined, allow the mixture to cool in the refrigerator for roughly 30-45 minutes. Remove the mixture from the refrigerator and form into tightly packed balls using roughly 1 Tbsp. of the mixture for each ball. Store in an airtight container.

Gluten Free No Bake Protein Energy Bites
Ingredients
1 cup gluten free oats
1/3 cup unsweetened shredded coconut
1/2 cup nut or seed butter
1/3 cup chia seeds
1/3 cup add-ins (nuts, dried fruit, chocolate chips...), optional
1/3 cup raw honey
Instructions
In a medium mixing bowl, combine the gluten free oats, unsweetened shredded coconut, chia seeds, nut or seed butter, and honey. Make sure the ingredients are thoroughly combined before adding in the add-ins.
Chill the mixture in the refrigerator for 30-45 minutes.
Roll the mixture into small balls using roughly 1 Tbsp. of the mixture per ball.
Store in air-tight container.
http://marinecorpsnomads.com/2017/02/gluten-free-no-bake-protein-energy-bites.html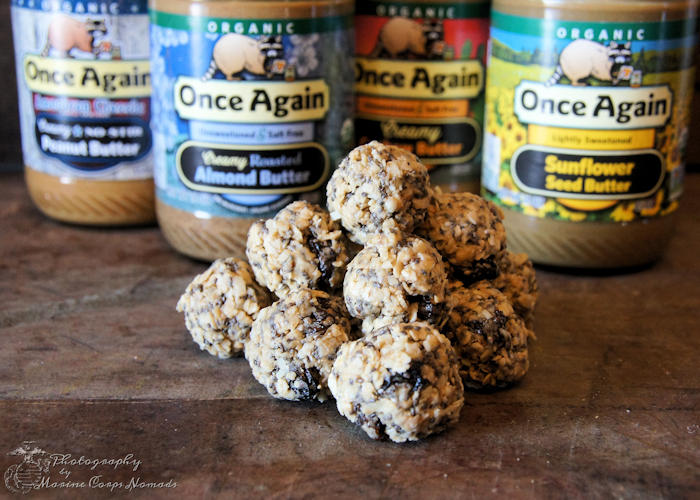 Get to know Once Again Nut Butters.
The Once Again line of nut and seed butters are gluten free certified, non gmo certified, certified organic, vegan, and kosher. Once Again Nut Butter follows Fair Trade and Sustainability standards for their farm-partners, suppliers, and prices. To stay up-to-date with Once Again's latest products and special offers, you can connect with them online on Facebook, Twitter, Pinterest, and Instagram.
I received this product for free from Moms Meet (momsmeet.com), May Media Group LLC, who received it directly from the manufacturer. As a Moms Meet blogger, I agree to use this product and post my honest opinion on my blog. The opinions posted are my own.