Recently, thanks to receiving some discounted glass water bottles and a tumbler to test out from 3 different companies, I've gotten hooked on glass water bottles.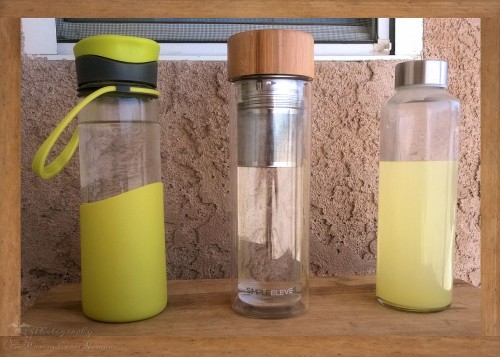 While glass water bottles aren't exactly practical for hiking or other outdoor activities due to the higher probability for breakage, they are great for normal, everyday activities. I personally like the flavor of water and other beverages out of glass better than out of metal or plastic.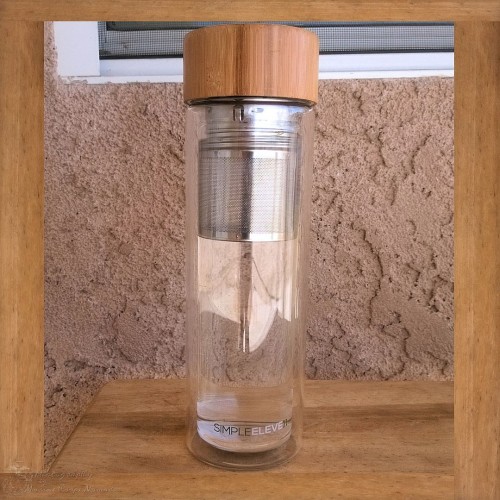 This 15.2 oz. tumbler from Simple Eleven is an insulated (double walled) glass tumbler that is watertight and features a beautiful bamboo lid. The fine mesh tea infuser is removable. It comes with a neoprene sleeve for extra insulation. It can be used with both hot and cold liquids.
Because the tumbler is tall, you need to either 1) have a large glass of tea or 2) turn the tumbler upside down to steep the tea in the hot water. The design of the tea infuser does allow for the tumbler to be turned upside down without tea leaves getting into the water.
The double wall feature does allow for handling of the tumbler when it contains hot liquids. The neoprene sleeve adds a little extra protection. Unfortunately, the tumbler does not do a good job of retaining heat for an extended period of time. The tumbler works well for use at home, but not so much for commuting. My husband's coffee cooled off within 25 minutes of pouring it into the tumbler.
You do need to remove the entire lid for drinking which could be a concern for those who commute, but it's fine for those who aren't drinking on the go. The opening makes it fairly easy to clean the tumbler.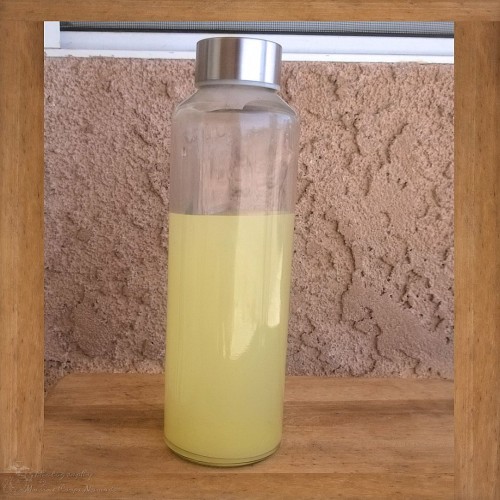 These 16 oz. glass water bottles from Estilo come in a set of 6. They are watertight and feature a stainless steel cap. They are a nice alternative to using plastic water bottles. You can see a wave in the glass on these bottles which can cause a slight distortion when you look through the glass.
These are just basic sturdy glass bottles that have a gasket seal in the stainless steal screw-on caps. I like the set of 6 as it allows you to fill up water bottles for the day and put them in the fridge to make sure you're drinking enough water. They are also good for making personal bottles of juice or lemonade.
The opening makes cleaning more difficult than the wide mouth water bottles, and you may have difficulty adding ice depending on the size of your ice cubes. I just put the bottles in the fridge, so I didn't really need to add ice.
I would like to see silicone sleeves available for these bottles. These water bottles also come in an 18 oz. size.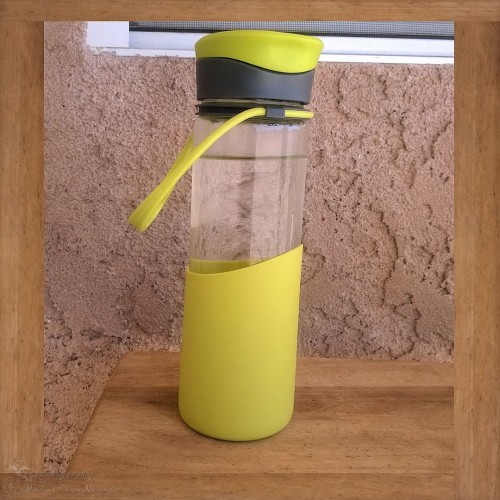 My go-to 18 oz. glass water bottle right now is this one from Calibre because it has a large, thin silicone handle that allows me to carry it easily while on crutches. You can remove the entire lid for cleaning and filling. The flip-up top features a soft silicone drinking area that seals when closed to provide a leakproof lid.
The silicone half sleeve looks fun while providing a little extra protection for the glass as well as a more secure grip on the water bottle. The silicone sleeve can be removed for cleaning, if needed. The bottle has a wide opening which makes for easy cleaning and filling.