It's hard to believe that 6 1/2 weeks have passed since I suffered this ankle sprain. I truly thought that I would be walking without crutches by now, but alas, I still can't bear my own weight on the ankle. Crutches have become my constant companion. I'm definitely going to need to see a chiropractor after I get off the crutches as I know it's messing with my alignment.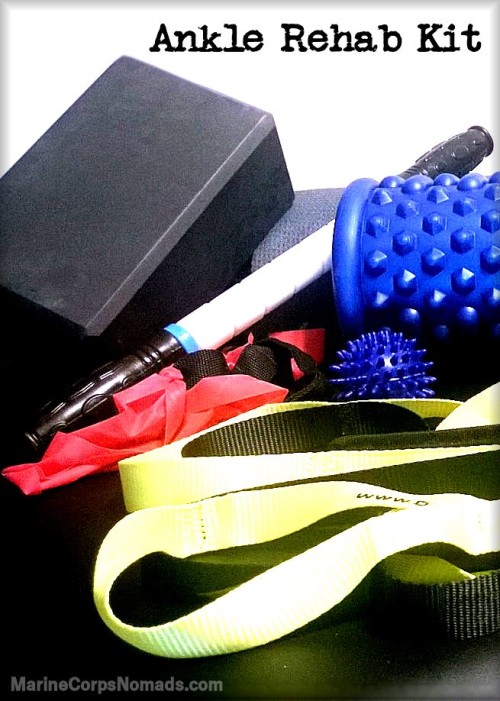 The good news is that I am able to put some weight on my ankle without the sharp pains shooting up my ankle/leg. It's progress. I also found myself driving for the first time this week as Munchkin needed to get to her college classes, and she doesn't have her driver's license yet. It takes me some time to get in and out of the truck, but I'm able to drive which is a good thing. I knew that driving would be okay thanks to all of the ankle exercises that I've been doing over the last few weeks.
I have put together my own little ankle rehab kit for my at-home physical therapy. I still have a couple of things that I want to eventually add once I'm able to bear my own weight on my ankle, but for now, this kit serves me well.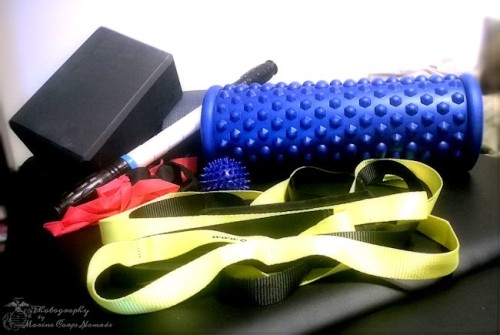 My ankle rehab kit contains a stretching strap, exercise band, muscle roller massage stick, porcupine massage ball, yoga block, and a fitness foam roller. Of course, I also have my yoga mat and yoga towel.
The muscle roller massage stick helps with circulation in my leg. I can use this while sitting still which makes it a little easier to use than the fitness foam roller. The fitness roller works a little better due to the knobs on it as it really gets in a little deeper into the muscles, but it requires a lot more movement on my part. I use the muscle roller massage stick multiple times a day on my leg.
The use the stretching strap for working on ankle flexibility while the exercise band is use to strengthen the ankle. Because of using these two items, I knew that I would be able to drive. I also use these guys multiple times each day.
The porcupine massage ball keeps the circulation going in my foot. It also helps with the aches and pains that tend to come with not using your foot for long periods of time.
The yoga block is all about gradually stretching out my ankle. It's much safer than using the stairs (which we don't have). I'm slowly – very slowly – gaining a little more range of motion.
Right now, I'm trying to find the balance between the pain that comes with rehab and too much pain that signifies needing to back off. It doesn't do me any good if I make things worse, but I also need to keep pushing in order to get better. I can't wait to get off these crutches, so I continue to work hard with my rehab while being mindful of my limitations.