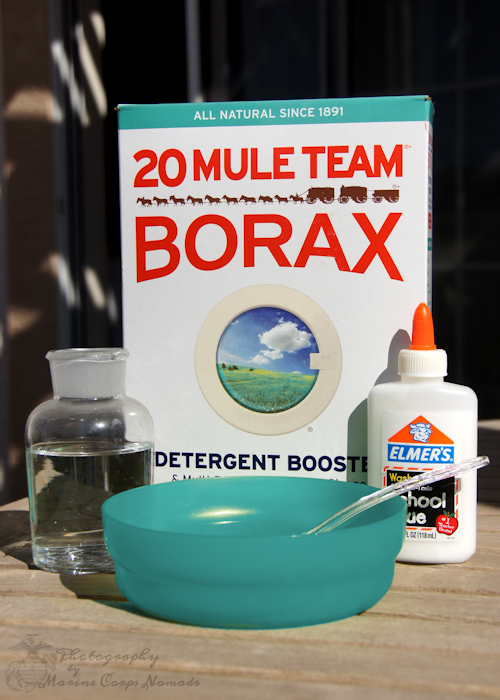 It's always fun to be able to do a hands-on science experiment that uses simple ingredients. When you add in the fact that you can actually play with the science experiment, well, it just adds to the excitement. When I received a box of Borax as a member of the Purex Insiders program, I thought it would be fun to do something out of the ordinary with it. I already knew that it works great for laundry and household cleaning. (We always have a box of it around the house.) I started thinking about science experiments dealing with polymers which lead me to making slime.
Obviously, this is not something that I created because the idea has been around for years, but it's still a lot of fun for kids (and adults). The first time we did this was many years ago when Munchkin was itty bitty. We were attending a kids program at the library where they had the kids do this experiment. All of the kids really enjoyed it, and they were able to take the slime home with them. One thing to keep in mind is that this experiment can get messy, so if you have littles, you'll probably want them to wear a protective apron/shirt over their regular clothes. You may also want to take the experiment outside or somewhere that can easily be cleaned.
Let's answer the question: What is a Polymer?, and then we'll jump into doing the experiment.
Polymers are made up of many many molecules all strung together to form really long chains (and sometimes more complicated structures, too).

What makes polymers so fun is that how they act depends on what kinds of molecules they're made up of and how they're put together. The properties of anything made out of polymers really reflect what's going on at the ultra-tiny (molecular) level. So, things that are made of polymers look, feel, and act depending on how their atoms and molecules are connected, as well as which ones we use to begin with! Some are rubbery, like a bouncy ball, some are sticky and gooey, and some are hard and tough, like a skateboard.

Continue learning more about What is a Polymer?. (Website contains a great explanation as well as images to help kids understand the basics of polymers.)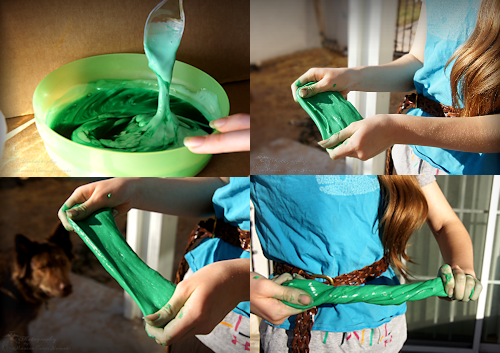 A Lesson in Polymers: Slime Experiment
Ingredients:
4 oz bottle of school glue (like the white Elmer's glue)
1/2 tsp. Borax
1/4 cup warm water
Food coloring (if desired)
Directions:
Pour bottle of school glue into a mixing bowl. (A large disposable cup will work if you prefer not to use a mixing bowl.)

If desired, add the food coloring to the glue until you reach your desired color. Use different color combinations to create unique colors. This can be a side experiment in learning about color combinations.
In a cup (or small bowl), combine the Borax and the warm water. The Borax does not need to completely dissolve.
Slowly add the Borax solution to the glue, stirring as you go. Once the strands begin to form, you'll want to start needing the mixture with your hands.
Experiment with different amounts of the Borax solution. Using less of the solution will result in a looser, more slimy polymer mixture. The more solution you add, the tighter the polymer bond and firmer the slime solution.
Store your slime in a ziploc bag.
*****Giveaway*****
Whether you want to recreate this experiment, create your own experiment, or just get some cleaning/laundry done in your home, you can enter to win a coupon for a box of Borax. Giveaway is open to U.S. residents (including APO/FPO addresses), and ends 2/20/13. Simply enter below or click on this Rafflecopter Borax Giveaway link to enter to win.
I received a box of Borax to help facilitate the writing of a frank and honest review. A positive review is not guaranteed, and all opinions are my own. As a Purex Insider, I was also given coupons to use for the giveaway.