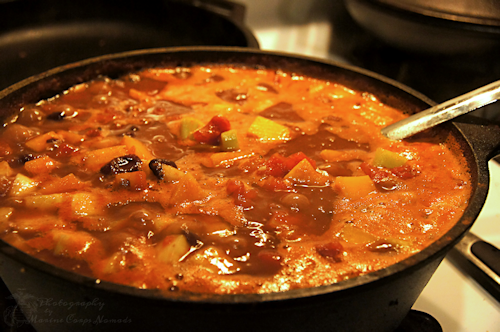 What do you do when you have a bunch of veggies and don't know what to make for dinner? Well, if you're me, you start tossing a bunch of stuff in a pot to create a chili or soup. Tonight, I decided to go with a chili as I wanted something a bit hearty to eat. You could easily add meat to this chili, if desired, but it's filling without the meat. It's a great way to use up fall/winter squash. Because this is what I call a "dump" recipe, the measurements are approximate.
Vegetarian Butternut Squash Chili Recipe
Ingredients:
1 medium onion (optional), diced
1 red, green, or yellow pepper (optional), diced
1 medium butternut squash, cubed
1 large zucchini, cubed
2 cans mixed beans, drained
2 cans diced tomatoes with juice
3 cups vegetable broth
1/8 tsp. salt
1/8 tsp. pepper
1/4 tsp. garlic powder
1/8 – 1/4 tsp. cayenne pepper
1 tsp. cumin
Directions:
If you want to use onions and/or peppers in your chili, you'll want to saute them in a large pot with a little vegetable broth until they are soft.
Add all of the vegetable broth to the pot and bring to a rolling boil.
Add beans, diced tomatoes with juice, butternut squash, and zucchini.
Bring back up to a rolling boil and reduce to a simmer.
Stir in seasonings.
Cook for 20 to 30 minutes.
Serve with tortillas or tortilla chips, if desired.