As you know, I recently started putting together the state notebooking pages, and I started to think about other fun ways to study the states. I remembered the stamps that you can get at the different National Parks (and some state parks) that allow you to stamp you own "passport" when you visit. I knew that some people had used a printable passport when they studied different countries and decided it would be a fun idea to incorporate into the study of the states.
I designed a basic printable passport that can be personalized with the student's picture and other personal information (like a real passport). It's easy designed to be printed back to back to allow for more use of the pages. Honestly, cutting the pages out takes longer than the assembly of the passport. I folded the cut out pages in half and stacked them making sure the personal information pages line up properly. Then it was just a matter of stapling the pages together in a book style. The passport pages are small enough that you can use a standard stapler. There are enough pages for all 50 states plus a few more. You can always print out more pages if needed.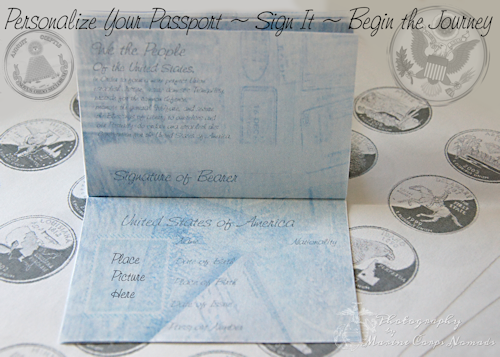 For the state "stamps", I thought it would be fun to use the state quarter designs as the stamps as they give a bit of information about each of the states. Because I didn't want to individually cut out all of the stamps, I designed them to be able to be printed out on the round stickers from Avery (affiliate link). It also meant that there was no glue involved – just peel and stick! (Yes, I like making my life a little easier when possible. **grin**)
Overall, I'm pleased with how it turned out. In these pics, I printed everything in draft mode as I was testing out the alignment before printing the "real" passport. (I always test out printables in draft mode, so I don't waste ink in the process.) The actual passport, passport pages, and stamps are darker with more detail. I decided to include stamps for the US territories as well in case anyone wanted to use those.
The Passport with State Stamps Printable is now part of the Marine Corps Nomads Homeschool Resource Library. They're still free, but they're now hosted right here. All of the free homeschool resources are available in one easy-access location. You can sign up for free access to the resource library below.
If you have friends or family who are interested in these free resources, please have them sign up as well. Thanks for your support!