I had lost motivation to tackle unpacking and setting up my sewing area. There were a few things that I wanted to sew, but there wasn't really anything that gave me that extra nudge to get it done. Thankfully, an opportunity came through to review an Edwardian Child's Apron eClass by Sense & Sensibility.
Last year, we had picked up some fabric on clearance, but I wasn't sure what we would use it for at the time. Munchkin really liked it, so we went ahead and purchased the two coordinating fabrics. I checked the pattern and found that we had enough fabric to make the aprons.
Originally, I had planned on doing this with Munchkin. After looking over the instructions, I decided that I better do this one on my own first as I wasn't really familiar with some of the techniques involved. Now that I've made one, I believe that Munchkin would be able to make this with a little help. (I think the bias tape would probably be a bit too difficult for her at this time.)
The first step was to print out the e-pattern. It took some time to piece together the pattern as I had some difficulty getting everything all lined up. Then, per the instructions, I traced the pattern onto interfacing. I loved this suggestion as it saved me a good bit of time when it came to cutting out the pattern. There was no need to pin the pattern to the fabric prior to cutting it out.
After getting the pieces cut out, I listened to the class (mp3 format) while looking at the slide show (pdf format). I then watched the videos which showed more details of some of the steps. The pattern gives good step-by-step instructions, but I appreciated the slides and videos as it made some of the steps more clear for me. I would have preferred that contrasting fabrics would have been used to see the details a little better.
While I do sew, I am not an experienced seamstress. In fact, I had never used bias tape before. During this class, I not only used bias tape, but I also learned how to make my own. Even though it was time consuming to make, I love the finished result.
Following the pattern's instructions on how to shrink the pattern for a doll, I was able to make a matching apron for Munchkin's American Girl doll. For the doll apron, I chose to use store purchased bias tape. For Munchkin's apron, I made my own bias tape in coordinating fabric.
We are both thrilled with the finished results. I have a feeling that we'll be making more of these aprons in the future. Now, I need to make an apron for myself.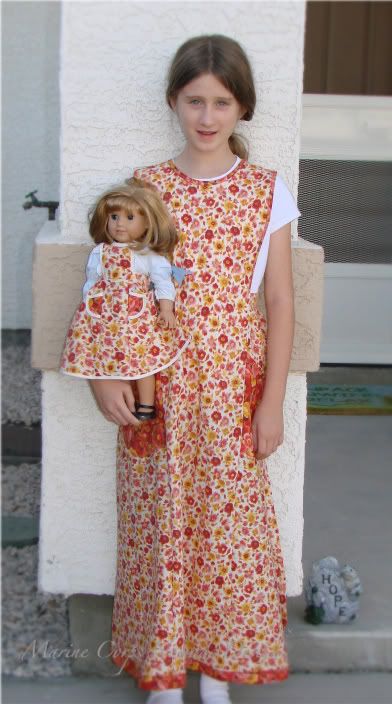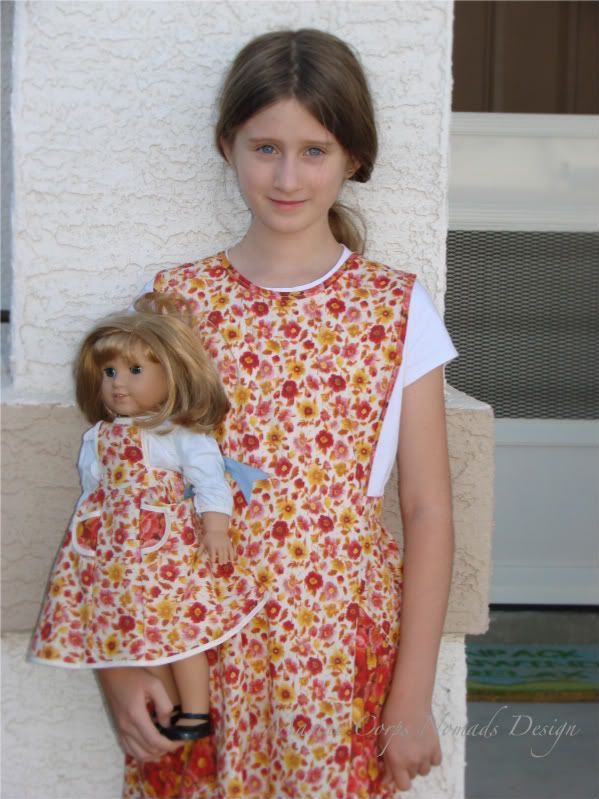 Sense & Sensibility offers several purchasing options for the Child's Edwardian Apron:
instant download ePattern for $7.95
regular pattern for $12.95 plus shipping
new eClass for $24.95 with pattern
new eClass for $19.95 without pattern.
They also offer a Woman's Edwardian Apron and many other modest patterns. To get the full benefit of the eClass, I would highly recommend having high speed internet. I believe it would be difficult to watch the bonus videos for the class with dial-up.