This shop has been compensated by Collective Bias, Inc., and its advertiser. All opinions are mine alone. #PremiumPrep #CollectiveBias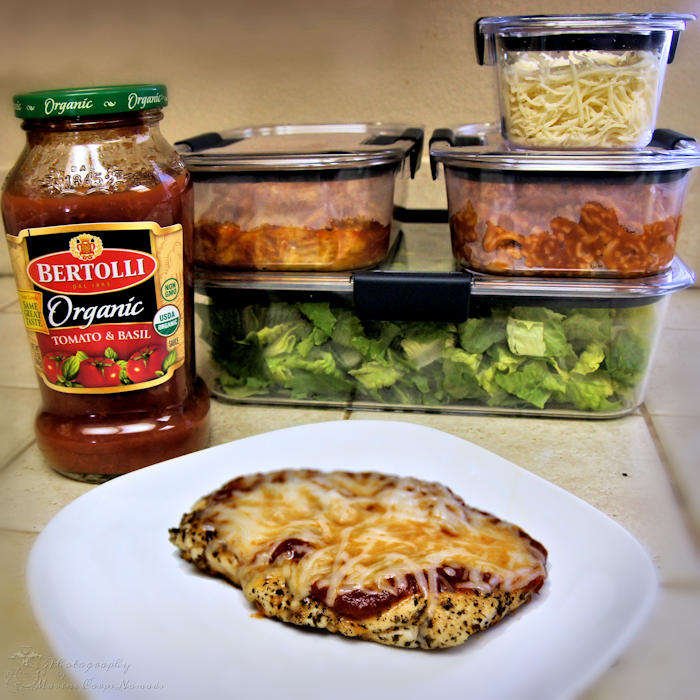 Do you wish that mealtime could be a little easier? Do you need to make one meal stretch into at least two meals? Do you like fix-it-and-forget-it meals? My gluten free chicken parmesan two ways may be just what you need.
When Valentine's Day rolls around, I know that I'm going to be making chicken parmesan for my family. I've been making it for Valentine's Day for 20 or so years. There may have been a year here or there that I missed due to deployments or illness, but for the most part, it's a staple at our house. This year, I thought it would be fun to make a version that could be used more than one way for more than one meal.
I should note that Munchkin goes back and forth on liking and not liking chicken parmesan, so she always has the option to just enjoy the pasta. Kids can be funny when it comes to food, and I find it easier to pick my battles when it comes to food. Plus, if she doesn't eat the chicken parmesan, there is more for D and me later.
While I planned on only making a 2-way chicken parmesan, I ended up making it three different ways. I figured that since I had all of the ingredients, I might as well make up extra meals for later. Since I pack D a lunch every day, it's always good to have a few extra meals stashed away for an easy meal. At 5:30 in the morning, I don't want to have to think about putting together a new meal. I want an easy grab-and-go meal.

Bertolli® is my go-to pasta sauce as is evidenced by the stash I have in my pantry. It has a delicious, authentic Tuscan flavor that my family loves. There is something comforting about using a brand that values using quality, fresh ingredients. It's not surprising given the fact that Bertolli® started back in 1865 with a little shop in Lucca, Tuscany which was focused on local foods.
In the morning, I pour half a jar of organic Bertolli® marinara sauce into the bottom of my slow cooker. I then place 4-6 boneless, skinless chicken breasts on top of the sauce which are then topped with the remaining sauce. I turn the slow cooker on low and go about my day as usual.
I don't know about you, but I enjoy using the slow cooker as it means less time at the stove which is great especially on a busy day. On days that are less busy, I like to make my gluten free baked chicken parmesan, but I don't get as many leftovers out of that method of cooking. Since I needed to build up my meal stash, I decided that my slow cooker chicken parmesan would be used for lunches the next few days, and the stove top chicken parmesan would be for today's meal.
Once the chicken breasts in the slow cooker are completely cooked, I pull out a couple of the chicken breast and top them with cheese. They are hot enough that the cheese melts easily on top of them. The remaining chicken breasts are shredded and topped with cheese in the slow cooker. I use an Italian cheese blend this time around, but I'll often just use mozzarella and parmesan cheese. At this point, turn the slow cooker to warm as the cheese just needs to melt.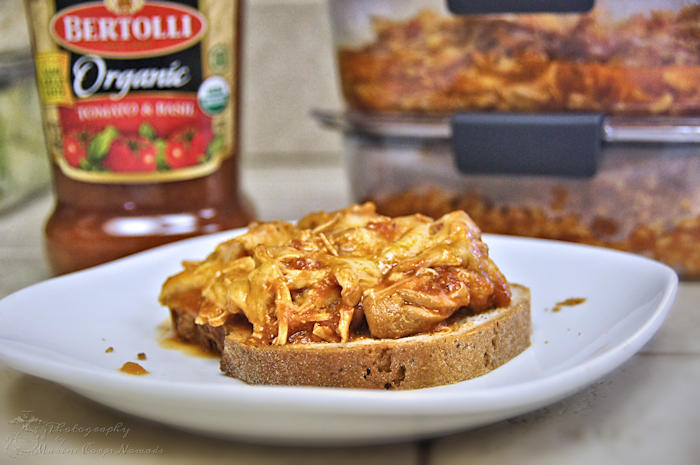 While the cheese is melting, quickly cook up some gluten free pasta or veggies to go with the chicken parmesan. I like to mix a little of the sauce directly into the cooked pasta, and then top with additional sauce. I place the chicken parmesan on the bed of pasta. To make dinner prep a little faster, I have all of the fixings for a salad all prepped ahead of time and stored in my Rubbermaid® Brilliance™ containers. It doesn't take long to pull the meal together and serve everyone their meal.
Once dinner is over, and everyone has had their fill. I begin my meal prep for the next day. The pasta is divided up into the Rubbermaid® Brilliance™ containers and topped with the chicken parmesan. While I love glass storage containers, we've had multiple incidents over the last few months with them getting broken very easily, so I switched gears to these containers. They're durable which means no more broken glass or food all over the floor when they fall, and I don't have to worry about them leaking (which was another issue with our previous containers). When stacked in the fridge, it's easy to see what is in them. Bonus – the pasta sauce doesn't stain the containers!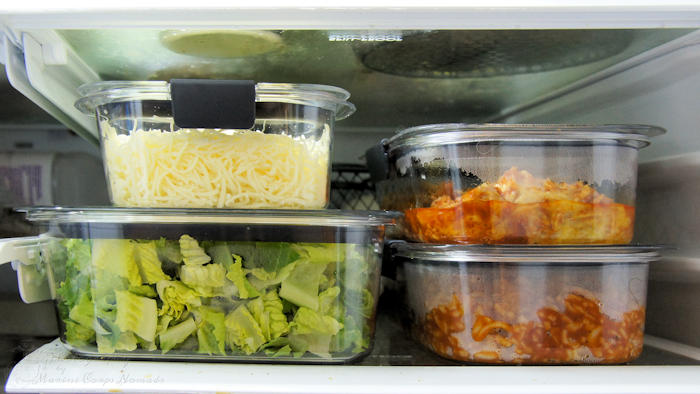 The shredded chicken parmesan is stored in its own container, so I can make chicken parmesan sandwiches. Since I ended up making more than I had originally planned, I was able to put aside several different meals for D. I only keep a couple of days' worth of meals in the fridge, the rest of the meals go into the freezer to allow for longer storage. If you know you're going to put the pasta in the freezer, I recommend under cooking it slightly as it heats up a little better this way.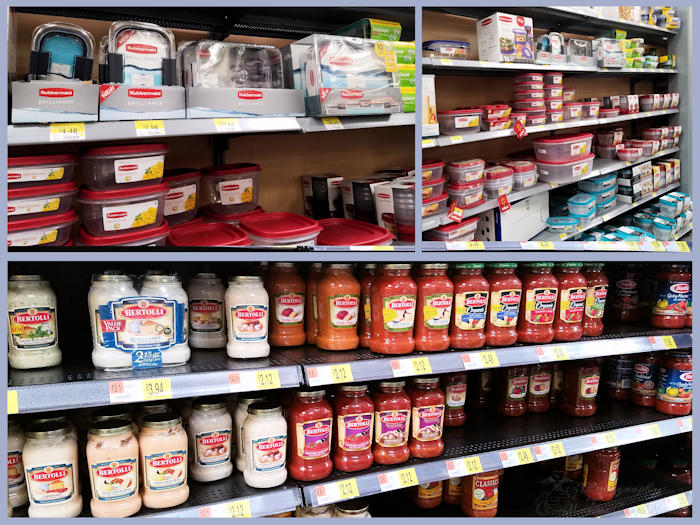 Since the Rubbermaid® Brilliance™ premium storage containers are a new innovation at Walmart, we found our local Walmart was a little low on inventory, but they assured me that they would be restocking soon. Before you head to your own Walmart, make sure you select your ibotta rebate offers for the Rubbermaid® Brilliance™ containers as well as the Bertolli® pasta sauce before heading to Walmart. Currently, there are offers for $5.00 the 10 piece Rubbermaid® Brilliance™ set, $2.00 off individual Rubbermaid® Brilliance™ containers, and $0.75 off Bertolli® pasta sauce (either red or white sauce).
Head over to savy meal solutions to get more meal prep ideas.
What is your biggest hurdle when it comes to meal prep or leftovers?
Easy Chicken Parmesan Two Ways
Ingredients
4-6 boneless, skinless chicken breasts
2 jars of Bertolli® pasta sauce
seasoning (I generally use garlic, pepper, salt, oregano, parsley, basil.)
shredded Parmesan cheese and mozzarella cheese
Instructions
In the morning, pour half a jar of Bertolli® pasta sauce in the slow cooker.
Place chicken breasts in slow cooker.
Generously sprinkle the chicken breasts with your desired seasoning.
Pour the rest of the jar of marinara sauce over the chicken breasts.
Shortly before serving, remove the chicken breasts you'll be using for dinner and top with cheese.
Shred the remainder of the chicken breasts in the slow cooker and add additional sauce if needed.
Top with shredded cheese and lower temperature on slow cooker to warm until the cheese is melted.
Notes
Total cook time for thawed chicken is between 5 and 6 hours on low. You can serve this on a plate with veggies or place a chicken breast on top of pasta for a more hearty meal. Store leftovers in the fridge or place in freezer for long-term storage. Make shredded chicken Parmesan sandwiches with the leftovers. Make sure you melt a little more Parmesan over the shredded chicken and toast the bread. You could also use hoagie rolls.
http://marinecorpsnomads.com/2017/02/easy-chicken-parmesan-two-ways.html