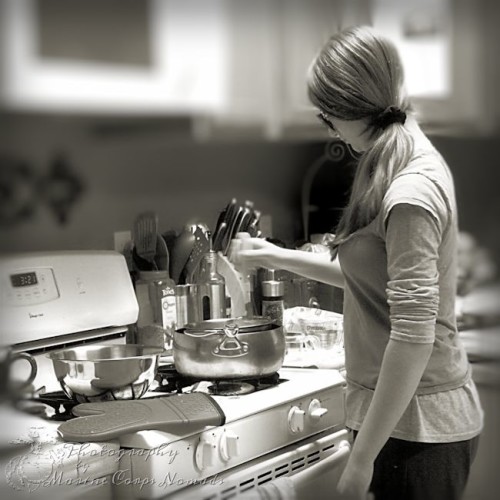 Over the years, I've taught Munchkin basic kitchen skills including food safety, kitchen safety, cooking, and cleaning. At a young age, she learned how to follow a recipe to create a meal or make a dessert. They were skills that I knew would be important later in life, and they came in handy from time to time when I was ill or unable to prepare a meal. Little did I realize at the time how critical these skills would become to help take care of our daily needs.
I've been off my feet for two weeks now, and during this time, I've been unable to prepare any meals. Because this wasn't something that was expected, I didn't have any prepared meals in the freezer except for D's lunches. Many of our fridge/freezer basics were running low as I hadn't made it grocery shopping yet, but we did have a decent pantry to pull ingredients from.
D's work schedule has been fairly crazy, so all meal preparations have fallen on Munchkin. She's preparing lunch for the two of us. Daddy usually gets home well after when we eat dinner, so she's also preparing dinner for the 3 of us. We eat whatever she decides to made for lunch, and then I help her think of things for dinner. I basically tell her what ingredients she needs and how to put them together to make a meal. She then goes and does it.
Daddy has made a few things here and there as his schedule allows. (He made some yummy pancakes and nachos – not together – over the weekend.) Sometimes, Munchkin makes something super basic and simple for the two of us, and Daddy just makes himself hotdogs or sausages as our meal won't fill him up.
I'm not sure what we would be doing if Munchkin had not learned the basics of working in the kitchen. We'd be seriously out of luck right now. When you're gluten free, you can't exactly order in every night. Well, around here, you can't do it at all. Plus, because she's able to cook, we can stick to meals that we like and are, generally speaking, good for us. It was a good reminder to me that I shouldn't put off teaching basic skills to my girl.
While Munchkin is totally ready for me to get back to preparing meals, I know that she'll continue to make us good food until I'm able to get back on my feet and back into the kitchen.