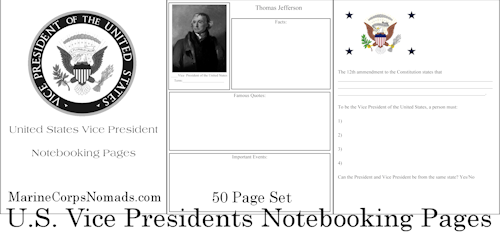 To continue on with prepping for our upcoming American government study, I went ahead and created notebooking pages for the Vice Presidents to go along with the President notebooking pages. There is a page for each of the Vice Presidents as well as a couple of pages for Vice President facts and copywork for the oath of office.
The Vice Presidents notebooking pages are now part of the Marine Corps Nomads Homeschool Resource Library. They're still free, but they're now hosted right here. All of the free homeschool resources are available in one easy-access location. You can sign up for free access to the resource library below.
If you have friends or family who are interested in these free resources, please have them sign up as well. Thanks for your support!