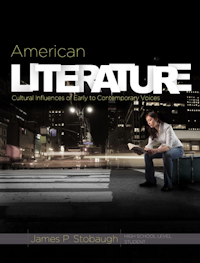 American Literature Curriculum Description:
Enjoy beloved classics while developing vocabulary, reading, and critical thinking skills! A well-crafted presentation of whole-book or whole-work selections from the major genres of classic literature (prose, poetry, and drama), each course has 34 chapters representing 34 weeks of study, with an overview of narrative background material on the writers, their historical settings, and worldview. The rich curriculum's content is infused with critical thinking skills, and an easy-to-use teacher's guide outlines student objectives with each chapter, providing the answers to the assignments and weekly exercises. The final lesson of the week includes both the exam, covering insights on the week's chapter, as well as essays developed through the course of that week's study, chosen by the educator and student to personalize the coursework for the individual learner.
About the Author:
Dr. James Stobaugh was a Merrill Fellow at Harvard and holds degrees from Vanderbilt and Rutgers universities, and Princeton and Gordon-Conwell seminaries. An experienced teacher, he is a recognized leader in homeschooling and has published numerous books for students and teachers. He and his wife Karen have homeschooled their four children since 1985.
Book Details
:
Paperback: 544 pages (student), 320 pages (teacher)

Publisher: Master Books (November 30, 2012)

Language: English
ISBN-10: 0890516715 (student), 0890516723 (teacher)
ISBN-13: 978-0890516713 (student), 978-0890516720 (teacher)
Retail Price: $34.99 (student), $19.99 (teacher)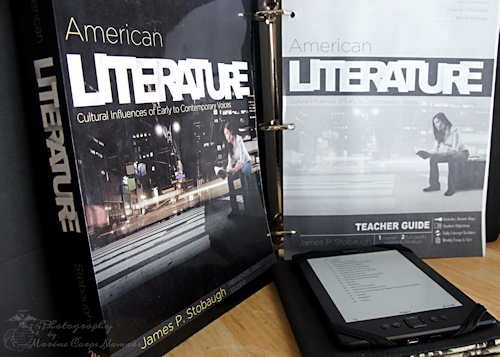 My Thoughts:
This American Literature course is a one-year course which teaches students to think critically about philosophy and trends in culture through the use of a variety of reading sources. Once this course is completed, students will have earned 2 credits – one in literature and one in writing. Many of the reading sources can be found free online or check out from the library. Each chapter has five lessons with daily concept-building exercises, warm-up questions, and guided readings. The teacher's guide allows parents/teachers to customize the student's learning experience by offering a variety of assignment/essay options.
One of the main things I need to point out for this course is that students will be doing a lot of reading. Most days, they are looking at a minimum reading of 200 pages in addition to writing essays and completing the daily exercises. This is not an easy course and can be overwhelming for some students. The part I like the most about this class is the ability to easily adjust the readings and assignments to meet the needs of the students. Because we're not looking for a complete writing credit in both literature and writing, I was able to back off on the amount of writing/reading. My daughter loves reading, but the required amount of reading was just a bit too much.
Another aspect of this course that I liked is that my daughter is being exposed to works of literature that she wouldn't otherwise read. My daughter felt that some of the readings were a bit dry, but she has enjoyed other readings. So far, she has probably enjoyed learning about Anne Bradstreet the most as she liked her writings and learning about her past. We plan on continuing with this course at a more relaxed pace which will work best for us.