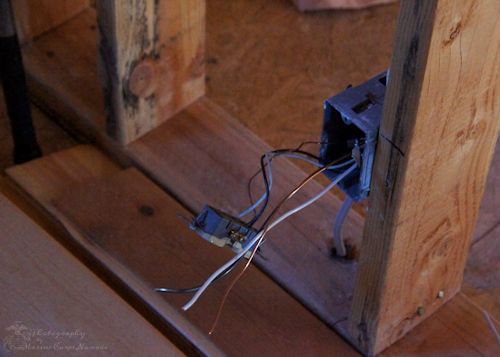 Munchkin and I arrived at the cabin late Monday afternoon. After unpacking the truck, I started looking over what had and had not been done. Sadly, our new contractor and his boss (K & P) had been lied to by the subcontractors. The electric wasn't done and some of the lines were hot that were sticking out of the outlets. Um, yep – talk about a safety hazard!!! The plumbing hadn't been touched, and the hvac hadn't been finished. **sigh** I call D to let him know what's going on before making phone calls to P & K.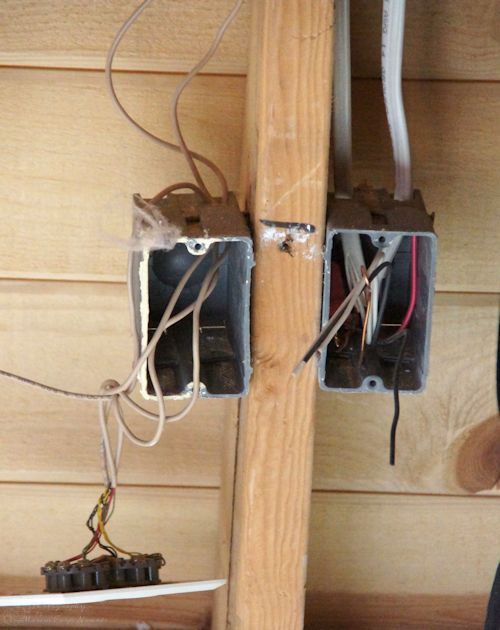 Eventually, I talked to P and let him know that he'd been lied to and the work had not been completed. We talked about what they would take care of before they stopped working. He then assured me that we would not be paying for this work, and that they would make sure the house was safe before they left the job. On Wednesday, K & P as well as some of their in-house contractors stopped by to square away the electric, hvac, and take a look at the plumbing. They confirmed that the hvac had not been completed (after a little back and forth between me and them and then crawling under the house proving that it hadn't been done – yes, I'm persistant). They noted that the plumbing had not been touched. They also agreed that the electric was subpar and not safe. They were going to get that completely corrected when they realized they couldn't take care of it, so they just capped things off.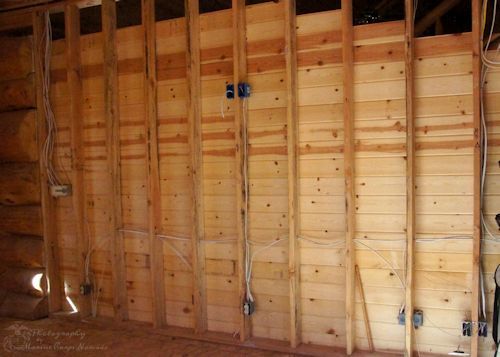 The electric couldn't be completely done until the drywall and paneling was done. Since they were no longer going to be doing this for us, it meant that we had to get it done. We were planning on staying in our room (unfinished as it may be) while Grandma and Grandpa were there, so we really did need the electric and walls done by Friday. K talked to the electricians and after much debate about whether we would be able to complete the work prior to their arrival on Friday, they agreed to come. (I did talk to D to make sure that he'd be able to come up so we could get the drywall done before agreeing to this.) They doubted that we would get it done, but I knew that we would even if it meant a late night….
After talking to him, I got to work on putting the pine T&G planks on the wall. I knew that this needed to be done that day if we were going to complete the drywall by Friday morning once D arrived. (It takes us between 45 minutes and a hour to get to Lowes/Home Depot to get the needed supplies. We would need to do this Thursday morning, and then come back and complete the drywalling. We needed to at least complete the drywalling where the wiring was in the walls.) It was fun being able to surprise D with the T&G wall being pretty much done by the time he arrived late Wednesday night.
Thursday was a long day, but we completed the task before us. It wasn't pretty, but we got it done. There was still a lot of mudding to do on it, but the master bedroom was starting to look like a room again. On Friday, the electricians showed up, so it looked like we were on our way to getting done. Unfortunately, after they left, we realized that a lot of things weren't working. Yes, they had incorrectly wired several switches which messed up the circuits. **sigh** I called up K to let him know, and he was ticked to say the least. Later that day, the electricians came back and took care of those issues. Once again, after they left, we found several more issues that weren't related to the original issues. I called yet again. K had it up to here with these guys and let them know it. He called back and told me that, in theory, it was an easy fix, and they would be back next week. The hvac guys showed up after the electricians second trip out and finished up the work except for something minor which was corrected on Monday.
We headed out to meet up with Grandma and Grandpa after everyone left the cabin.
To be continued….