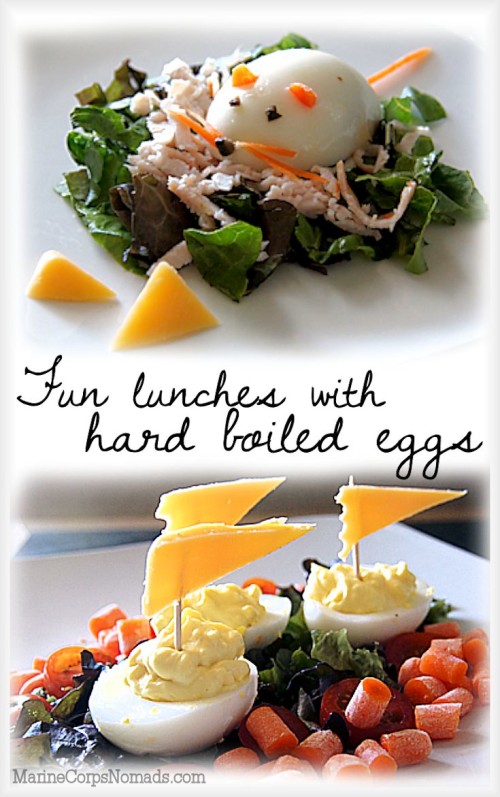 When Munchkin was younger, I made fun lunches for her all the time. They weren't elaborate, but they featured fun food shapes or interesting presentations. It's interesting how food served just a little differently can bring a smile to a child's face. Well, here I am with a 13-year-old, and guess what! She still gets a smile on her face when I present her a fun lunch. I guess it's something that we never grow too old for. This past week, I decided that it had been far too long since I had created Munchkin a fun lunch. My one day of doing a fun lunch turned into an entire week of fun lunches as I thoroughly enjoyed seeing her fact light up when I presented her the lunch. It also helped lift my spirits as I enjoy being creative.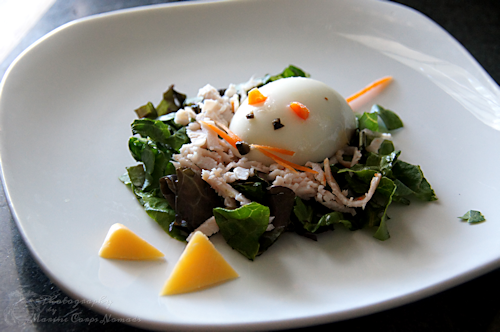 It all started with a mouse, an egg mouse that is.  I hard boiled some eggs which lead to a week featuring hard boiled egg lunches. For the mouse, I simply cut a hard boiled egg in half. I placed in on top of a bed of lettuce with some sliced turkey. The eyes and nose are small pieces of black olive. For the ears, I used thinly sliced baby carrot circles. The whiskers and tail are thinly sliced pieces of baby carrot. I garnished it with small wedges of cheese as a mouse can't be without its cheese. 😉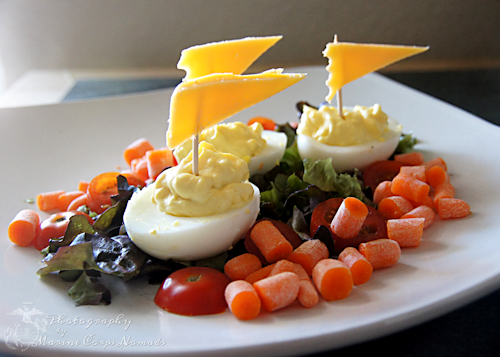 I can't make hard boiled eggs without at least making a few deviled eggs. Since I didn't want to just serve them plain, I turned them into sailboats. This was as simple as adding sails to the deviled eggs using cheese triangles and toothpicks. I served those over a bed of lettuce with some sliced cherry tomatoes and carrots.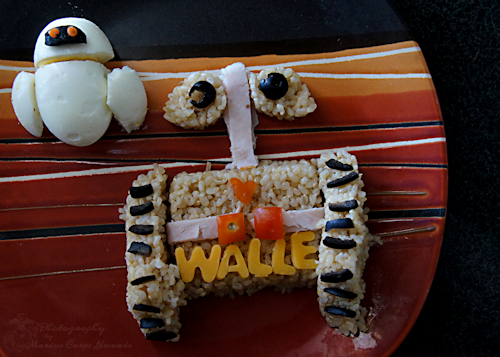 For WALL-E and EVE, I got a little more ambitious. Munchkin really likes the movie WALL-E, so when I saw an ad for WALL-E the night before, my mind started spinning. I grabbed a scrap piece of paper and did a very basic sketch as well as labeled with possible materials that I could use to make it. The next day, I put a nice batch of short grain brown rice into the rice cooker. Once it was done, my work began. EVE is fairly straight forward. She's just made of a couple of hard boiled eggs put together. (Note: the eggs did not want to cooperate during the peeling process that day, so she's not as smooth as she should be. lol!) For her face, I used a thin slice of black olive and a couple of baby carrot rounds for the eyes.
WALL-E took a little more work to get him to come together. For the body, I tightly packed the brown rice into a small glass container to create the squarish shape. The arms are simply slices of turkey. The hands are (obviously) small pieces of cherry tomatoes. I added the tomato heart since he was with EVE. 😉 The neck is, once again, slices of turkey. I made the eyes using brown rice tightly packed into leaf shaped cookie cutters then added pieces of black olive. The tracks were probably the hardest part since they needed to stand out from the plate. I ended up using the same small glass container for them, but this time I only used half of it creating a triangle-like shape. I did this for each track. I then added thin slices of black olive to give it more detail. The lettering is just made with cheese that was cut using fondant letter cutters.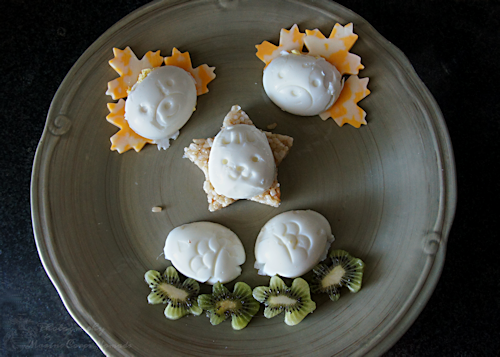 The next day was all about fun shapes with the hard boiled eggs and the cheese. I have molds for the hard boiled eggs that allow them to be shaped in the form of a teddy bear head, a fish, and a bunny head. They work best if the egg is still warm when you put them in the mold, but unfortunately, I didn't do that. The basic shape still came out though. I love using a variety of cookie cutters to create shapes in the cheese and fruit. It's so easy! The brown rice star was made using a ice cream sandwich mold that I have.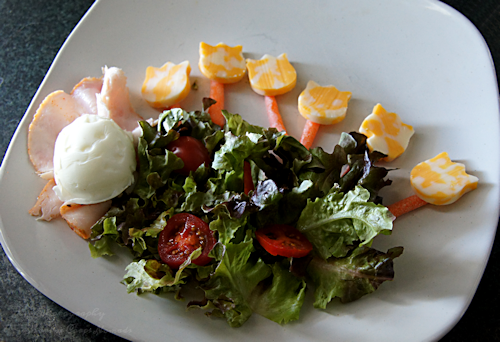 Our final fun lunch was just a hodge-podge of things put together to create a "call it what you want" design. (Think cloud shapes in the sky type of thing.) The picture doesn't show it, but this was served with a small cup of ranch dressing for dipping purposes. This was a simple, yet fun, creation.
This post is featured in The Christian Home Magazine – Issue 86.