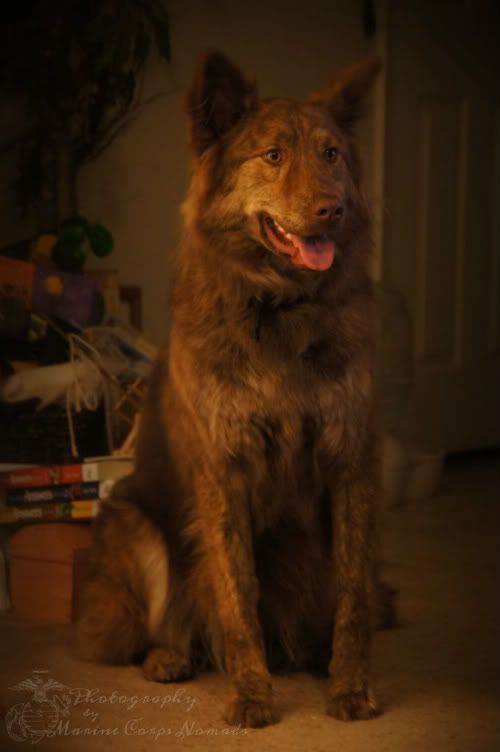 While I wasn't ready to introduce a new furry buddy to our home yet, both Daddy and Munchkin really wanted to have a new puppy in time for Christmas. They couldn't handle not having a dog to love on; they needed a dog to fill the huge void left by the passing of our other pup.
This past weekend we decided to go away for the weekend.  We quickly packed up some clothes and overnight necessities and hopped into the truck.  We just needed to get out of the house.  We ended up coming home with this cute boy. I saw him online at the humane society, but I didn't know if I could handle having another dog yet.  I decided that I would try for D and Munchkin.  We headed over to visit him, and while he was very shy, he ended up wiggling his way into our broken hearts.
After hearing his story, we knew that he was meant for us.  This poor guy had been at the humane society since he was a little puppy. Some police officers found him on the side of the road and brought him in. He was a cute little fluff ball back then. They believe he's now around a 1 1/2 years old, and between 50 and 60 pounds.  He's adorable.  We're surprised that he wasn't adopted sooner.  I have a feeling that his shy nature was probably off-putting for some people, but we weren't in a rush, so we just sat and waited for him to warm up to us.  It sounds like most people gave up too soon.  Plus, the humane society said that he's a Chow Chow mix which makes him more difficult to adopt.  Since our sweet boy was a Chow Chow mix, we're very familiar with them and happen to love their nature and unique disposition.
The people at the humane society were happy that he found a home in time for Christmas, but they certainly will miss him as he's grown up there. We're happy to have a puppy for Christmas. It doesn't make us miss our sweet boy any less, but it helps fill the void that he left behind.
Welcome home, Wiley. Welcome home…