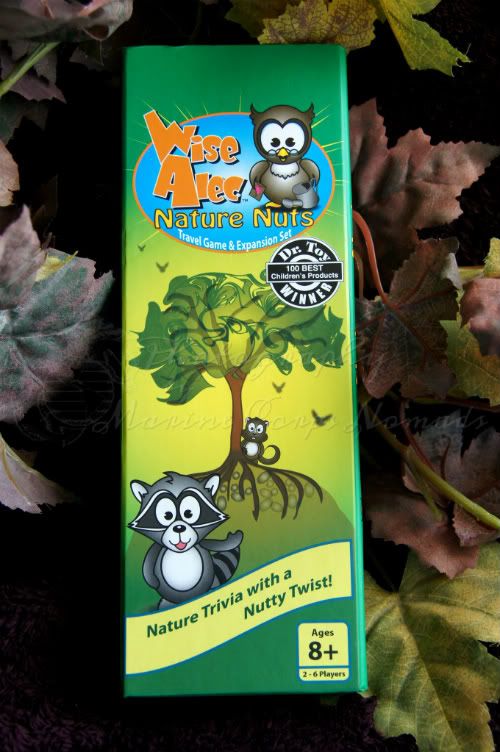 Griddly Games, the makers of the Wise Alec trivia board game, have created expansion packs that double as stand alone travel games: Nature Nuts, Civilize This, and Sports Buff.  Each expansion pack features 3 decks of cards, 1 deck of Wise Alec cards, and a die.  The game itself comes in a nice storage container which features a magnetic closure, organizational storage areas for each deck of cards as well as the die, a plastic cover to keep all the cards and die in place, and instructions printed directly on the container.  What this means is that you will not have to hunt for the instructions, and the pieces are less likely to be lost during travel.  As someone who does quite a bit of travel in a vehicle, I totally appreciate this thoughtful approach to packaging.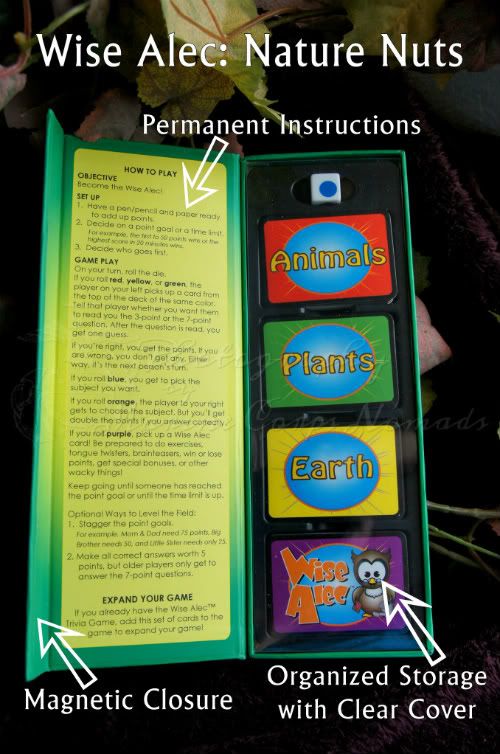 As you can see, we were given the opportunity to review the Wise Alec: Nature Nuts game.  Since we love being out in nature and given the fact that both Munchkin and D enjoy trivia questions, this game seemed like something that would be great for our family.  The game itself is geared towards age 8+ and 2-4 players.  I do believe that you could have more players if desired, but you are more likely to run low on cards depending on the length of the game.  There are two different difficulty levels on each card which allows for varying degrees of subject knowledge to play together.
Playing Wise Alec: Nature Nuts ended up with quite a few laughs as well as the discovery that we need to work a bit more on our plant facts. lol!  The Wise Alec cards are a hoot.  Daddy ended up needing to do the tree yoga pose as his challenge, and he did it!!!!  Munchkin thought for sure that he'd just pass, but he proved her wrong.  Me?  Well, I had to do quite the tongue twister which is rather difficult when one has a headache.  Thankfully, they took some mercy on me and let me say it slowly.  **grin**
The one negative that we found with the game is that the cards don't look like they will be very durable.  They are made from a medium-weight, unlaminated cardstock.  They feel like they won't hold up to long-term or frequent use.  I prefer decks of cards to be laminated to protect them from dirt and spills as well as to help them hold up to more rigorous use.
Wise Alec: Nature Nuts is an easy to learn, fun trivia game that can be played anywhere.  (It could be played in the car as long as you were willing to pass on some of the physical Wise Alec card challenges.)  I appreciated that it was an educational game which was easy to pick up and play.  It wasn't complicated, and we all enjoyed playing it together as a family.
I received a copy of the above mentioned game from Griddly Games as a member of the TOS Crew to help facilitate the writing of a frank and honest review. A positive review is not guaranteed, and all opinions are my own.