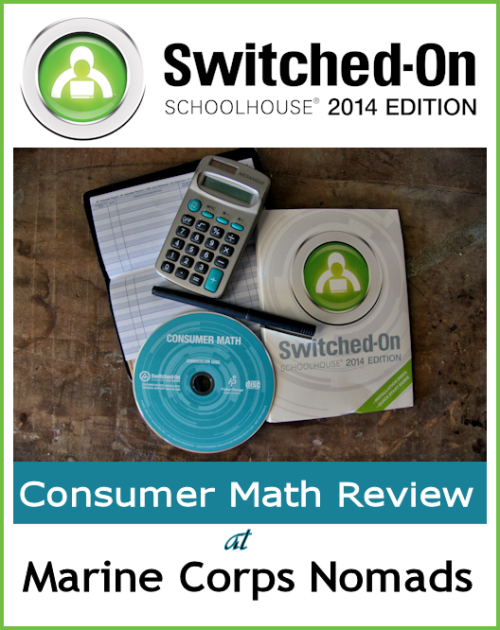 Switched-On Schoolhouse (SOS) is a computer based learning program from Alpha Omega Publishing. There are a variety of core subjects as well as electives available for all grade levels which allow the teacher to create a customized learning environment for their student(s).
Installation and Setup:
Before you can start using specific subjects, you need to install the main Switched-On Schoolhouse software on to at least one computer. You have the option of running the entire program on 1 computer, or you can install the main program on 1 computer and then install the teacher and student programs on another computer. If you decide to install it on more than one computer, the additional computers must always have access to the computer where the main program is installed. We decided to go with installation on one computer as it was just the easiest option given that we may not always be near more than one computer.
While the installation takes a little time, it went smoothly on our Windows 8.1 computer. Upon completion of the installation of the SOS program, users then install the different classes and then assign the classes to different students. In our case, we installed and assigned the Consumer Math program. The installation of the course was quick and easy.
There are two components to the program: the teacher and the student. Each person has their own login screen and desktop. The desktop can be customized to fit the personality of the person using it. The teacher can also add and subject various aspects that are placed on the student desktop.
You can find a list of the system requirements here.
Consumer Math – Description and Content:
Teach your child how to manage personal finances with Switched-On Schoolhouse Consumer Math for grades 9-12! This fun-filled, practical one-year Alpha Omega curriculum covers daily math applications like family finances, taxes and insurance, investments, travel, and a basic math review. Easy-to-follow topics include step-by-step instructions and clear explanations to help build your student's understanding. And SOS has interactive, exciting learning tools to engage your child in learning! Your child will study multimedia-enriched lessons which include video clips, learning games, and animation. No typical, boring, textbook lessons here. Your student will actually be excited to learn math and finance with this colorful, motivating computer-based course.
Grades 9-12
Retail Price: $98.95
Content includes:
Basic Math Review
Personal Finance
Statistics
Taxes and Insurance
Banking Services and Investments
Banking and Credit Costs
Purchase and Sale of Goods
Leisure, Travel, and Retirement
Job Related Services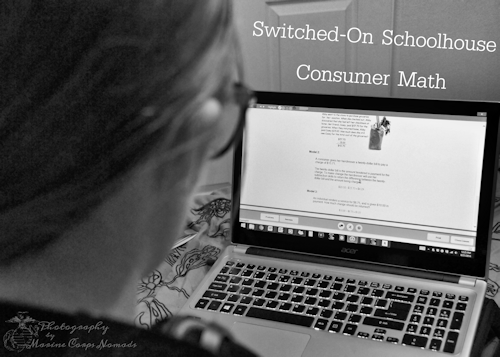 Consumer Math – Student:
As a general rule, Munchkin is liking the Consumer Math program. Using the program as easy as logging in, reading the material, watching the videos, doing the problems, and taking the quizzes. The material, for the most part, is presented in an easy to understand manner with manageable size lessons.
That being said, there are a couple of things that she doesn't like.
Video Format: She's not a fan of the format of the videos as she feels the animated presentations are a bit cheesy. She would rather they be presented by a real person. There are times the voice is a little difficult for her to understand.
Grading: There are times that she has the correct answer, but the system will mark it as incorrect due to not having a comma, not having enough decimal places, having too few decimal places…. There was even a time when the system said to round to three decimal places, but it marked it as incorrect because the answer they gave rounded to two decimal places. This was extremely frustrating for her.
She is definitely learning even if there have been a few hiccups along the way.
Consumer Math – Teacher:
I found the teacher portion of the program fairly easy to use. I liked that they have tutorial videos to help with areas where I had questions, and when I had to call customer service regarding a technical issue, they were very polite and helpful.
I appreciate the fact that I can go in and reassign select problems or entire assignments as we take a mastery approach at our house. Plus, Munchkin likes to truly understand a concept before moving on which means she wants to get everything right before moving on to the next learning concept.
What I would like to see that I didn't is the ability to mark a problem correct if the program incorrectly marks it wrong.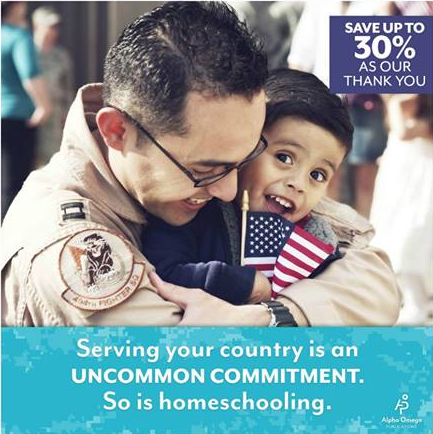 Conclusion:
Overall, we are liking this Consumer Math program even if there are a few features that we feel could be improved.
Alpha Omega Publishing is offering military families a 30% military discount on their products.
Disclosure: I received a free copy of the program to help facilitate the writing of this review. A positive review is not expected nor guaranteed. All opinions are my own.