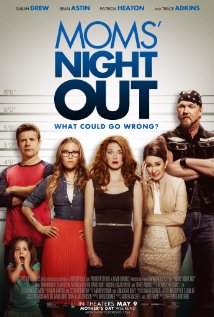 Special thanks to Family Christian Bookstore for providing a sample copy.
It's time for some fresh popped popcorn and a family friendly movie. Today's featured movie is Moms' Night Out (affiliate link).
Moms' Night Out definitely has all of the cliches front and center, but it's done in a way that made us laugh out loud – a lot. We were cracking up at the antics of both the moms and the dads in the movie. The situations they got themselves into were insane. Yes, it's quite silly at times, but we're okay with that. It also had some good lessons coming from some of the most interesting characters. I appreciated that while the marriages weren't perfect, they were solid, loving marriages.
Allyson, one of the moms in the movie, is feeling stressed about taking care of the kids and the house as well as meeting expectations outside of the home. When her husband Sean gets back from his trip, he sees how stressed she's feeling and encourages her to plan a night out with a couple of the other moms from church. Of course, the dads will be taking care of the kids while the moms go out.
While the idea of the moms night out was to allow them to relax and have some adult time away from the kids, nothing played out as planned from the very start. If something could go wrong, it did. The poor dads, in cliche fashion, had one incident after another happen while taking care of the kids. It was the craziness of their nights that kept us laughing.
In the end, we see the importance of family and friends. The night may not have gone as smoothly as planned (serious understatement), but they did end up walking away with a better perspective and appreciation for their lives, family, and friends.
Moms' Night Out has no swearing or objectionable content. Faith is part of the movie, but it's not the focus of the movie.
Movie Overview:
From the producers of October Baby comes a faith-based message and hysterically funny comedy that your whole family will enjoy! Allyson and her friends just want a peaceful, grown-up evening of dinner and conversation – a long-needed Moms' Night Out. But in order to enjoy high heels, adult conversation and food not served in a paper bag, they need their husbands to watch the kids for three hours… what could go wrong?
This film is an endearing true-to-life family comedy that celebrates the beautiful mess called parenting.
Stars Sarah Drew, Sean Astin, Patricia Heaton and Trace Adkins.
Movie Details:
Format: Multiple Formats, Color, Widescreen, NTSC
Language: English
Subtitles: Chinese, English, Korean
Dubbed: Portuguese
Region: Region 1 (U.S. and Canada only. Read more about DVD formats.)
Aspect Ratio: 1.85:1
Number of discs: 1
Rated: PG (Parental Guidance Suggested)
Studio: Sony
DVD Release Date: September 2, 2014
Run Time: 99 minutes
Disclosure: I received a copy of this movie as a member of Family Christian Bloggers. A positive review is not expected nor guaranteed.