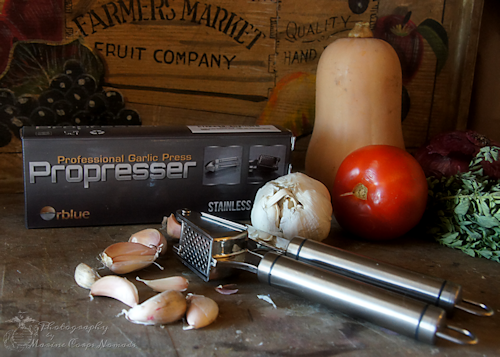 Special thanks to Orblue for providing a sample for review purposes.
I don't know how many times I've diced and minced garlic over the years. I do the smash with the knife thing to remove the skin before setting to work either dicing or mincing. After using this garlic press, I'm wondering why I didn't get one of these sooner – much sooner. It would have saved me a lot of time and energy because I love garlic in my cooking.
We've been receiving beautiful organic garlic in our CSA boxes for the last few months, and I've been enjoying the flavor that can only come from fresh garlic in our dishes. Every time I prepare the garlic, I end up with having garlic hands for some time after preparing the meal. It was one of those necessary evil things because, as I said, we love garlic.
Thankfully, I now have a way to prepare the garlic that takes less time, makes less mess, and leaves my hands without that garlic smell. I just pop two cloves of garlic with the skin on into the basket of the Propresser Garlic Press
 (Amazon affiliate link) and squeeze to add wonderful garlic right into the pan/pot. Then I repeat if necessary.
Now, it's important to note that due to my small hands, the initial action of the press requires to hands to squeeze it together. It is what it is. I was actually expecting it to require a bit more force to push the garlic through the press, but it was fairly simple and didn't require a lot of force to get it done even with two, skin-on cloves in the basket.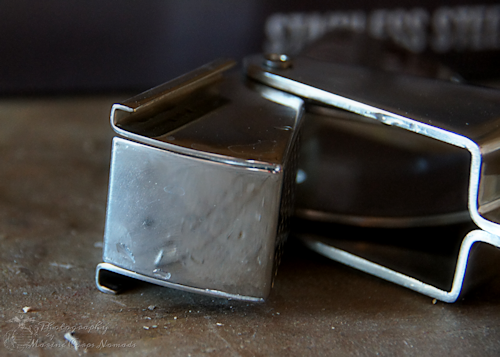 Immediately after pressing the garlic into the pan with the onions, I went and cleaned the press. I didn't want to try to deal with cleaning anything that was dried onto the press. I just picked the skins out of the basket and started rinsing the press with water. One of the parts that I really like about this stainless steel garlic press is the fact that it has a movable basket that swings out for easy cleaning. Unfortunately, this basket does have one flaw. Instead of making it a solid, one-piece basket, it has two small openings where the metal is bent up to form the basket. (See picture above.) And yes, stuff does get caught in the slits. You can clean it out with a knife, but this issue could have easily been avoided with a solid basket unit.
The Propressor Professional Garlic Press is made of 100% stainless steel. I do need to note that it is made in China as I know it's important to some people, but it does come with a 100% satisfaction guarantee for the life of the product. Other than the one flaw in the basket, I thought this was a really well-made garlic press that not only looks nice but it also functions well.
Disclosure: I received one or more of the products mentioned above for free using Tomoson.com. Regardless, I only recommend products or services I use personally and believe will be good for my readers. A positive review is not required nor guaranteed. All opinions are my own based upon my experiences. Your results may vary.