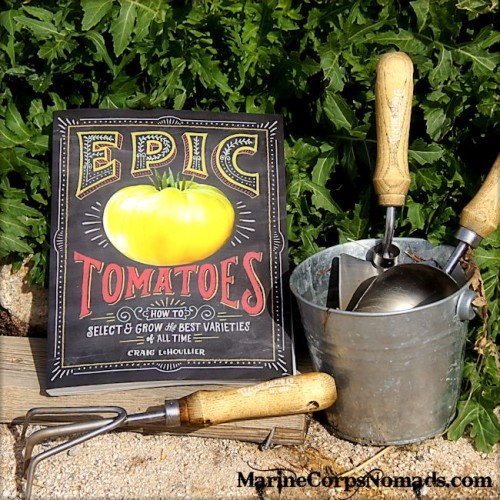 Special thanks to the publisher for providing a review copy of this book.
I need to start this post off with a warning. In many parts of the country, it's cold and dreary. Some places have snow on the ground. The longing for spring has already started to fill people's hearts. Epic Tomatoes (affiliate link) will not help with that – at all. In fact, you will end up craving fresh from the vine tomatoes. You'll want to get those tomatoes planted so you can see the harvest sooner rather than later.
I was resting in bed reading Epic Tomatoes only to find my mouth watering. The cold winds were howling outside. I was craving all of the tomatoes that were pictured and talked about in the book. It's late at night and cold outside and all I could think about were delicious, juicy tomatoes – tiny tomatoes and large tomatoes. D sat there laughing at me.
**sigh** Since I couldn't have the tomatoes any time soon, I decided that I could at least continue reading, so I could have the best success with these new (to me) varieties of tomatoes. Craig does a wonderful job explaining the ins and outs of successful planting of tomatoes. He gives excellent information on all different varieties and describes ways to get the maximum yield from your crop. He evens busts a few myths along the way.
He gives a few recommendations on where to get seeds. Thankfully, I had at least a couple of the recommended seed catalogs already in my possession. All of the descriptions of the tomatoes helped me decide which tomatoes would be best for me based upon my wants/needs for my tomatoes. I just needed to make sure some of them would do well in the high desert heat.
Oh, I'll be ordering some seeds soon. I just need to pair down my selections as I don't need to do it all at once even though it's tempting. There is only so much time and space.

He gave some recommendations on how to start the seeds and ideas on different planting methods. Ah, so much planning to do. At least there is something to do while waiting for the right time to start the seeds.
If you're interested in tomatoes, I highly recommend Epic Tomatoes. Just be prepared for tomato cravings and longings for spring…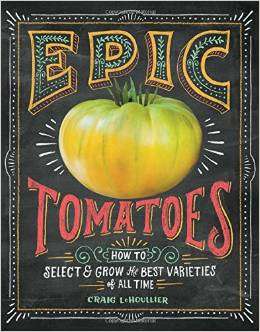 Book Description:
Savor your best tomato harvest ever! Craig LeHoullier, tomato adviser for Seed Savers Exchange, offers everything a tomato enthusiast needs to know about growing more than 200 varieties of tomatoes — from sowing seeds and planting to cultivating and collecting seeds at the end of the season. He also offers a comprehensive guide to the various pests and diseases of tomatoes and explains how best to avoid them. No other book offers such a detailed look at the specifics of growing tomatoes, with beautiful photographs and helpful tomato profiles throughout.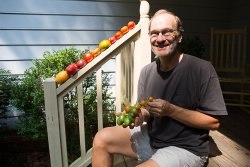 About the Author:
Craig LeHoullier's first book, Epic Tomatoes, is the culmination of decades of a passion for collecting, researching and growing hundreds of varieties of tomatoes. Residing in Raleigh, NC with his wife Susan and small assortment of dogs and cats, Craig's gardening passion was planted when very young by walks through his grandfather's backyard garden in Pawtucket, Rhode island, and, later on, planting the family gardens with his dad.
Possessing a PhD in chemistry, Craig's professional career involved various positions in a major pharmaceutical company. After retiring in 2008, and following a few years of consulting, he decided to take the plunge into garden writing, a logical progression from Craig's many years of garden lectures, a newsletter (Off The vine), and blogging.
Craig's passion for tomatoes in particular exploded after joining the Seed Savers Exchange in 1986, and all gardens since focus on open pollinated (non-hybrid) varieties, in a wide range of colors, sizes and flavors. He is responsible for naming, developing and introducing many varieties, such as Cherokee Purple and Lucky Cross, and has been co-leading a unique all-volunteer project to create new dwarf-growing varieties. The project is responsible for 25 new tomatoes available through a variety of seed companies, particularly valuable for space-constrained gardeners who wish to grow wonderful tomatoes on decks or patios.
Craig continues to be active in the Seed Savers Exchange and has served as Adviser on Tomatoes to the organization for many years.
Book Details:
Paperback: 256 pages
Publisher: Storey Publishing, LLC (December 30, 2014)
Language: English
ISBN-10: 1612122086
ISBN-13: 978-1612122083
Product Dimensions: 1 x 8.5 x 11 inches
Retail Price: $19.95
Electronic Version also available
Disclosure: I received a review copy of this book from the publisher. A positive review in neither expected nor guaranteed. All opinions are my own.