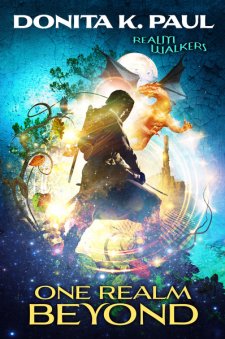 Special thanks to the publisher and BookLook Bloggers for providing a preview copy of this book to help facilitate the writing of this book.
One Realm Beyond Book Description:
Cantor D'Ahma waited his whole life for this day. Born with a gift to jump between worlds, the young realm walker is finally ready to leave his elderly mentor and accept his role as protector and defender of the realms.
But mere hours after he steps through his first portal, Cantor discovers that his job will be more dangerous and difficult than he ever imagined. The realms are plagued with crime and cruelty, and even members of the once-noble Realm Walkers Guild can no longer be trusted. To make matters worse, his first assignment – finding a dragon to assist him on his quest—has led him to Bridger, who is clearly inept and won't leave him alone.
With the help of his new friends Bixby and Dukmee, Cantor must uncover the secrets of the corrupt guild before they become too powerful to be stopped. But his skills aren't progressing as fast as he would like, and as he finds himself deeper and deeper in the guild's layers of deceit, Cantor struggles to determine where his true allegiance lies.
About the Author:
Donita K. Paul retired from teaching and took up the mantle of grandma. She loves her new career as author of stories her grandchildren devour. Winner of multiple awards, she lives in Colorado, enjoying friends and family, pets, ad beautiful scenery. Her favorite part of writing is the readers.
Book Details:
Series: Realm Walkers (Book 1)
Paperback: 416 pages
Publisher: Zondervan (January 28, 2014)
Language: English
ISBN-10: 0310735807
ISBN-13: 978-0310735809
List Price: $12.99
Electronic versions also available
My Thoughts:
I enjoyed both main characters in One Realm Beyond. While Cantor drove me a bit batty with his refusal of Bridger, he still was well developed which was one of the reasons I was able to get annoyed with him.  Bixby was quite the quirky character who had some issues of her own. The flawed characters helped make the characters more believable. The mor dragon aspect is quite interesting. Bridger cracks me up as he's this beautiful, amazing creature, but his clumsy nature often causes him issues. Totobee-Rodolow was not as well developed (which, I believe, was intentional), but she too is rather intriguing.
The story itself took some time to develop which made it hard for me to get into until later in the book. I like books that capture my attention from the very beginning, and this book was a little lacking in a true draw. That being said, I found the concepts intriguing which kept me reading until the story started to unfold. Some of the scenes weren't completely developed, but since this is a series, I imagine we'll receive more back story in future installments.
The Christian theme is played out throughout the story as is the fall of man due to evil. It's an interesting twist on an age-old story.
Overall, I enjoyed the book and look forward to seeing how the story continues in future books as I want to get to know a few of the characters better as well as see how they will combat the evil permeating the realms. While this is geared towards teens, I believe it would be easy reading for a younger audience as well.