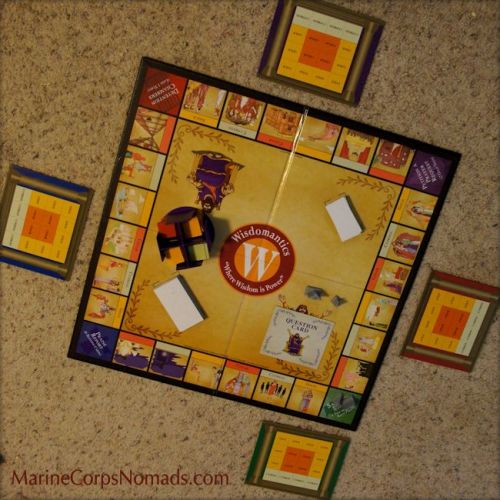 Special thanks to Propeller Consulting, LLC for providing a sample of this game.
Game Description:
Wisdomantics- New King James Version (NKJV) is an interactive DVD board game for players of various faiths who desire to gain the vast wisdom of King Solomon. Wisdomantics utilizes the proverbs of Solomon and blends chance, knowledge, and strategy to create a fun experience while you learn. The game's intent is to bring individuals together to learn how to cope with numerous situations in a fun and relaxed environment.
What's in the box?
2 interactive double-sided dvds with 400 questions
4 score cards
4 game pieces
1 question card
1 game board
blessing cards
advancement cards
tiles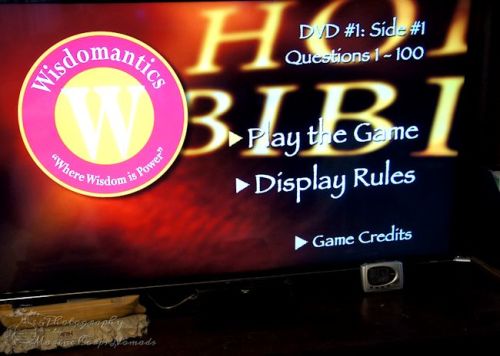 Wisdomantics is geared towards players 12 and above, but younger players can definitely play the game. It can be played by 2-4 individual players or in teams. This is one game where you can honestly play with two people with no issue thanks to the interactive nature of the dvds.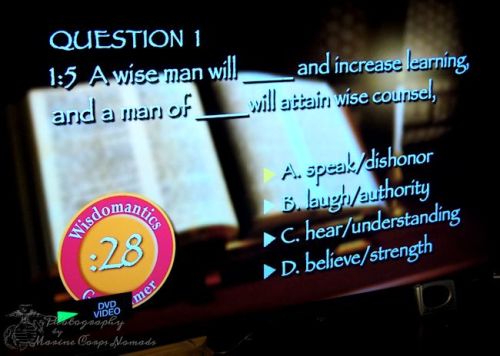 Players (or teams) either fill-in-the-blanks or complete the scripture passages by clicking on the multiple choice answers. The timer starts counting down a soon as you click on the question. If the answer is correct, King Solomon will show up on the screen and say hallelujah. Then the scripture passage will display on the screen and be read out loud by the narrator. The player/team will then take an advancement card and follow the directions.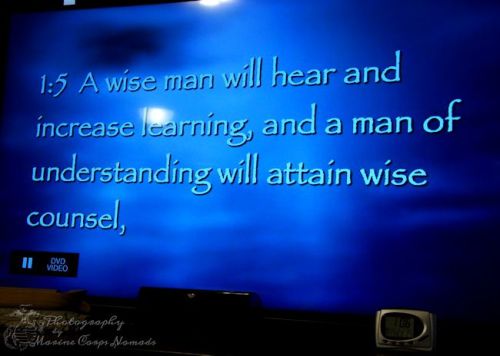 If the answer is incorrect, then the next team/player will get a chance to answer the question. If they get it correct, they will receive a gold tile to add to their score card. The first player/team to fill up their score card with tiles wins.
While the King Solomon hallelujah is a bit cheesy, the game itself is done quite well. The game board and pieces are sturdy. Munchkin said that she thought the game pieces could have been done a bit better instead of just using a gray, molded plastic. We enjoyed trying to remember the scripture passages as we played the game.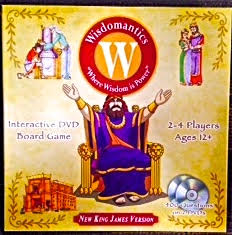 Giveaway:
Now, I'm thrilled to be able to give away a copy of this game to one of my US or Canadian readers. This will be a quick turn around due to the holidays, so the give away ends on December 19, 2014. Only one entrant per mailing address, per giveaway. If you have won the same prize on another blog, you are not eligible to win it again. Winner is subject to eligibility verification.
Wisdomantics Interactive Board Game Rafflecopter Giveaway

Disclosure: Many thanks to Propeller Consulting, LLC for providing this prize for the giveaway. I received a sample to help with the writing of a frank and honest review.