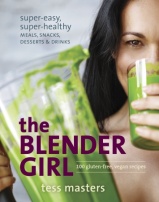 Special thanks to Blogging for Books for providing this review copy.
The Blender Girl Book Description:
The debut cookbook from the powerhouse blogger behind theblendergirl.com, featuring 100 gluten-free, vegan recipes for smoothies, meals, and more made quickly and easily in a blender.
What's your perfect blend?
On her wildly popular recipe blog, Tess Masters—aka, The Blender Girl—shares easy plant-based recipes that anyone can whip up fast in a blender. Tess's lively, down-to-earth approach has attracted legions of fans looking for quick and fun ways to prepare healthy food. In The Blender Girl, Tess's much-anticipated debut cookbook, she offers 100 whole-food recipes that are gluten-free and vegan, and rely on natural flavors and sweeteners. Many are also raw and nut-, soy-, corn-, and sugar-free.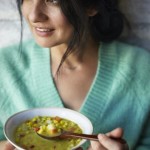 About the Author:
Australian-born TESS MASTERS is a cook, writer, actor, and voiceover artist. She shares her enthusiasm for plant-based foods at theblendergirl.com.
As a presenter and recipe developer, Tess collaborates with leading food, culinary, and lifestyle brands. She has been featured in the Los Angeles Times, Vegetarian Times, and Zeste and on Glamour.com, Chow, Epicurious, and AllRecipes, among other publications and websites. Away from the blender, Tess enjoys a diverse performance career. She has toured internationally with stage productions, worked in film and television, and lent her voice to commercial campaigns, audiobooks, and popular videogame characters.
Tess and her partner, Scott Brick, live in Studio City, California, with their West Highland White Terrier (and blender-cuisine maven), Cookie. Get to know Tess and see recipes at HealthyBlenderRecipes.com, on Facebook, on Pinterest, and on her Youtube Channel.
Book Details:
Paperback: 224 pages
Publisher: Ten Speed Press (April 8, 2014)
Language: English
ISBN-10: 1607746433
ISBN-13: 978-1607746430
Product Dimensions: 9.6 x 7.5 x 0.7 inches
Retail Price: $19.99
Electronic Version also available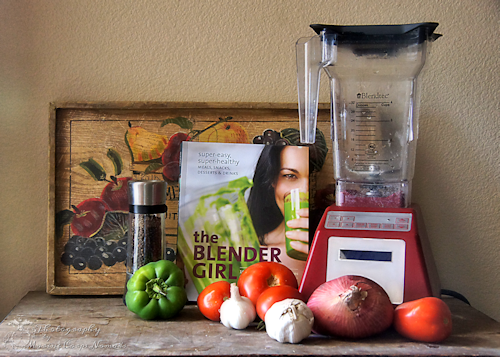 My Thoughts:
The Blender Girl, Tess Masters, is known for all of her concoctions in her blender, but this book isn't just about blender recipes. While blender recipes may be the may focus of the book, it also delves into the reasons behind why it's important to be eating our fruits and veggies. Yes, this book is a vegan-focused book, but Tess isn't promoting a vegan lifestyle for everyone. She's not a one-size-fits-all type of person. She advocates listening to your own body to determine what it really needs. Of course, in order to do this, you need to get rid of the junk, so your body can tell you what it actually needs.
Tess starts off by telling you her story and how she became the blender girl. She's careful to explain that her journey to health won't necessarily look like your journey. She's just here to share the ideas and some recipes that work(ed) for her. Of course, she gives you tips on picking a blender – including her picks for a variety of price ranges. She talks about how to take care of the blender as well as the best way to load it to keep it running smoothly.
Once Tess goes over the basics, she dives more into food philosophy and the reasons why some foods and food treatments are better for your body.  The Foodie Geek in me really enjoyed learning about the different food combinations and why they work or don't work for our digestive systems. She went into PH levels and finding the right PH for our bodies. All of this included lessons on soaking, sprouting, nut and seed milks, probiotics, cultured veggies, fermented drinks, and much more.
Having set the foundation for her approach to food, Tess jumps right into the recipes. The recipes are divided into 8 sections:
Smoothies and Shakes
Appetizers, Snacks, Dips, and Spreads
Salads
Soups
Main Dishes
Desserts
Drinks, Juices, and Tonics
Condiments, Sauces, and Creams
All 100 recipes are both gluten-free and vegan although some suggestions for variations or additions are not gluten free or vegan. While there are specific recipes for smoothies, Tess also talks about how to achieve different flavor and texture profiles in the smoothie. Unlike other recipe books, she encourages you to taste and tweak as you go to create smoothies that are perfect for you. The build-your-own smoothie section gives a great breakdown of liquid, base, cream, greens, boost, and magic with suggested measurements to help you create your own delicious smoothies.
Need to know where to find one of the ingredients or where to purchase one of the recommended blenders? No problem. She has a very nice resource list that includes websites for the various items. Need additional information on a concept covered? She has a resource section for more in-depth study as well.
The photos in this book are gorgeous and honestly, make me quite hungry and eager to try the recipes. I just wanted more photos as I love seeing photos of every recipe. While the blender is the central in the recipes, the recipes are not all drink based. In fact, there are recipes for baked items such as almond crackers and socca (flatbread). You'll use the blender to create dressings for delicious salads. There are both raw food recipes as well as cooked recipes, so it suits all seasons.
Overall, I was quite impressed with this recipe book as it went beyond my initial expectations.
Disclosure: I received this book from Blogging for Books to help facilitate the writing of a frank and honest review. A positive review is not guaranteed nor expected. All opinions are my own.