I received a review copy of this book from Tyndale House Publishers. This post may contain affiliate links.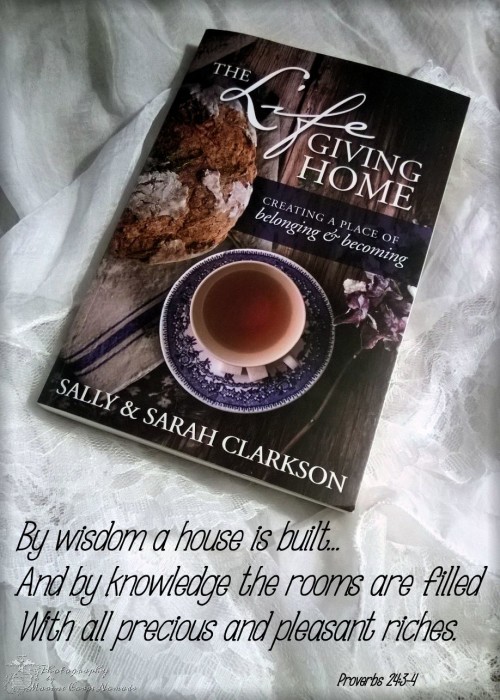 My injury, D's surgery, Munchkin starting college, and D continuing with his college work makes for a pretty crazy environment around here. Our regular routine was thrown out the window as we tried to find a new normal. It really highlighted the importance of creating a safe haven at home. We needed one place that we could relax and breath – a place where we could be ourselves and find comfort.
During this season, some things around the home have been pushed to the side while other activities have taken on a greater importance. Even with all of the shuffling of priorities, we've worked hard to create a stable environment where we could renew our minds, bodies, and spirits.
The Lifegiving Home is all about creating a culture of home that nurtures your family and anyone who walks through the door. It was a wonderful read as it confirmed my desire for my own home while giving me ideas where I could improve my own ideals. It reinforced the idea that home is where the heart is.
I did not sit down and read this book from cover to cover. Instead, I read a little here and there. I jotted down notes, thoughts, and ideas. I took the book with me to my husband's doctor's appointments and to his office when he needed to attend a meeting at work. In fact, one day, as I sat at his office desk, I started copying down some of the things in the book on post-it notes as encouragement to him.
Heroism is simply faithfulness, a moment-by-moment choice to do what is right…. It is forged and known in such choices, whether in a blazing moment of courage or in countless small moments of luminous, ordinary life.
One unique aspect of this book is that it's written from both the mother's point-of-view and the daughter's point-of-view. Sally shares through the eyes of a mother and all that entails while Sarah provides details through the eyes of a child and now adult. Each monthly chapter is written from one viewpoint about a particular time of year.
The month of March, written by Sarah, particularly stood out to me as it began with the story of how her mother, Sally, responded to her father leaving for a trip. Her mother was tired and the prospect of needing to take care of the kids by herself was, no doubt, a daunting task, but instead of being ho-hum about it, she cheerfully set about turning a sad occasion into a fun event including an indoor picnic and movie night. She encouraged Sarah by telling her it would be a good week, and they set about making preparations for their fun night. Many years later, Sarah vividly remembered this day.
We've had quite a few farewells over the years, so I understand how difficult, yet important it can be to make the best of whatever situation you find yourself in. I hope and pray that I am able to conduct myself in a manner that my own daughter will be able to look back one day and say that I made a positive impression on her by the way that I handled myself in tough situations.
I appreciated that Sarah and Sally didn't gloss over the hard times but they also didn't dwell on them. They acknowledged that hard times and difficult seasons. They flat out said that life wasn't perfect and neither was their family. Even with the family spats and difficulties, they were still able to have a home culture that welcomed family, friends, and even strangers into their home.
The Livegiving Home isn't about a one-size-fits-all approach to creating a welcoming home. Sally and Sarah invite you into their own lives and share their ideas while acknowledging each home is different. Within that home, there will be different seasons. People change. Life throws curve balls that can challenge even the strongest family. There are peaks and valleys. The important thing is creating a foundation and building on it. Grace and forgiveness can go a long way when you have a strong home that is built on the right foundation.
The wise woman builds her house, but the foolish tears it down with her own hands. Proverbs 14:1
My hope and prayer is that I build my family, my house on a firm foundation. I want to be an excellent example to my daughter so that she, in turn, will know how to create her own culture of belonging wherever she goes.
Additional Resources:
The Lifegiving Home Experience: A 12-month Guided Journey