Special thanks to Smart Weigh for providing a sample of this product for review.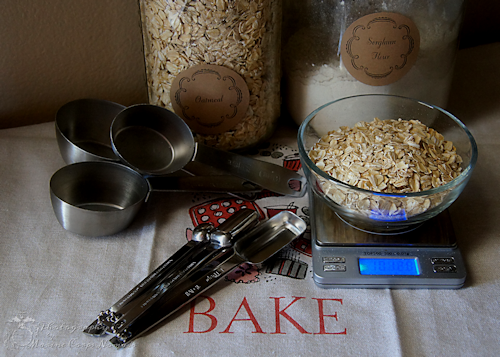 I resisted the whole measure-by-weight baking thing for quite some time, but recently, I've started to get on the band wagon as I've realized what a difference it can make in the consistency of the finished product – especially with gluten free baking. My recent attempts at artisan gluten free bread have been much more successful with the assistance of weighing each of the dry ingredients rather than using just cups, teaspoons, and tablespoons. It's amazing how much the weight of flour can vary from brand to brand. If you want to substitute one gluten free flour for another, you really do want to do it by weight rather than measurement as the various flours have a lot of differences in weight/volume.
Shortly after beginning this process of measuring-by-weight baking, I was given the opportunity to test out the Smart Weigh 500 x 0.01g Digital Pro Pocket Scale
(affiliate link). I knew that the 500 gram limit wouldn't work for all of my baking needs, but it would work for quite a few of the smaller batches. Plus, I loved the idea of having a small, portable scale.
The Smart Weigh 500 x 0.01g Digital Pro Pocket Scale comes with clear trays that snap on to the top of the platform and bottom of the scale for easy storage. It's a nice feature – especially if you plan on taking the scale on the go which is possible due to its small size of only 5″ x 4″ x 11/16″ (without trays attached). The platform on this scale is 3.94″ x 3.7″. Although I only used the scale to measure in grams, you can also measure in ounces, troy ounces, pennyweight, grains, and carats. It measures as low as .01 gram and as high as 500 grams.
The tare feature allows for quick and easy weighing of different ingredients without having to use a bunch of different bowls. (If you bake gluten free, you know there can be quite a few dry ingredients that need to be measured for each recipe, so this really is a time saver as well as a way to reduce the number of dishes needed.) It also has a hold button as well as a PCS button. The PCS button would be nice for someone who is only allowed to have so many chocolate chips or M&Ms and doesn't want to have to individually count them out.
The scale is easy to use and accurate. The bright, back-lit display makes it easy to read the display screen. While I'm enjoying using this scale mainly for small scale baking projects, it's also been nice for some mail that I've needed to check weight on before sending out. Because the scale is so small, it's easy to tuck in a purse or bag for use on-the-go. Overall, it's a nice scale for weights up to 500 grams (17.64 ounces).
I received one or more of the products mentioned above for free using Tomoson.com. Regardless, I only recommend products or services I use personally and believe will be good for my readers.