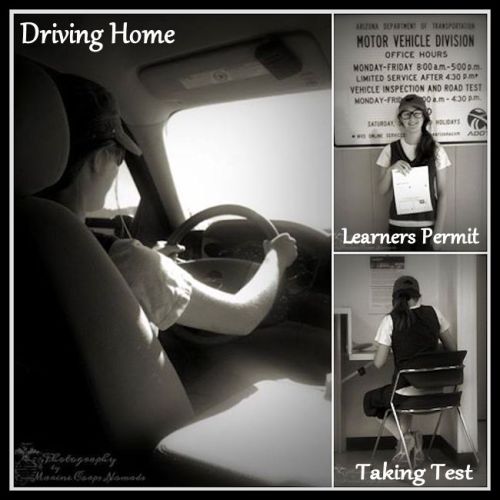 It's hard to believe that Munchkin is old enough to begin her journey to becoming a licensed driver, but she's now 6 months (or so) away from getting her drivers license. How did that happen? While she's not one of those teens who is super excited to drive, she does understand the importance of knowing how to drive and getting a license.
She's been going through her drivers education course online. Since she completed it last week, it was time to head over to the MVD to apply for her learners permit, so she could begin the driving portion of the learning.
Today, we drove her over to the MVD, so she could take her written test for her learners permit. She walked away with her temporary permit with the actual permit to arrive in the mail in about a week or so, and she helped drive us home.
We are fortunate to not live in a super crowded area. Plus, we have lots of back roads that are perfect for learning to drive. The trip home was filled with hills and curves but very little traffic – perfect for a beginning driver. Driving on a highway at 65 miles an hour can be pretty intimidating, but she did really well.
She can apply for her graduated drivers license in 6 months after she completes the required hours of daytime and nighttime driving. She has a lot to learn in that time, but I'm positive that she'll take it in stride and learn what she needs to learn in order to become a safe and responsible driver.