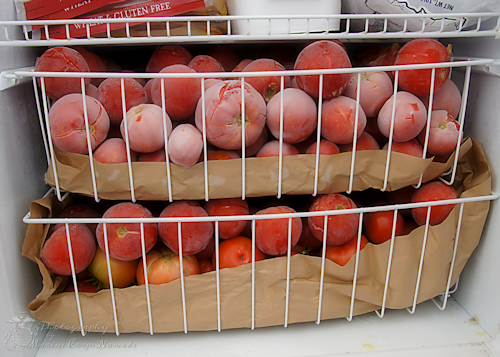 Did you know that you can freeze tomatoes for use later? You can freeze them peeled or unpeeled, whole or cut up.
Normally, you blanch the tomatoes to get the skins off in preparation for processing them, but I cheat and throw them in the freezer whole. When they thaw (or when you run the frozen tomatoes under warm water), the skins slide right off, and then you can process them however you want.
Freezing is also useful if you don't have enough to do a full batch of sauce or whatever. You can just throw the tomatoes in the freezer until you have enough. Plus, if it's really hot outside, you can delay the processing until a cooler day – if you have room in the freezer.
Just thrown into the freezer like shown above, I've had the tomatoes in the freezer for a couple of months with no issues, but normally, you'll want to store them in a way that protects them from freezer burn. If you plan on keeper them in the freezer for any length of time, you'll want to get them bagged or placed in airtight containers to avoid freezer burn. Properly stored, the tomatoes can keep in the freezer for several months.
It's important to make sure that you are freezing firm and not mushy tomatoes for best results. The tomatoes will be mushy when thawed, so this method is best for use in sauces, soups, or any cooked tomato recipe where you don't need fresh tomatoes. Don't forget to wash the tomatoes prior to freezing – especially if you're cutting them up.
Right now, I have 100 pounds of tomatoes (shown above) waiting to be processed into spaghetti sauce, tomato sauce, and tomato soup. I'm taking advantage of all the lovely bulk tomatoes available through my CSA right now, and I plan on processing them when the weather gets a little cooler. Yum!