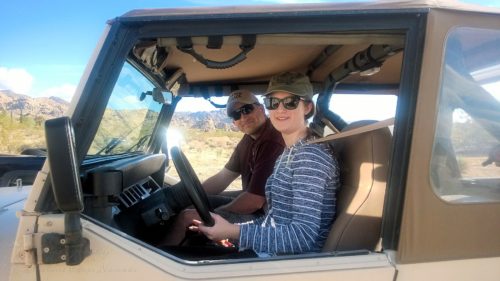 We've been enjoying rain on and off for the last few days around here. It's been wonderful. The temps have been cooler, and we can always use the rain – especially when it's a slow, steady rain rather than a downpour.
On Friday, Daddy was rather eager to get out and do at least a little mudding as it's been a long time since we've been able to play in the mud. Unfortunately, by the time he got home, I was already making dinner which meant I needed to stay home to finish it up.
It was decided that it would be the perfect opportunity to test out the Jeep and give Munchkin some time behind the wheel. I admit that it was rather odd to see Munchkin in the driver's seat with Daddy as the passenger as Daddy loves to go off-roading and playing in the mud. Off they went to have some fun while I wrapped up supper.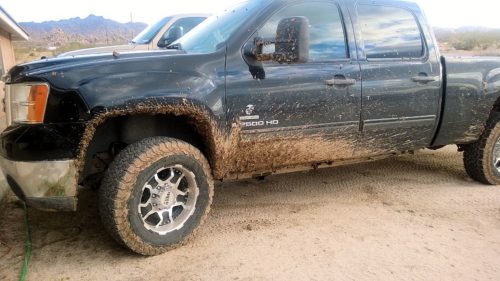 As I was taking care of the evening chores with the horses, I received a call from Munchkin letting me know that they needed me to bring a truck out there as someone was stuck in the mud. (The Jeep is not set up for vehicle recovery at this point in time, and we didn't have the necessary tow straps and what not in the Jeep yet.) I wrapped up what I was doing, and I was soon on my way to do some vehicle recovery.
It's been a little while since I've received one of those calls. When we were on the east coast, I received those calls more often as there was some serious mud over there. The desert doesn't have as much mud, and it's generally limited to after a rainstorm. The mud was slick, and my truck definitely sank in the mud much more than the Jeep.
Upon arrival, I saw a small vehicle that was seriously stuck in the mud. The tow strap was hooked up and vehicle recovery began. It didn't take long, but it was a messy process. After the guy was on his way, I made my way back home while Munchkin and Daddy carried on with their off-road adventure.
Overall, the first mud run in the Jeep went pretty well. It was a reminder that we needed to get certain things in the Jeep asap. (A tow strap with basic tools have already been placed in the Jeep.) It confirmed that we definitely want some bigger, more aggressive tires on the Jeep when the budget allows for it. Most importantly, both Munchkin and Daddy had a good time (minus a few frustrations for Munchkin as she worked on figuring out the mechanics of the manual Jeep).