I received a review copy of this book from Family Christian.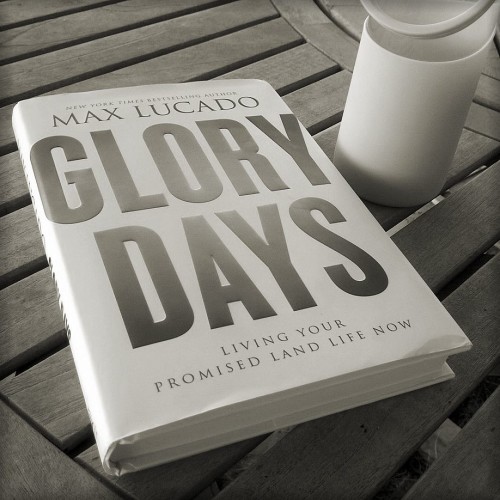 Can I let you in on a little secret? I never intended on reviewing Glory Days. I had too much on my mind and plate, so I had planned on skipping this particular book this month, but the Lord had a different plan in mind. The book was already on its way to me, so I knew that I was meant to read it. While I am normally a fast reader, this book took me a few weeks to read because I honestly needed to digest the information within. I needed to hear and apply what was written within the pages. The Lord knew what I needed and went over my head, so to speak, to make sure that I received the book at a time when I needed it.
Glory Days takes readers on a journey through Israel's trek to the Promised Land. It goes over trials, triumphs, epic fails, and amazing victories. It breaks the various phases of the Israelites' (including individuals like Joshua and Caleb) journey into small bits and applies the concepts learned to our lives today. Their struggles and victories are not unlike our own today. Using scripture, Max Lucado encourages us to embrace what can be if we truly put the Lord and His purpose for our lives before our own desires.
There are too many sections that spoke to me to list them all, so I'll just type of few of quotes that really stood out to me over the last few days of reading.
"You'll never have a problem-free life. Ever…. All people have problems. But not all people see problems the same way. Some people are overcome by problems. Others overcome problems. Some people are left bitter. Others are left better. Some people face their challenges with fear. Others with faith…. You'll always face problems. But you don't have to face them in the same way. Instead: Immerse your mind in God-thoughts. Turn a deaf ear to doubters. Set your mind to a holy cause."
"Consult God in all things. Call on Him for great things. And bring extra sunscreen, because the day of victory will last long into the night."
I think we all need reminders now and again that God's got this and we need to trust Him. He never promised us an easy life, but He did promise to always be there for us. For me, Glory Days was a great reminder when I needed it. The Lord provided encouragement in an unexpected way.