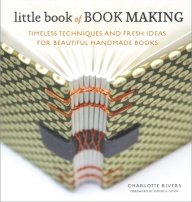 Special thanks to Blogging for Books for providing a review copy of this book.
Book Description:
Crafters, artists, writers, and book lovers can't resist a beautifully handbound book. Packed with wonderfully eclectic examples, this book explores the intriguing creative possibilities of bookmaking as a modern art form, including a wide range of bindings, materials, and embellishments. Featured techniques include everything from Coptic to concertina binding, as well as experimental page treatments such as sumi-e ink marbling and wheat paste. In addition to page after page of inspiration from leading contemporary binderies, Little Book of Bookmaking includes a practical section of 21 easy-to-follow illustrated tutorials.
About the Author:
Charlotte Rivers is the author of 14 design books, including Little Book of Letterpress and I Heart Stationery, and has contributed to a number of design magazines, including Cent, Grafik, and UPPERCASE. She blogs regularly about art and design as Lottie Loves at http://charlotterivers.blogspot.co.uk.
Book Details:
Hardcover: 176 pages
Publisher: Potter Craft (August 12, 2014)
Language: English
ISBN-10: 0770435149
ISBN-13: 978-0770435141
Product Dimensions: 7.9 x 6.8 x 0.6 inches
Retail Price: $22.99
Electronic Version also available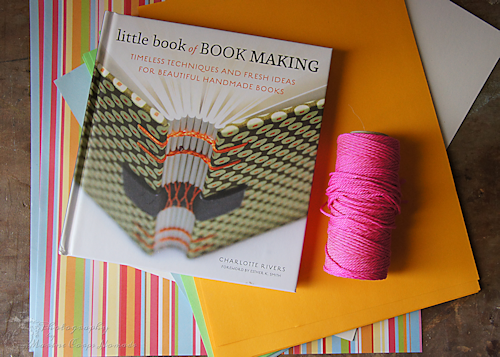 My Thoughts:
I originally thought this would be a really fun book for Munchkin as she loves the idea of making her own books. What I didn't realize was how fun this book was going to be for me to browse. The first four chapters are filled with amazingly creative works of art in the form of books. I have no idea where these people come up with the ideas, but they are just way too cool. They use all different mediums to create the books. There are even books that look like slices of cake. Very cool.
I liked how each artist/book maker had their own feature. It told their story, and the story of their books. Of course, there were always full color images to capture your imagination and help your creative juices flow. The main technique(s) used in that particular book is then referenced to the book making section of this book.
The Bookmaking in Practice chapter of the book is where you get to put your skills to work. It starts with a basic overview of the tools and materials of the trade. It then dives into several different types of books, stitches, binding, papers, and covers. Each of the techniques shown contain written instructions as well as images to help you with the process.
This is where Munchkin felt a little disappointed as she would have liked to see step-by-step images to go along with the written instructions. Yes, many of the stages of the process were shown, but not all of them. When you're first starting out in this process, it's nice to have everything laid out in one place – especially for a visual, hands-on learner.
Because you can pick from the different types of books, stitches, covers…, you have to flip around to figure out the type of book that ultimately you want to create. While this isn't a big deal once you get the hang of things, it's a little intimidating the first time around. She would have liked to see one book created from start to finish with detailed instructions and illustrations before jumping into all the choices.
I personally liked the option of building your own book based upon the style that you desired, so it really is a personal preference thing. Overall, we both liked the book and all the ideas and skills that it presented.
Disclosure: I received this book from Blogging for Books for this review.