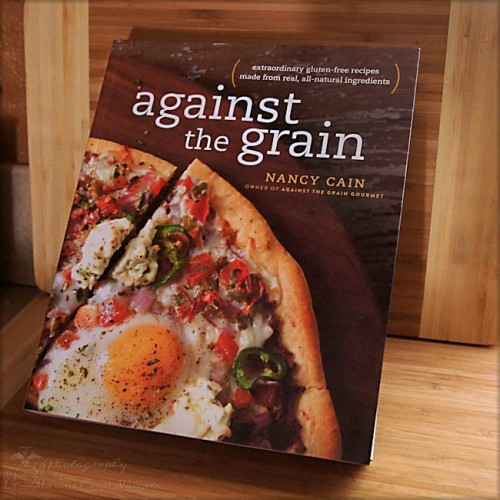 Special thanks to the publisher and Blogging for Books for providing a review copy of this book. This post may contain affiliate links.
Against the Grain has beautiful photography that draws the reader into the book and makes them want to try out the large variety of recipes available. It promises tasty treats that are grain free.
I appreciated the layout of the recipes as they were easy to read and follow. The little personal stories included with the recipes added that personal touch which I enjoy. It allows me to get to know the author a little better.
The recipes for us were hit or miss which was a real shame. Generally speaking, the recipes that didn't require tapioca starch or didn't require much tapioca starch turned out fairly well. On the other hand, the recipes that were heavy on the tapioca starch had chewy (not in a good way) texture that we did not enjoy.
Against the Grain, while promising to be a wonderful gluten-free book, ended up being a bit of a disappointment.
Against the Grain Book Description:
Nancy Cain came to gluten-free cooking simply enough: Her teenage son was diagnosed with celiac disease. After trying ready-made baking mixes and finding the results rubbery and tasteless, she pioneered gluten-free foods made entirely from natural ingredients–no xanthan or guar gums or other mystery chemical additives allowed. That led her to adapt many of her family's favorite recipes, including their beloved pizzas, pastas, and more, to this real food technique. In Against the Grain, Nancy finally shares 200 groundbreaking recipes for achieving airy, crisp breads, delicious baked goods, and gluten-free main dishes.
For any of these cookies, cakes, pies, sandwiches, and casseroles, you use only natural ingredients such as buckwheat flour, brown rice flour, and ripe fruits and vegetables. Whether you're making Potato Rosemary Bread, iced Red Velvet Cupcakes, Lemon-Thyme-Summer Squash Ravioli, or Rainbow Chard and Kalamata Olive Pizza, you'll be able to use ingredients already in your pantry or easily found at your local supermarket.
With ample information for gluten-free beginners and 100 colorful photographs, this book is a game changer for gluten-free households everywhere.
About the Author:
NANCY CAIN is the owner of Against the Grain Gourmet, a line of gluten-free breads and pizzas available at supermarkets and natural food stores nationwide. She lives with her gluten-free family in Vermont.
Against the Grain Book Details:
Paperback: 400 pages
Publisher: Clarkson Potter (February 3, 2015)
Language: English
ISBN-10: 0385345550
ISBN-13: 978-0385345552
Product Dimensions: 7.4 x 1.3 x 9.1 inches
Retail Price: $27.50
Electronic Versions also available