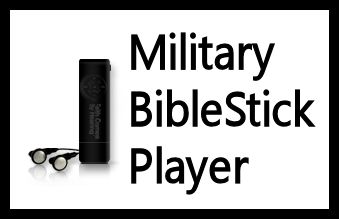 We recently had the opportunity to test out iDisciple thanks to Family Christian Bookstore as part of the Military BibleStick Outreach program. While we didn't use the Military BibleStick, we did get to use the iDisciple program which I'll talk about shortly.
Starting on December 5th, every purchase of a iDisciple membership from a Family Christian store will gift Military Service Members with a subscription to iDisciple and a Military BibleStick from Faith Comes by Hearing.
The Military BibleStick Outreach was designed by the Audio Bible ministry Faith Comes By Hearing to bring the pure Word of God to our troops while on (and preparing for) deployment. Faith Comes By Hearing provides Military BibleSticks to military members at no cost to them through military chaplains. They rely on donations to provide this wonderful service.
The Military BibleStick is a mp3 player that was specifically designed for military service members which means that it's rugged, it easily fits into uniform pockets, and it's easy to use even in low-light situations. The Military Biblestick is roughly the size of a pack of gum, and comes pre-loaded with a dramatized recording of the entire New Testament and specially selected Psalms.
As a military spouse, I love the idea of this Military BibleStick as it means that military members will have access to scripture no matter where they are during the pre-deployement training, deployment, and post deployment training. Because the unit is so small, it's for them to take it with them even when they are really short on space. The only concern would be charging the unit as that may not always be possible.
The current promotion is a great way to give the gift of iDisciple (or purchase it for yourself) while providing this gift to a service member. It doesn't cost you anything more to help give the gift of scripture to our troops. Holidays are a rough time for many service members, so this is just a little way to say thank you for what they do.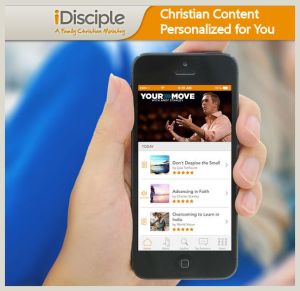 Our Thoughts on iDisciple:
I'm trying to think of the best way to describe iDisciple, but it's a bit difficult as it's more than just one thing. iDisciple offers a variety of things to help your in your Christian walk. It has sermons, daily devotionals, music, encouragement, a bible, and more. You can customize your experience with the service. If you're on your computer, you can go to the website and search for topics, music, videos…. You can download the app to your iphone or Android device to have access to content while on the go. You can receive daily emails customized to your preferences, if desired.
We were impressed with the variety of content available. The ability to truly customize your experience was really nice. I personally couldn't use an app as I have a windows phone, so my husband tested it out. There were a few glitches, but overall, that aspect was nice as he uses his phone all the time. We did experience a few issues with bad links in the emails which was frustrating, but overall, it's a pretty cool service that offers a variety of different content all in one location.
There are two different subscription services. The free account gives you limited daily access to the service. The monthly subscription service gives you unlimited access for $4.99 a month.
Disclosure: I received a subscription to iDisciple to help write an honest review of the service.