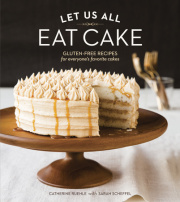 Special thanks to the publisher for providing a sample copy of the book to test out in my kitchen.
One of the things that many people miss when they go gluten free is all of the baked goods they used to eat prior to going gluten free. Special occasions can be a little difficult when you can't eat with everyone else. If you're able to come up with good alternatives that are great for gluten free and non-gluten free people alike, then you have a win-win situation for everyone.
In Let Us All Eat Cake: Gluten-free Recipes for everyone's favorite cakes (affiliate link), Catherine Ruehle and Sarah Scheffel tackle the task of creating great cakes that everyone will be able to enjoy. The recipes are gluten free and many (if not all) provide a dairy free alternative. While she does provide an egg replacement, it won't work on the egg heavy recipes.
What I liked about the book.
Let Us All Eat Cake is a beautiful book filled with gorgeous pictures. The pictures make you want to try to make the cakes. While not all recipes have pictures (bummer), many of them do.
The book is broken down into 7 sections:
Breakfast, Snack, and Coffee Cakes
Layer Cakes
Cupcakes
Plated Slices and Little Cakes
Decorated Special Occasion Cakes
Essential Frostings, Fillings, and Glazes
Tips, Tricks, and Decorating Techniques
It's easy to locate whatever type of cake you may want to create.
The ingredient list is shown on the side, but it's not necessarily the entire ingredient list for the recipe. (See what I don't like below.)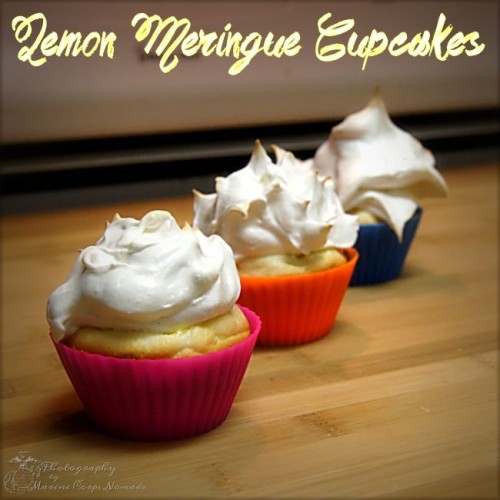 What I didn't like about the book.
I hate it when I have to flip all over the book to create one recipe. My teen daughter made the lemon meringue cupcakes.  The lemon curd ingredients were featured on page 92 with the directions for the entire cupcake recipe. The cake batter ingredients as well as instructions for the cake batter are featured on page 38. The cake batter recipe called for the flour mixture featured on page 191. The swiss meringue icing recipe (ingredients and directions) was featured on page 165. So basically, the only new thing about the recipe was how things were assembled. It was highly annoying to have to go all over the book to locate the needed ingredients and directions for the components. In fact, it was so annoying to my daughter that she ended up typing up her own recipe that put everything all on two pages for her to easily complete the recipe. The results were good – especially after the cupcakes had been refrigerated over night. (The cupcake texture was odd without refrigeration.)
I'm not a huge fan of flour mixtures that are simply tapioca starch, potato starch, and white flour. The "whole grain" version was not much different as it was just sorghum flour, white rice flour, and potato starch.
The recipe above called for three cups of the first flour mixture which meant I had 1 cup of the blend left over. (Yes, we could have figured out how much of each ingredient we needed by dividing it all out, but my daughter was already a little overwhelmed by the complexity of the lemon meringue cupcakes. We just took the easy way out.)
Overall thoughts on the book.
I'm slowly transitioning to the measuring by weight as I've found it can be much more accurate for gluten free baking, so I missed seeing the weight equivalents in the recipe. I'm not deducting anything for this as most American cookbooks do not have this, but it would be nice to see in the future as it's more likely that everyone's recipe will turn out the same. We had a few issues because of being high altitude, so the addition of instructions for high altitude would have been nice as well. (Once again, not deducting anything for this as most cookbooks don't feature this either, and it's not something I would have thought about prior to living in a high altitude area.)
This is a nice recipe book for gluten free cakes. It features a wide variety of cakes from easy to complex. It has a little something for everyone's taste buds. I'm not a huge fan of the layout of the recipes or flour mixtures. The photographs are beautiful, the pages are sturdy, and the book is well put together. In other words, I'm a bit torn on how I feel about the book as it has both pluses and minuses.
Disclosure: I received this book from Blogging for Books for this review. All opinions are my own based upon my personal experiences in my home. A positive review in neither expected nor guaranteed.
Book Details:
A delightful collection of gluten-free takes on your favorite cake recipes, from everyday coffee cakes, layered cakes, and cupcakes to show-stopping special occasion masterpieces.
Celebrate your favorite holidays and special occasions from birthdays to bake sales, Halloween to Christmas—and even the everyday—with delectable gluten-free cakes. In this delightful collection, Catherine Ruehle, a pastry chef and cake artist turned wellness foods chef, shares sixty classic cake recipes that are every bit as indulgent as the gluten-heavy ones we adore, but gluten-free, all-natural, and with alternatives given for vegan, dairy-free, and nut-free renditions. A few of the luscious cakes that await: Pink Velvet Strawberry Cake made electrifyingly pink with strawberries instead of food dye, Peanut Butter and Jelly Cupcakes that children of all ages will be thrilled to find in their lunchboxes, and a dramatic White and Dark Chocolate Checkerboard Cake that's a cinch to prepare in advance. With positivity and careful guidance, Ruehle provides basic and advanced decorating, piping, and plating techniques to take your cakes from pretty to breathtaking. So go ahead: lick the frosting off the beaters, cut yourself a nice big slice, and let us all eat cake!
About the Author:
Catherine "Cat" Ruehle is a renowned pastry chef, television personality, cake decorating teacher, and holistic health coach who has made it her mission to give everyone's favorite foods a healthy (and delicious!) makeover.
Book Details:
Hardcover: 224 pages
Publisher: Ten Speed Press (September 9, 2014)
Language: English
ISBN-10: 1607746298
ISBN-13: 978-1607746294
Product Dimensions: 8.4 x 1 x 9.4 inches
Retail Price: $24.99
Digital Edition also available