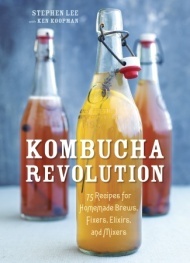 Special thanks to Blogging for Books for providing this review copy.
Kombucha Revolution Book Description:
Kombucha—a fizzy, fermented tea-based beverage packed with probiotics, vitamins, and enzymes—has home brewers salivating. And who better to guide you through the brewing process than a tea guru with more than forty years of experience under his belt? Stephen Lee, cofounder of Tazo Tea and Stash Tea, turned his attention to fermented tea and founded Kombucha Wonder Drink in 2001. In Kombucha Revolution, Lee reveals the secrets to brewing the perfect batch of kombucha and caring for your very own SCOBY (Symbiotic Culture of Bacteria and Yeast). He also shares his favorite recipes—plus contributions from brewers, bartenders, and chefs like "Kombucha Mamma" Hannah Crum and Wildwood's Dustin Clark—for infusing your brew with fruits, herbs, and spices, and incorporating it into juices, smoothies, sauces, snacks, sweets, and cocktails.
With recipes for Lavender–Green Tea Kombucha, Cranberry Bitters Cocktails, Kombucha Vinegar, Green Smoothies, Kombucha Lime Ceviche, and Kombucha Pear Sorbet, mixing this healthful brew into your everyday lifestyle has never been so revolutionary.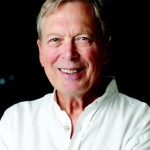 About the Author:
STEPHEN LEE is a humble student of tea, its culture and its restorative effects. Stephen has co-founded and sold two of the country's best-known tea brands, Tazo Tea and Stash Tea. Stephen has now enjoyed 40 years in the premium tea business.
After discovering kombucha on one of his tea importing trips to Russia, Stephen launched Kombucha Wonder Drink in 2001. He has mastered a superbly balanced kombucha tea he offers to others so they too may enjoy this energizing beverage with benefits. Kombucha Wonder Drink can now be found in natural foods stores, grocery stores, pubs, spas, hotels, college campuses, and coffee and tea houses across North America.
He also recently launched Tea Tibet, a not-for-profit tea company benefiting Tibet. All profits go to Tibetan educational projects and orphanages.
Steve spends time with seven grandchildren, walks and journals extensively around the world, and enjoys good food and beverages.
Book Details:
Hardcover: 160 pages
Publisher: Ten Speed Press (June 3, 2014)
Language: English
ISBN-10: 1607745984
ISBN-13: 978-1607745983
Product Dimensions: 9.1 x 6.6 x 0.7 inches
Retail Price: $18.99
Electronic Editions also available
My Thoughts:
If you're involved in the real food, traditional food, or homesteading movement, then you've probably at least heard about Kombucha even if you've never had it. I've been hearing about it for a couple of years now, but I didn't really know what it was or how personalized you could make it. After reading this book, I'm now hunting for my own SCOBY to start our own Kombucha experiment.
Kombucha Revolution starts with an introduction into how the author got started on his own Kombucha journey and then dives into the world of Kombucha. He explains what Kombucha is including its history and health benefits and then talks about what all is needed to start making your own at home. The one part that I found lacking here was actual resources for sourcing your own SCOBY and other equipment.
Once you're ready to start brewing your own Kombucha, Stephen gives step-by-step instructions on how to make his master plain Kombucha recipe. A big plus here are the pictures showing the process and what to expect from the brewing process. My daughter thought that the mother SCOBY looks a little yucky during the brewing process, so it's nice to know what it should (or should not) look like – especially when you're first starting out.
After the basic, plain recipe, Stephen dives into a variety of different recipes for flavored Kombucha, drinks utilizing the various flavors of Kombucha, alcoholic drinks utilizing Kombucha, dressings and dips using Kombucha, recipes using Kombucha, and finally, desert recipes using Kombucha.
While I would have liked to see more pictures with the recipes, the pictures that were featured with some of the recipes were beautiful. I can't wait to try at least some of the recipes in this book once we get our own SCOBY.
Disclosure: I received this book free from Blogging for Books for this review. A positive review is not required nor guaranteed. All opinions are my own.