Special thanks to Phantom Fitness for providing a sample of their fitness loop bands for me to test out during my workouts.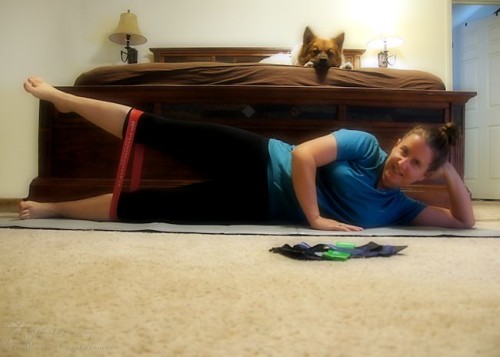 Well, this week continued to be a struggle with migraines and regular headaches. The headaches eased up enough that I was able to at least do some yoga and some fitness band work. The yoga helped keep the tension out of my muscles that tends to build up with headaches and having to rest a lot. The fitness band work allowed me to get at least a little resistance exercise in without the physical activity associated with my normal fitness routine.
It's been really hot, so trying to stay hydrated has been a constant battle. We've gone through a lot of water around here this week. Knowing that dehydration can cause headaches to get worse, I made sure that I was drinking lots of water.
Meals have been kept simple since I just haven't felt up to making overly difficult dishes. (Not that I'm a big fan of complicated meals.) We still focused on healthy, real food meals with only a couple of exceptions like when Munchkin and D decided to have hot dogs. (I passed on the hot dogs even though they were turkey dogs.) Snacks included fruits, veggies, and popcorn. I'm definitely missing my smoothies, but the blender is just way too loud when my head hurts.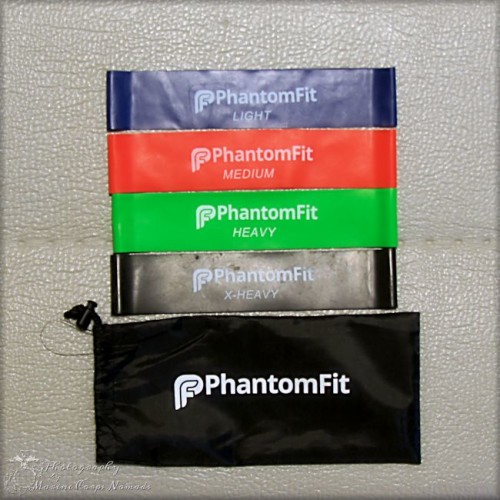 I have used a variety of fitness bands in the past, but I had never used the fitness band loop. I received a set of resistance loop bands from Phantom Fit to test out and review in my home. They're like giant rubberbands which is rather fun. Normally, when you want to do certain exercises with fitness bands, you have to tie the ends of the resistance bands together to create the loop. The loop bands avoid that extra step, and you don't have to go to the trouble of needing to untie them when you're done.
The set that I received included 4 different bands (light – blue, medium – red, heavy – green, extra heavy – black) with a storage bag. I like the storage bag as it help keep at least some of the dog hair off the bands, and it keeps them all together. The different weights of bands allows me to adjust the resistance used in the different exercises.
These are loop bands are a nice edition to the fitness bands that we already own as they provide a different experience from the traditional fitness bands. I really prefer to use these over the other fitness bands in any exercises that require a loop. The are a comfortable width, so they don't dig into the skin when in use.
Now, I just need to get rid of these headaches, so I can get back into my regular fitness program.

I'm **gasp** actually missing the harder physical activities. Who would have thought? I'm thankful that I was at least able to get in some exercise this week. We'll see what this next week holds.