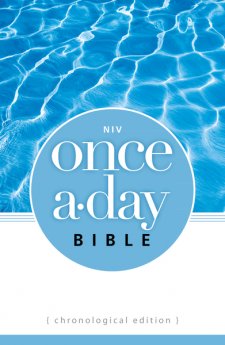 Special thanks to BookLookBloggers for providing a review copy of the Bible.
Book Description:
The NIV Once-A-Day Bible: Chronological Edition
 (affiliate link) organizes the New International Version Bible—the world's most popular modern-English Bible—into 365 daily readings placed in chronological order. This softcover edition includes a daily Scripture reading followed by a short devotional thought written by the staff at the trusted ministry Walk Thru the Bible.
Book Details:
Series: Once-A-Day
Paperback: 1280 pages
Publisher: Zondervan; Special edition (October 31, 2011)
Language: English
ISBN-10: 9780310950950
ISBN-13: 978-0310950950
ASIN: 0310950953
Retail Price: $19.99
My Thoughts:
I've had several Once-A-Day Bibles over the years, but it was the idea of a chronological Bible that really had me intrigued. The 365 readings are placed in order according to when they happened in history rather than the traditional books of the Bible. It means that in days 1-3, you're reading from Genesis. While days 4-15, you're reading from Job. These types of sequences allow you to view Biblical history from a slightly different perspective. You tend to see more of a big picture as Biblical history – our history – unfolds before your eyes. Because the time in history is not known for certain on some passages, they are placed when the text was written instead.
Each day has the scripture passage(s) to be read and then a short reflection on that day's readings. Because the days are labeled 1-365 instead of specific dates, you're able to pick up whenever, or if you miss a day, you can just jump right in where you left off instead of being concerned about a specific date.
This paperback edition does have fairly small print which is something to keep in mind if you like a larger print for easier reading.