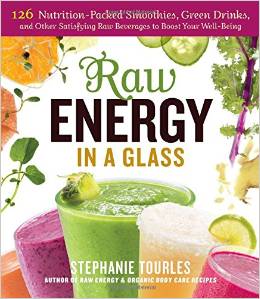 Book Description: Raw Energy in a Glass (affiliate link) contains more than 120 delicious, super-nutritious recipes for smoothies, shakes, green drinks, power shots, mocktails, longevity elixirs, and fermented beverages, all designed to boost your health and energy. All recipes can be 100% vegan, though honey is often offered as one of several sweetening choices. There's even an original recipe for vegan yogurt, made with nut milks and probiotics. And no juicer is required: Tourles uses a high-powered kitchen blender to turn raw ingredients into satisfying drinks.
About the Author: Stephanie Tourles is a licensed holistic esthetician in both Massachusetts and Maine, with over 20 years experience. Trained in western-style herbalism, she specializes in the use of herbs as they pertain to skin, hair, nail, and foot care and regularly creates herbal cosmetics and treatments for her clients and friends. She is also a certified aromatherapist, with extensive training in the nutritional sciences, and is the author of several books on natural body care including The Herbal Body Book, Naturally Healthy Skin, and Natural Foot Care. Stephanie resides in Orland, Maine with her husband and pets, and spends her spare time hiking, organic gardening, and cooking.
Book Details:
Paperback: 288 pages
Publisher: Storey Publishing, LLC; 1 edition (November 18, 2014)
Language: English
ISBN-10: 1612122485
ISBN-13: 978-1612122489
Product Dimensions: 0.8 x 6.8 x 7.8 inches
Retail Price: $16.95
My Thoughts:
Stephanie Tourles begins Raw Energy in a Glass with her story since the publishing of Raw Energy. It's not exactly what you would think as life took some nasty turns for her, and she suffered some serious setbacks in her health and personal life. She decided to do something about it and started tackling her health with real food. Slowly, things started to get better and a new book came about through this journey. She never claims that raw food, real food is the cure all for everything that ails you, but she does do a good job explaining why this way of eating could help lead you to a healthier, happier you.
The Superfood Dictionary dives into all of the great ingredients, foods used in this book. It gives readers a better idea of the whys behind the different foods which I really like. It covers:
Fruits
Veggies
Nuts, Seeds, and Nut and Seed Butters
Herbs and Spices
Oils
Sweeteners
Specialty Ingredients
Essential Kitchen Equipment
Once she gets through the basics of the philosophy, foods, and kitchen prep, Stephanie dives into loads of recipes that fall into these categories:
Nut and Seed Milks
Green Smoothies
Longevity Elixirs
Vegan Yogurt Drinks
Protein-Powered Smoothies and Shakes
Blended Salads
Thick and Frosty Shakes
Raw Shots
Fruity, Frothy, and Frosty Frappes
Mocktails
Many of the ingredients are ones that you'll have on hand or ones that you can easily pick up from your local farmers market or grocery store. There are some specialty ingredients that you'll need to pick up from a health food store or online. (Resources are given at the back of the book for those who can't find the ingredients locally – like me.) If you're not already using the ingredients in your home, you may suffer from sticker shock on some ingredients. Produce costs can be lowered by eating seasonally and freezing fruits/veggies when they are readily available.
I like the way the information was presented in the book, and the recipes are very easily to follow and make. If you're looking for nutritional information, you will not find it in this book. I appreciated that her vegan yogurt was not soy-based. Overall, I enjoyed the new ideas for powerhouse drinks and look forward to utilizing more of the recipes when more fruits/veggies are in season.