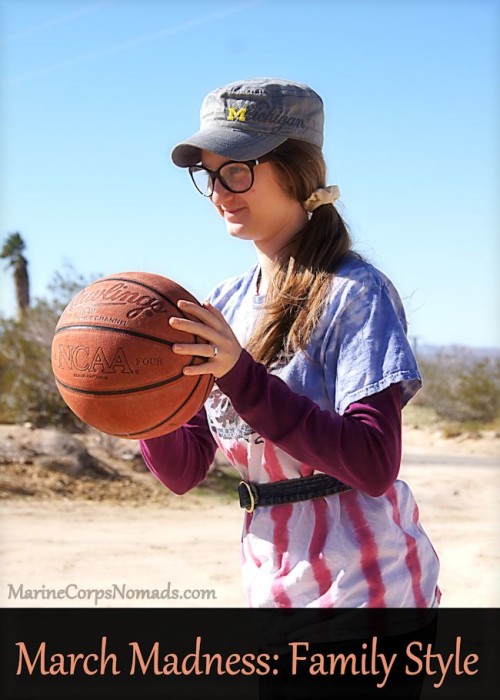 I'm happy to team up with Family Christian to talk about making March Madness fun for the entire family. This post contains affiliate links.
When March Madness rolls around, people seem to either get really excited about it or they get frustrated because their favorite shows are on hold for basketball. Granted, there are some people who don't care one way or another. For as long as I can remember, D and I have enjoyed watching basketball together (when he wasn't playing), and March Madness is no exception to that. Munchkin, on the other hand, doesn't exactly share our enthusiasm for the game unless it's a live game.
While we enjoy watching the games, we always wanted to make sure that Munchkin knew that she was more important than any game. What that meant was there were times that we had to miss a game or two to do something that she really wanted to do, but most often, we would just make sure that we made March Madness family friendly.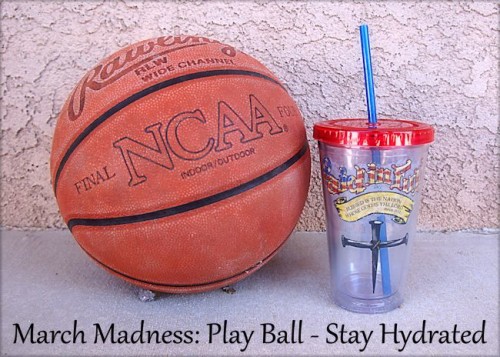 Outdoor Fun – Shooting Hoops
If the weather cooperated, that could mean shooting some hoops outside. While I didn't always get in on the action, I definitely enjoyed watching my husband and daughter laugh and goof around while playing ball. Munchkin started out with her own smaller ball but quickly moved up to a women's ball and then a full size men's ball. It was not only a time of fun, but also a time of bonding for them. It also helped work off some of the energy before sitting down to watch a game or two that day.
We always take either a tumbler of lemonade/iced tea or a water bottle filled with water with us when we do outside activities. You do not want to get dehydrated as that will just ruin the fun day.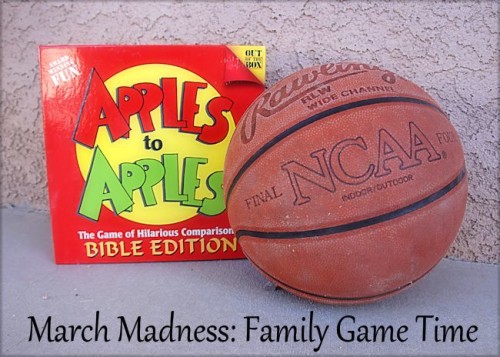 Indoor Fun – Playing a Game
Sometimes, going outside and shooting hoops wasn't possible due to weather or someone not feeling well, so we'd pull out games to play. I'm not a huge fan of playing board games, but I would make an exception here and there for the sake of family time. We'd play board games before and/or after the televised games as well as at half time (if we weren't eating). There were even a few times that we played during the game as Munchkin really wanted/needed the extra mommy/daddy time.
Once the interactive gaming systems came into our lives, we added those into our game day routine as well. I have to tell you that D usually beat both Munchkin and I when it came to the basketball games. Hmm… That was rather like the real life games. **grin**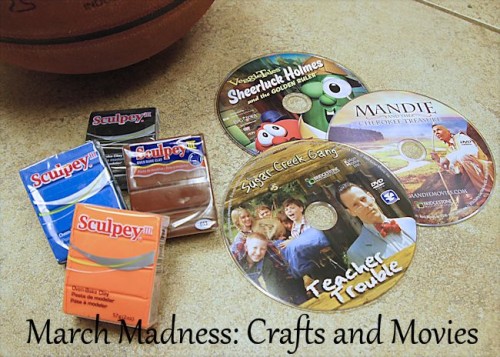 Game Time
As Munchkin got a little older, we started to get into filling out the brackets for March Madness. It was a little fun competition to see who would get the most guesses right by the time the tournament was done. It was interesting to see who picked which team to win it all.
Now that Munchkin is older, she sits in the room with us and watches the games while doing other things, but when she was younger, I always made sure that I had a variety of things for her to do – especially if I really wanted to see the game. I generally picked up at least 1 new dvd for her like Veggie Tales, The Sugar Creek Gang, or Mandie. (I still like to pick up the dvds when they are on sale at Family Christian and set them aside for times when I want to give them to Munchkin. Family Christian has some excellent video sales throughout the year.) I also tried to make sure she had some crafts or art projects to work on. Polymer clay, modeling clay, was and still is one of the craft activities that she enjoys as it allows her to be really creative.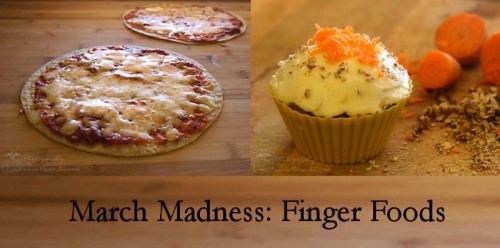 Game Day Food
Of course, you can't have game day without food. I like to try to keep things simple as the last thing I want to do on game day is spend a lot of time in the kitchen. Normally, it's all about finger foods. To make clean-up easy, I like to use paper plates.
We like to do make-your-own-pizzas so everyone can have exactly what they want on their own pizza. Since we're gluten free, I either have to make our own pizza crust, purchase a premade crust, or use brown rice tortillas as the base. I tend to utilize the brown rice tortillas for our crusts. Not only is it an easy, delicious thin crust for the pizza, but it's also a fast way to make pizza. You just place it in a cast iron skillet, add your toppings, and cook it until the cheese is bubbly and the crust is crisp.
Of course, no game day is complete without something at least a little sweet. Munchkin loves carrot cake, so I decided to go with some gluten free carrot cake cupcakes with a healthy cream cheese frosting. I prefer to use the silicone baking cups when making cupcakes as you don't need a muffin tin. You just place them on a cookie pan and bake. They are easy release for perfect cupcakes every time. Once they come out of the oven, you'll just place the cupcakes on a cooling rack until they are completely cool before frosting them.
Gluten Free Carrot Cake Cupcakes with Honey Cream Cheese Frosting
These gluten free carrot cake cupcakes are moist and delicious. The cream cheese frosting has honey as an alternative to processed sugar.
Author:
Heather at MarineCorpsNomads.com
Cuisine:
Gluten Free Baked Goods
Ingredients
1 Cup Almond Flour
½ Cup Gluten Free Oat Flour
½ tsp. Sea Salt
½ tsp. Baking Soda
1 tsp. Ground Cinnamon
3 Large Eggs
2 Tbsp. Liquid Coconut Oil
¼ Cup Honey
1½ Cups Grated Carrots
1 Cup Almond Flour
½ Cup Gluten Free Oat Flour
½ tsp. Sea Salt
½ tsp. Baking Soda
1 tsp. Ground Cinnamon
3 Large Eggs
2 Tbsp. Liquid Coconut Oil
¼ Cup Honey
1½ Cups Grated Carrots
6 Tbsp. Butter
4 oz. Cream Cheese
¼ Cup Honey (add a little more if you like sweeter frosting)
1 tsp. Vanilla
Instructions
Cupcake Instructions:
Preheat oven to 325 degrees F.
In a medium bowl, combine almond flour, oat flour, sea salt, baking soda, and cinnamon.
In a separate bowl, combine eggs, oil, and honey.
Mix grated carrots into wet ingredients.
Stir wet ingredients into dry ingredients.
Fill silicone baking cups or a lined muffin tins ¾ full.
Bake at 325 degrees F for 18 to 22 minutes or until a toothpick inserted into the center of the cupcakes comes out clean. (I'm high altitude, so I bake for 22 minutes.)
Place on cooling rack and completely cool before frosting.
Garnish with shredded carrots and finely chopped pecans, if desired.
Frosting Instructions:
With a stand mixer or hand mixer, cream together softened butter and cream cheese.
Add the honey and vanilla and beat until light and fluffy.