Many thanks to Propeller Consulting, LLC for providing a review copy of this ESV Journaling Bible.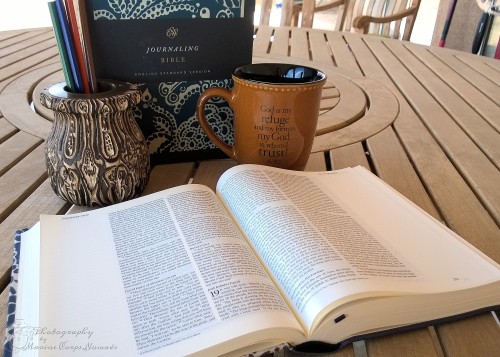 When I was really little, I remember being told to never write in a book or Bible. As I got older, I was encouraged to underline or highlight verses that stood out to me as I was reading scripture. By junior high and high school, it was okay to make some notes in the Bible. There was still some controversy over whether you should take notes directly in the Bible or to write in a notebook or on a bookmark. I did a little bit of both.
When you inherit a Bible from someone dear who has passed away, there is something really special about seeing their notes in the Bible. It's probably this idea that allowed me to move past the idea that it was wrong to write in a Bible. I still find myself writing both in my Bible and having a journal as not everything needs to be written directly nor will everything fit.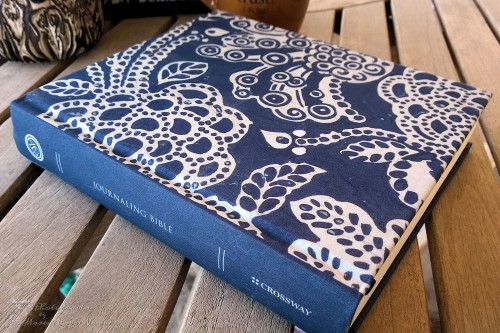 Recently, I've watched the idea of Bible journaling really take off. This took the idea of notetaking in a Bible to a whole new level as it was adding an artistic flair to it all. I've seen some amazingly creative and artistic drawings. Some people add drawings with their notes. Some draw/sketch/write in the margins while others draw over the words in the Bible. I'm personally not a fan over drawing over the words, but the beauty of Bible study with journaling is that it really is a personal experience.
I received my new journaling Bible right before my migraines started in full force, so I haven't even had a chance to really get to use it much yet. What I really like about this journaling Bible is the fact that it has faint lines in the margin, so you really can use it as a journal in addition to adding art, if desired. It's also beautiful. It looks and feels like a higher end journal with the cloth over board cover.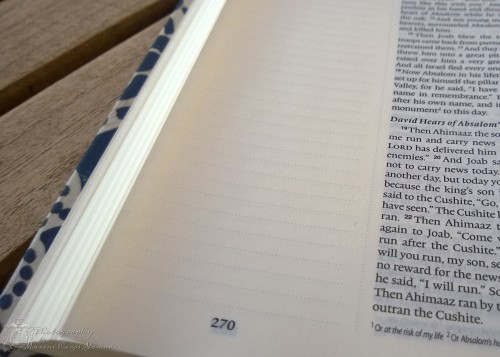 The Bible is 7 inches tall, 6 1/2 inches wide, and 1 3/8 inches wide. The margins are just under 2 inches wide. It also features a one-year Bible reading plan that allows the reader to read through the Old Testament once, Psalms twice, and the New Testament twice.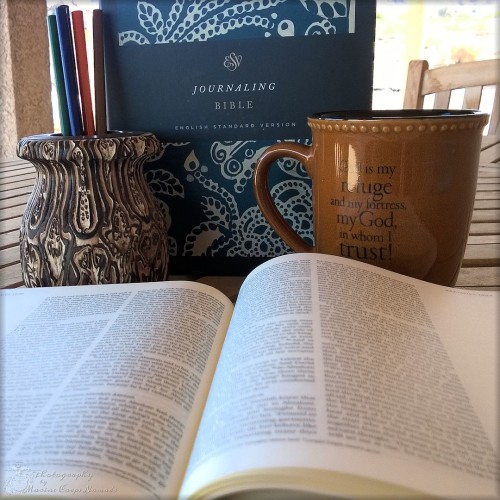 ***ESV Journaling Bible Giveaway*** This giveaway has ended.
Do you want to try your hand a Bible journaling? Propeller Consulting, LLC is providing an ESV Journaling Bible for one of my readers. Only one entrant per mailing address, per giveaway. If you have won a prize from Propeller / FlyBy Promotions in the last 30 days, you are not eligible to win. If you have won the same prize on another blog, you are not eligible to win it again. Winner is subject to eligibility verification. Giveaway is open to U.S. and Canadian residents only. Giveaway ends November 18, 2015.