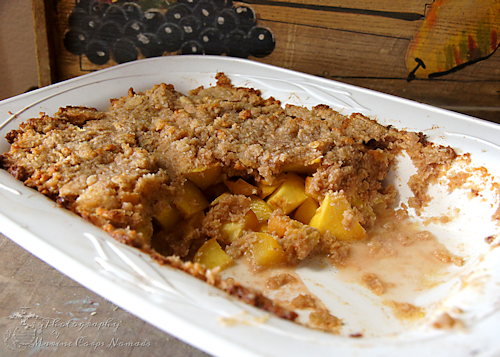 Yes, we have lots of peaches and other stone fruit right now here in CA. We've been enjoying delicious peaches from both our local co-op and our CSA. I love that they are a naturally sweet, refreshing treat. Daddy really likes crisps/cobblers, so I thought it would be nice to make him a twist on a traditional peach crisp.
As usual, I sort of winged it when it came to ingredients, so the measurements listed below are approximate. I like my peaches a little firm, so I don't cook my crisp as long. If the topping doesn't crisp up quite as much as I would like, I just increase the temperature to 400 degrees for a few minute at the end of the baking time.
If your peaches aren't sweet, you may want to add some sweetener to the peaches themselves. Personally, I don't mind if the peaches aren't super sweet as it balances out the sweetness in the crisp. If you don't want to use honey, you could use another sweetener. You'll need to add a little more liquid if you use a dry sweetener.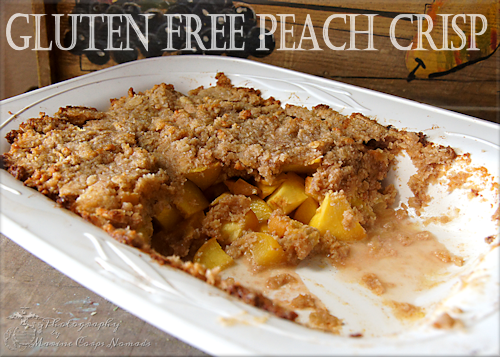 Gluten Free Peach Crisp Recipe
Ingredients:
6 large peaches, sliced or in bite-sized chunks
1 teaspoon vanilla extract
1 1/2 cup almond flour
1/2 cup gluten free oats
1/2 teaspoon sea salt
1/2 teaspoon baking soda
1/2 cup butter or coconut oil
1 teaspoon cinnamon
1/4 cup honey
1/4 cup milk (coconut or almond milk work for a dairy-free version)
Directions:
Preheat oven to 350 degrees.
Place peach slices or bite-sized chunks in a baking dish.
In a smaller bowl, combine almond flour, vanilla extract, gluten free oats, salt, baking soda, butter/coconut oil, cinnamon, honey, and milk for topping.
Crumble topping over peaches
Bake for 30 to 45 minutes depending on desired softness of peaches. If topping is not golden brown and you've reached your desired softness for peaches, increase oven temperature to 400 degrees and bake for a few more minutes until topping is golden brown
Serve by itself, with a scoop of vanilla ice cream, or with some whipped cream.