Special thanks to the publisher for providing a copy of this book for review.
I admit it. I love pickles. I've loved pickles since I was a toddler. My daughter picked up that passion for pickles as they quickly became one of her favorite snacks. It's very rare that you won't find at least one jar of pickles in our fridge.
Fermented foods have been used in our family for as long as I can remember. Sauerkraut has always been a staple of football season – especially New Years Day. While I'm not personally a fan of sauerkraut, I grew up with its distinct smell and flavor, so it holds many fond memories.
I remember pickled eggs and beets as part of the family reunion table spread. Homemade relishes were the norm for those big family functions. Yet, they weren't part of our every day lives as some of those traditions – other than special events – had slipped away with the convenience of store bought goods.
What I didn't know at the time was that those traditionally fermented foods were actually good for us. There is a big difference between the foods that you find in the store and the foods that you ferment traditionally at home. The problem was that making these foods has become a lost art. It's an art that I wanted to learn. I knew that it would take some time, and we may not like everything. Some things we may like as we adjusted to the unique taste of these new foods, and others we would just pass by as it wasn't for us. Either way, I looked forward to the adventure of trying the traditional art of fermented vegetables.
Fermented Vegetables contains the tools needed to learn the art of fermenting vegetables. The first 3 chapters cover the basics of fermentation including the science of fermentation and the tools needed for the craft. The next few chapters cover mastering sauerkraut, condiments, brine pickling, and kimchi basics. There is even a section on storage and troubleshooting. You then jump into the detailed instructions for fermenting 64 different fruits, herbs, and vegetables. Because the recipes are broken down by type of fruit/herb/vegetable, it's easy to just head to the section for the item you have on hand.
The chapters and recipes are filled with helpful tips, information important to safe fermenting, and interesting facts and tid-bits about various herbs, veggies, and more. The story at the beginning of this chapter brought a smile to my face as it's about sauerkraut, and I'll say that it has me rethinking my stance on sauerkraut. I just may have to give making my own a try. **grin**
Once you have your fermented goodies made, you'll want to make sure they you actually use them. The Shockeys have you covered with a wide variety of ideas and recipes for using your fermented veggies, herbs, and fruits. I was pleasantly surprised to see that there were a lot of gluten free recipes in the mix. I appreciated the fact that recipes were labeled gluten-free, vegetarian, and/or vegan if they fit into those categories as it made it very easy to look for gluten-free options for my family. The recipes are broken down into sections: breakfast, snacks, lunch, happy hour (cocktails), dinner, and dessert.
The appendix includes a very helpful section on how to tell if your ferments are good or bad. If you've ever done any form of fermenting, you know that foam, scum, and mold are part of the process. This section explains what is okay and what is not okay. It also goes into the importance of the veggies staying in the brine so they don't go bad. There are even a few pictures to help with identification of the good, bad, and the ugly.
Finally, there is a resource section that includes places to get the supplies that you need, informational websites, and conversion charts.
I have a feeling that it won't be long before I become one of "those" people who have all different kinds of ferments in different stages all lined up in a row. Of course, the first thing that we got going was pickles. We're still messing around with the spices and fermentation time to get them just the way that we like them. Yum!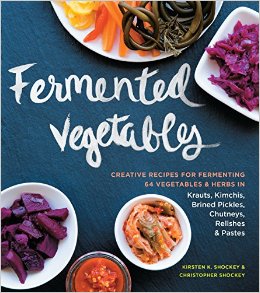 Book Description:
Make lacto-fermentation part of your kitchen. A classic preserving method, the process yields nutrient-dense live foods packed with vitamins, minerals, enzymes, and probiotic goodness. Master the techniques for making sauerkraut, kimchi, pickles, and fermented condiments, and then explore how to apply those simple skills to fermenting more than 60 fresh vegetables, herbs, and even a few fruits.
In addition to 140 recipes and suggestions to an intriguing array of ferments, you'll find delicious recipes that bring your creations to the table as part of any meal.
About the Authors:
Kirsten K. Shocky and Christopher Shockey created more than 40 varieties of cultured vegetables and krauts to sell through their farmstand food company. Selling led to teaching, and they now host classes and workshops at their farm. Kirsten maintains their blog at www.fermentista.us. They live on a 40-acre hillside homestead in the Applegate Valley of southern Oregon.
Book Details:
Paperback: 376 pages
Publisher: Storey Publishing, LLC (October 7, 2014)
Language: English
ISBN-10: 1612124259
ISBN-13: 978-1612124254
Product Dimensions: 8 x 1.1 x 9 inches
Retail Price: $24.95