Special thanks to Pratico for providing a free or discounted sample for review. All opinions are my own based upon personal experiences with the product in our home. This post may contain affiliate links.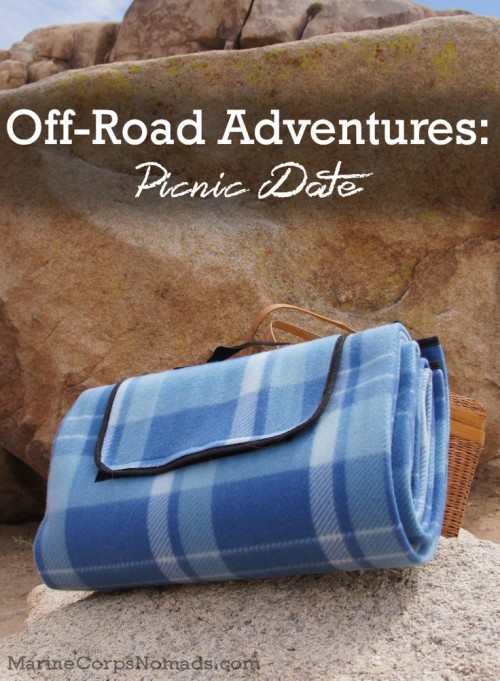 As a family, we enjoy going out and exploring the desert. On days like yesterday, when it's in the high 90s, it's probably not the best of days to head out, but since we have ac in D's truck, we still went out. This time, unlike when we've gone out in the past however many years, it was just D and I. Munchkin needed to work on finishing up the edits on her book as the deadline is looming, so I packed up some water and some snacks for our little off-road trip. I grabbed the new Pratico picnic blanket and off we went.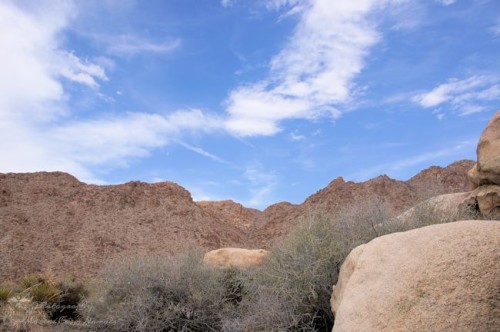 It felt a bit odd to be out exploring without our girl, but at the same time, it was fun to have some one-on-one time with D. Some people may find that the desert landscape is boring, but D and I both think it's beautiful. The rocks around here are quite interesting, and of course, D loves how good they are for bouldering.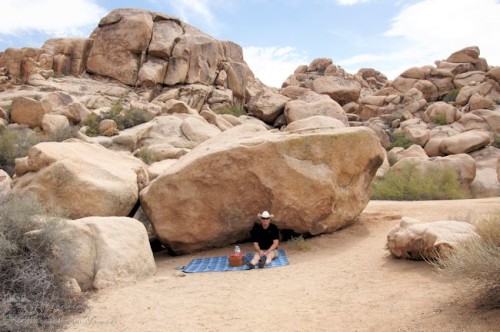 It took a little while, but we found an area where the boulders created a shady area where we could get out of the sun. Of course, D had to test out the rocks a little to see if there were any good finger holds for climbing – especially when he saw the chalk from other climbers. I think he was a little bummed that he didn't have his climbing shoes, chalk bag, and bouldering pad with him. lol! He's been dealing with a few shoulder issues, so he hasn't been able to get in a lot of climbing. He misses it.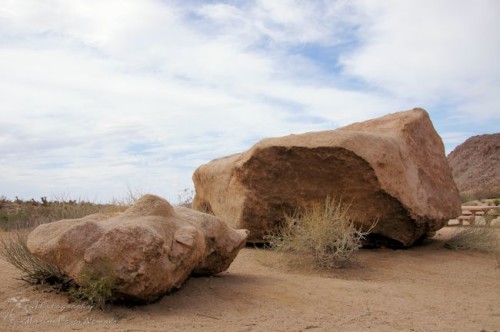 I was chuckling as D was so excited about the rocks that I ended up trying to get things set up. When he realized that I was setting up the blanket on my own, he gave me a sheepish grin and helped me out. Boulders tend to call his name. 😉 Of course, I often get side-tracked by taking pictures, so I can related to it.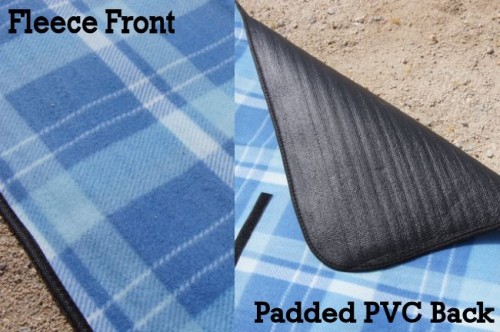 We were pleased with how comfortable the picnic blanket was thanks to the protective waterproof backing, light padding, and flannel top. While it wouldn't protect against cactus (what does?), it did help with all the small rocks. It was large enough that D was able to completely stretch out on the blanket for a little rest.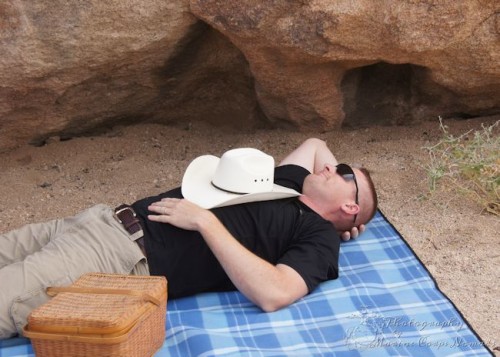 As much as I was enjoying the scenery, shade, and company, the heat soon started to get to me, so we hopped back in D's truck and headed off to explore a bit more – in the comfort of the ac. 😉 Down the bumpy dirt roads we went. Enjoying all the beauty around us and talking. It was a fun impromptu date even if the desert temps were plotting against us.