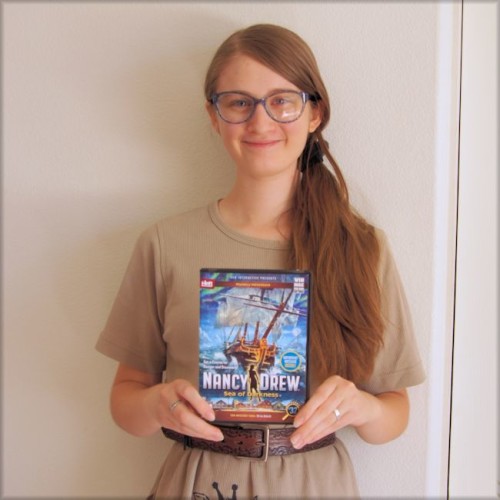 Munchkin has been playing Nancy Drew games for many years. She got started on them after reading some of the books, and her interest in the games were renewed when the Nancy Drew movie came out several years ago. Since then, we have been picking up the computer games here and there. The older games were definitely more difficult and didn't have all the hints that allow the newer games to be completed over a few days.
When we had the opportunity to receive a review copy of the latest game, Nancy Drew: Sea of Darkness, I jumped on the opportunity as I knew that Munchkin would be thrilled to check out the new game. The game took her a few days to complete as she limited her playing time each day.
Here is what she thought of the game:
If you don't like puzzles, you probably won't like this game, but I really enjoyed all of the puzzles.
Pluses:
It has great graphics, good scenery, and good sound effects. The music was quite enjoyable.
The characters are interesting. It has a good plot with an amusing side-story between Ned, Nancy, and Burt.
The puzzles are challenging but accomplishable, and if you get stuck, hints are available.
Minuses:
It has jumpy transitions between scenes.
"Nance" was spelled as "Nan" in the first conversation between Ned and Nancy.
The villain was not treated as a villain for his crimes by everyone else.
One of the characters (Dagny), as revealed through a scribbling in a book and a texting conversation on her phone, was a lesbian and has more than one relationship going. While this is subtle enough where many may not pick up on it, I felt it was important to point out.
Nancy Drew: Sea of Darkness is an overall interesting game, and I would give it four stars.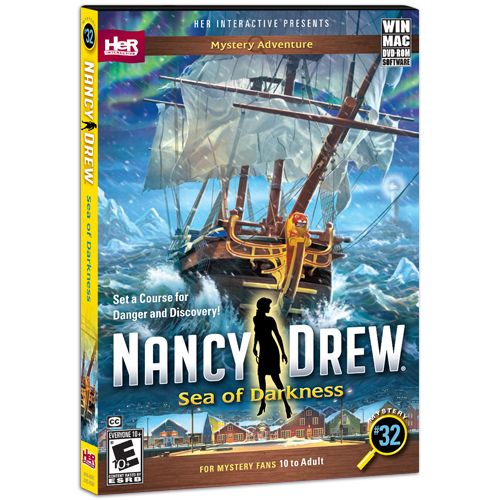 Game Details and Specs:
Set a Course for Danger and Discovery!
The celebrated ship "Heerlijkheid," is usually the centerpiece of an Icelandic town's local festival. Now that its captain has disappeared, the renovated vessel has become an eerie distraction. Did Captain Magnus sail away with a legendary treasure, or was he carried off into the night? Take the helm as detective Nancy Drew and set a course for the Sea of Darkness!
Game Features:
Solve puzzles and interrogate suspects as you retrace the steps of the missing captain
Learn the truth about the Heerlijkheid's secret past and Iceland's darkest days
Earn money by mastering your knowledge of the Land of Fire and Ice
Master maritime knots, terms and seaworthy tasks dating back to the 1700s
Sleuth at Amateur or Master level and erase any mistakes without starting over
Operating System:
Windows® Vista/7/8
OS X: OS X: 10.6.8 Snow Leopard/10.7 Lion/10.8 Mountain Lion/10.9 Mavericks/10.10 Yosemite or higher
Windows Minimum System Requirements:
1.5 GHZ or greater Pentium 4 CPU or equivalent class
512 MB of RAM
3GB or more hard drive space
128 MB DirectX 9.0 compatible video card
16 bit DirectX compatible sound card
4x DVD drive
Keyboard, mouse and speakers
Mac Minimum System Requirements:
Intel processor
512 MB RAM

3 GB or more hard drive space

Intel GMA X3100, ATI X1600, NVIDIA 7300 graphics card or better

4x DVD drive

Keyboard, mouse and speakers

Internet connection the first time the game is launched

This game will NOT run on PowerPC (G3/G4/G5) based Mac systems (PowerMac)
Disclosure: I received a review copy of the above mentioned game from Her Interactive. A positive review was neither required nor guaranteed. All opinions are based upon personal experiences with the game.