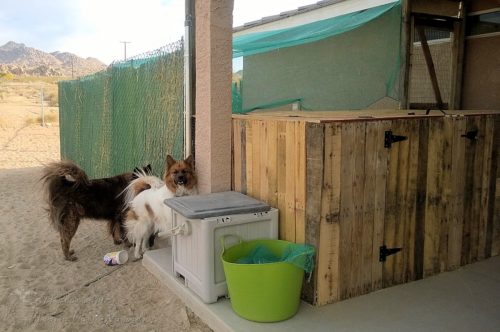 Continuing on with our theme of utilizing recycled materials for our chicken coop, I set out to make the chicken run out of as many recycled materials as possible. Of course, this means that things aren't perfectly square or "just so". Ultimately, the main goal is making sure the chickens are safe and happy.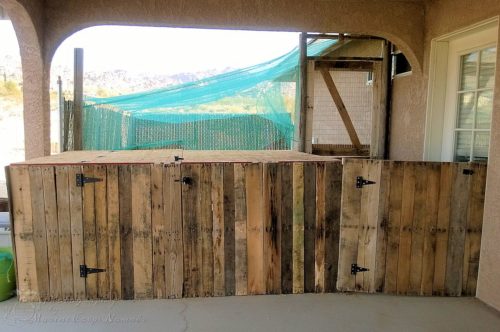 Like the coop, I used pallets for the gate to the chicken area and then to make a split door to the chicken run. I liked the idea of being able open up the bottom on the door separately from the top of the door. I purchased hinges, latches, and the welded wire for the door and gate, but everything else was free. It just took a little work to tear apart the pallets and put them together to make the gate and door. The posts for the door were given to me by a neighbor. They are warped, so it made hanging the door a little tricky. It's not perfect, but it works. 🙂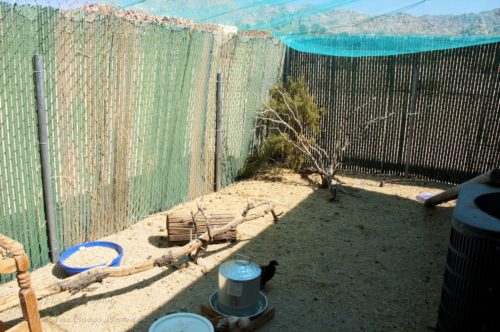 The run itself is enclosed by some used chain link fence that I picked up locally. It even has the privacy slats which help provide extra protection and shade depending on the time of day. I added a tree stump, some branches, and a couple of bushes to provide some shade and roost areas.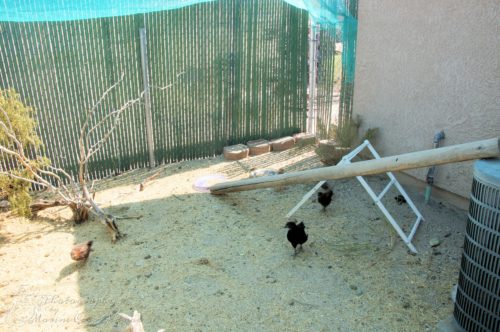 Since the coop and chicken run are in our fenced in backyard, I wasn't worry about predators going over the chicken run fence. I did, however, need to take precautions against birds of prey as we have a variety of birds that would like to pick off the chicks. I purchased some inexpensive bird netting from the dollar store to cover the run. Eventually, I'll probably need to cover at least part of the run with a tarp to provide more shade in the summer, but this is working for now. It's held up well to some fierce sand and wind storms already.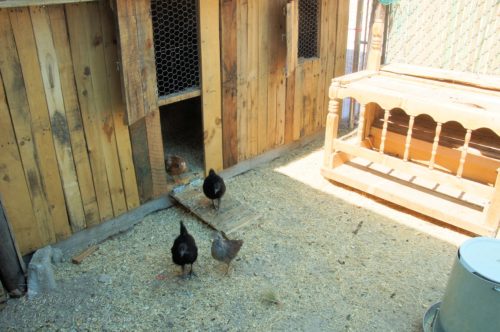 I decided to place the nesting box outside of the coop to give them more space inside of the coop. We'll see how this works. If needed, I can always change it up. I'm really just making things up as we go along, and so far, it's working out okay. I'm following the lead of the chickens. They can't free-range due to predators and our dogs, so I'm just trying to make their run and coop as comfortable as possible. So far, it's meeting their needs, and they're happy. I'm sure I'll make some changes here and there as we go along, but at least the initial set up is now done.