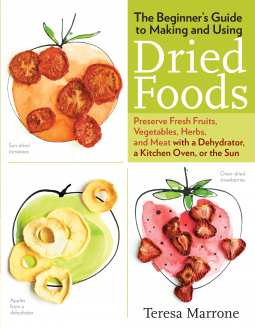 Special thanks to Storey Publishing for sending a review copy of this book.
Book Overview:
Drying is a simple and easy way to preserve fresh fruits, vegetables, meats, and herbs. This comprehensive guide includes everything you need to know to get started, whether you are using a dehydrator, your own oven, or the sun. Expert Teresa Marrone thoroughly covers the basic techniques, all the way through storing and rehydrating your dried foods. From apples to watermelon, asparagus to zucchini, basil to beef, you'll find solid instructions that will ensure great results every time. Marrone also includes recipes for using your dried foods in a wide range of delicious dishes, from pies and cookies to stews and casseroles. There are even instructions for drying fresh pasta and making vegetable snack chips and baby-food purees.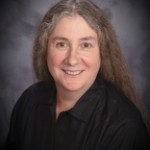 About the Author:
Teresa Marrone is very active in her local food scene, writing profiles and features for Edible Twin Cities. She has also written many regional books, field guides, and cookbooks. Her interest in drying foods began with her passion for camping and her desire to eat well in the wilderness. She lives in Minneapolis, Minnesota.
Book Details:
Paperback: 352 pages
Publisher: Storey Publishing, LLC (July 1, 2014)
Language: English
ISBN-10: 1612121799
ISBN-13: 978-1612121796
Retail Price: $16.95
Digital Editions also available
My Thoughts:
From using the sun to building a homemade dehydrator to using the oven to using a store bought dehydrator, Teresa covers the various methods of dehydrating, and she even goes over how to build your own dehydrator. In other words, she starts off the book with an introduction to dehydrating foods including tips on equipment and methods utilized in the process of food dehydration.
From there, she jumps into dehydrating
Fruits
Vegetables
Herbs and Spices
Meat and Poultry
Leathers, Baby Food, and Prepared Foods
Snacks, Cereal, and Specialties
Dried-Food Mixes for Pantry, Gifts, and Camping
Each chapter includes instructions for dehydrating a variety of items using a dehydrator/convection oven, the sun, or a regular oven. It describes how to test for doneness, the expected yield, and suggestions for use of the dehydrated item. The most unique aspect of this book is that it goes beyond simply dehydrating food to actually using the food that you dehydrated. It has a wide variety of recipes for using your dehydrated foods. It even includes a section on other ways to use your dehydrator such as using it to make yogurt.
I've been dehydrating foods on a regular basis for a couple of years now, but I'm not always creative when it comes to using those beautifully dehydrated foods. You can tell you dehydrate a lot of food when your niece looks into your pantry and states that you have a lot of dried food. When she asked what I did with it all, I allowed her to sample some of the dried fruit which was a hit, but I knew that I wasn't using the food to its fullest potential. The recipes in this book helped me to think outside of the box for using those dried foods in my pantry.
Did you know that dehydrated eggplant actually works better in an eggplant dish as it retain a firmer texture than its fresh counterpart? I didn't know until I read this book. Little tips like that make this book a valuable resource for any kitchen. If you're looking for ideas on how to use some of your dehydrated food stores, you'll want to check out the recipes in this book. If you want healthier and better tasting alternatives for camping/backpacking trips, this book is probably for you. I can't wait to try out more recipes as I put away more of our summer bounty.
Disclosure: I received a copy of this book to help facilitate the writing of a frank and honest review. A positive review is not required nor guaranteed. All opinions are my own.