Many thanks to Propeller Consulting, LLC for providing a sample of the product in exchange for this review and post.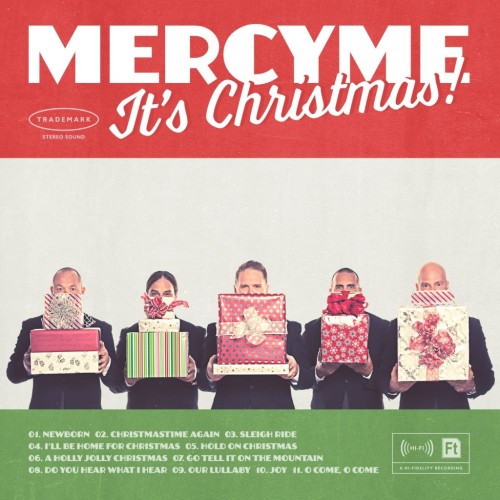 Hubby's normal rule about Christmas music is that we don't listen to it until Thanksgiving. (Extended family traditions on my side find Christmas and Thanksgiving blended as that is when we all came together as a family.) This year, I get to bend the rule a little due to having received this new Christmas cd from Mercy Me for review. I thoroughly enjoy listening to Christmas music as it brightens my mood and makes me smile.
This latest album features a nice variety of traditional Christmas songs and contemporary songs in classic Mercy Me style. I love that it has fun songs that just lighten the mood and meaningful songs that make you think more about the reason for celebrating Christmas. It has both Christian and secular songs. Some songs you'll know while other songs will probably be new. I enjoyed this album, and I'm happy to add it to my Christmas music collection.
Mercy Me It's Christmas​ CD is available in Pizza Ranch locations from now until December 31, 2015. It has 4 exclusive songs that can only be found on the CD version being sold by Pizza Ranch. Each CD will be sold for $5 plus tax. Pizza Ranch will give away the CD with a $25 gift card purchase as well as sell the full album at each of its 200 locations throughout the Midwest and Great Plains states. For my gluten free peeps, Pizza Ranch does have gluten free pizza.
"We are so excited to debut our new Christmas album, MercyMe, It's Christmas, with Pizza Ranch" said Bart Millard with MercyMe. "Pizza Ranch is a fantastic restaurant with a great mission to glorify God. It's the perfect gift to give this Christmas season and the perfect CD to get you in the Christmas spirit."
Mercy Me It's Christmas CD features the following songs (*Pizza Ranch exclusive songs):
Newborn
Christmastime Again
Sleigh Ride
I'll Be Home For Christmas
Hold on Christmas
A Holly Jolly Christmas
Go Tell It On The Mountain
Do You Hear What I Hear?
Our Lullaby
Joy
Oh Come, Oh Come
God Rest Ye Merry Gentlemen*
O Holy Night*
Silent Night*
Joseph's Lullaby*
** Mercy Me It's Christmas CD Giveaway **
Propeller Consulting, LLC is providing one copy of this cd for one of my readers. Only one entrant per mailing address, per giveaway. If you have won a prize from Propeller / FlyBy Promotions in the last 30 days, you are not eligible to win. If you have won the same prize on another blog, you are not eligible to win it again. Winner is subject to eligibility verification. Giveaway ends November 24, 2015. Giveaway is available to U.S. and Canadian readers only.