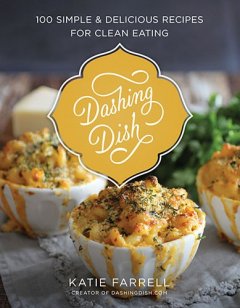 Special thanks to the publisher for providing a sample copy of the book.
We're big into clean eating around here. Do we do it perfectly? Not at all. We still have too much sugar in our diet as it's a process to transition to natural sweeteners. I'm always looking for good recipes to add to my collection.
Many of the recipes featured in this book were similar to ones that I already make, but I really liked the fact that the recipes were either naturally gluten free or easy to convert to being gluten free. She uses oat flour in her recipes which I like. The recipes that I tested tasted really good.
There were a few of things that I didn't like. She uses low-fat, light, reduced-fat, and non-fat dairy ingredients. We only use full fat dairy at our house. She also states that butter is an unhealthy fat which is not true. For the most part, she only uses egg whites which is something that I prefer not to do when possible. Obviously, the dairy ingredients are no big deal as I can just substitute what we normally use. The egg whites are a little more complicated.
Katie includes nutritional information for each of the recipes. The book begins with a guide to healthy, clean eating for those who aren't familiar with clean eating. Katie does a wonderful job laying everything out for her readers. While I may not always agree with her definition of clean eating, she does explain her way of thinking well. (Most people I know don't consider things like lunch meat part of clean eating. While we have lunch meat in our home, I personally do not consider lunch meat a part of a clean eating diet.)
One of my favorite parts of the book is that each recipe has a beautiful, full-color image. Side note: I had to laugh at the fact that the recipe for a cake batter protein shake featured an image of a shake covered with non-pareils sprinkles as it looked beautiful but didn't exactly fit with the sugar-free, clean eating theme.
Book Description
The Dashing Dish is an inspirational cookbook chock-full of healthy, innovative yet simple recipes, most of which are gluten-free, sugar-free, and abundant in whole grains.
Like many of us, twenty-four-year-old author Katie Farrell has struggled with her weight and healthy eating. As a teen she went through yo-yo dieting and was prone to eating disorders. But through God and a passion for food and cooking, she hit upon the formula that would transform her from unhealthy girl to confident woman.
In warm, accessible language and beautiful photographs, Katie shares 100 recipes for clean eating. Every recipe is simple to make and delicious to eat. Katie uses gluten-free oat flour in place of wheat flour, cottage cheese and yogurt in place of fat, and Stevia in place of sugar. Her tips are practical, her tone inspirational. Anyone looking to eat better for the rest of their life will want to own this book.
About the Author
Katie Farrell is the author of Dashing Dish, a healthy recipe website and ministry to women. Katie is a registered nurse from Michigan, where she lives in Brighton with her husband of five years. Dashing Dish is a combination of Katie's passions-helping women find their identity in God and ending misconceptions about healthy eating. Katie wants to inspire women to find the balance between spiritual and physical health, all while enjoying the journey!
Book Details
Hardcover: 272 pages
Publisher: Thomas Nelson (December 30, 2014)
Language: English
ISBN-10: 0718021614
ISBN-13: 978-0718021610
Product Dimensions: 9.1 x 6.9 x 1.1 inches
Retail Price: $26.99
Digital Editions are also available
Disclosure: I received a copy of this book as a member of BookLookBloggers to help facilitate the writing of a frank and honest review. All opinions are my own. A positive review is neither expected nor guaranteed.