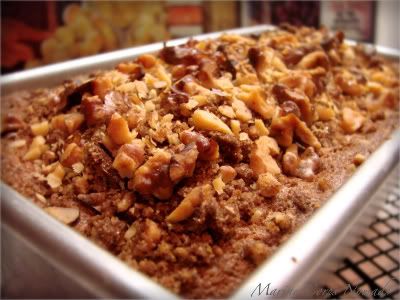 Nutty Gluten Free Coffee Cake Recipe
Ingredients:
Cake:
1/4 C sorghum flour
1/4 C almond flour
1/4 C brown rice flour
1/4 C teff flour
1/4 C amaranth flour
1/2 C tapioca starch
1/4 C potato starch
1 tsp baking soda
1 tsp baking powder
1/2 tsp salt
1/2 C coconut sugar (you can use regular sugar)
1 tsp vanilla
2/3 C butter, melted
2 eggs
1 1/4 C sour cream
Filling/Topping:
1 C nuts (walnuts & pecans are a favorite mix here)
1/4 C coconut sugar or white sugar
1/4 C brown sugar
2 tsp cinnamon
1/4 C chopped nuts (keep separate from the other nuts)
Icing Drizzle: (These are approximate as I just add sugar until the right consistency)
1-2 Tbsp cream (almond milk or regular milk can be used)
1/3 C powdered sugar
1/4 tsp vanilla
Directions:
Heat oven to 350 degrees. Grease baking dish.(I used 1 lb. loaf pan.)
Combine dry ingredients in one bowl until well mixed.
Combine wet ingredients in a different bowl until well mixed.
Combine wet and dry ingredients. Beat until well mixed.  Set aside.
Place filling ingredients into food processor (or blender).  Pulse until it reaches the consistency you desire.
Pour half of your batter into the pan.  Spread out the batter as it can be thick.  Sprinkle half of your nut mixture over the batter.  Pour/spread the rest of your batter over the nut mixture.  Top with the remaining nut mixture.  Top with additional chopped nuts.
Bake at 350 degrees for 45 minutes or until toothpick comes out clean.
While your cake is baking, make your icing drizzle.  Combine the cream and vanilla, slowly add powdered sugar until you reach your desired consistency.
Allow cake to cool for a few minutes.  Drizzle with icing.
Note: The coconut sugar will give the batter a brown tint.