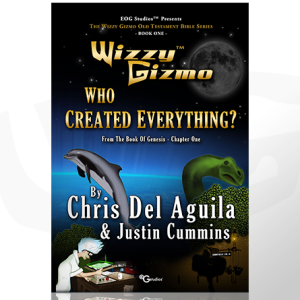 Special thanks to the publisher for providing a review copy of this book as a member of the Home & School Mosaics Review Team.
Book Description:
Explore the wonders of Creation
It all begins when Wizzy Gizmo places the Bible on his incredible Gizmovision invention. The machine whirls and hums, the room begins to vibrate and shake, lights flicker on and off. The invention is surrounded by tiny arcs of electricity, as a sphere of blue-green light emerges and begins to grow bigger and bigger. There is a flash, and then things really begin to happen…
About the Authors:
Justin Cummins is a Christian, husband to Patty and father to five children aged 8 to 13. He is a church planter, pastor teacher at Cornerstone Reformed Bible Church in Marsing Idaho, an author, and illustrator. Justin earned his Bachelors of Theology from The Master's College and attended The Master's Seminary.
Chris (Ives) Del Aguila is a follower of Christ, husband to Kirstin, and father to three children between the ages of 5 and 9. He worships and serves as a Minister of Music at Grace Community Church in Sun Valley California. He is a musician, worship leader, author, and sound engineer.
You can follow Wizzy Gizmo on Facebook, Twitter, Google+, Pinterest, Vimeo, and Youtube. You can even download free kid's devotionals and activity sheets.
Book Details:
Series: Wizzy Gizmo Old Testament Series
Paperback: 58 pages
Publisher: EOG Studios (October 3, 2013)
Language: English
ISBN 10: 0989824500
ISBN 13: 978-0989824507
Retail Price: $12.99
My Thoughts:
Gizmovision transforms any book to a life-like world inside a bubble. Participants are no longer just reading the story, they are part of the story. They can touch it, taste it, feel it, and smell it. It's the creation of Professor Wizzy Gizmo. This summer, the kids of Summerville get to experience the Bible like never before when Professor Gizmo uses the Bible as his test book for Gizmovision with the kids.
Each chapter has one day of the Creation Week come to life for the kids of Summerville. The Gizmoblaster (an invention that can transform into any vehicle) allows the Professor and kids to explore their surroundings from space to the sea. Gizmovision allows them to hear the scriptures as well as see and be part of Creation as it takes place around them.
Wizzy Gizmo: Who Created Everything is the first book in The Wizzy Gizmo Old Testament Bible Series. It introduces readers to Professor Wizzy Gizmo, his robot duck – Qwacky, his talking dog – Pepe, and the kids from Summerville – Summers, Thomas, Eli, and Olive. It's a fun way to look at Creation Week – Genesis Chapter One. It's presented from a literal 6-day week where dinosaurs were created with land animals and walked with man. Man and animals co-existed peacefully before sin and death entered the world.
The book includes highlighted vocabulary throughout the text with a definitions at the end of the book. The book even includes review questions with answers to help readers cement the concepts being taught within the story. It's a entertaining study tool for family bible study or even for use as part of a homeschool curriculum. There is even an audio drama for Who Created Everything.