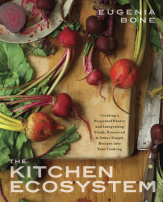 Special thanks to Blogging for Books for providing a review copy of this book.
Book Description:
The Kitchen Ecosystem (affiliate link) will change how we think about food and cooking. Designed to to create and use ingredients that maximize flavor, these 400 recipes are derived from 40 common ingredients–from asparagus to fish to zucchini–used at each stage of its "life cycle": fresh, preserved, and in a main dish.
About the Author:
EUGENIA BONE is the author of At Mesa's Edge and Italian Family Dining. Her work has appeared in Saveur, Food and Wine, Gourmet, the New York Times, and many other publications.
Book Details:
Paperback: 416 pages
Publisher: Clarkson Potter (September 30, 2014)
Language: English
ISBN-10: 0385345127
ISBN-13: 978-0385345125
Product Dimensions: 9.3 x 7.4 x 1.4 inches
Retail Price: $27.00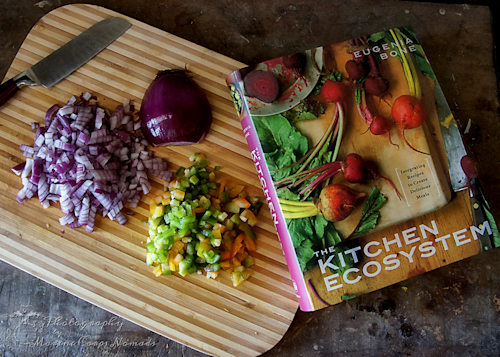 My Thoughts:
I love the idea of treating a kitchen as it's own ecosystem by using everything and wasting nothing, so this cookbook immediately appealed to me. The concept is using food while it's fresh, preserving some of the food, using that preserved food, and then using any "waste" to make more food (like vegetable/chicken stock). It's bringing us back to a time when people used everything they could possibly use because it was not a throw away society. They couldn't afford to waste any food.
In this cookbook, Eugenia Bone takes us through her process of waste not, want not in the kitchen. Each "chapter" is based upon one food (fruit/veggie/meat). The chapter features a chart that shows which recipes utilize one of the four different methods: Eat Some Fresh, Preserve Some, Use the Preserves, and Use the Scraps. Most chapters, but not all, feature all four methods. She even includes a chapter on making your own condiments.
After all of the recipes, there is a complete section of different methods of preservation as well as a section featuring a variety of recipe techniques. In other words, Ms. Bone gives you all the tools you need to be successful in the kitchen. She even talks about substitutions at the beginning of the book. She encourages you to make the recipes your own. The only caveat to this would be in the preservation stage as you want to make sure you're following safe preserving techniques which means following specific recipes for canning.
The recipes are delicious, and I love being able to look up ideas for specific veggies and fruits based upon what we receive in our CSA box for the week. The full-color images are scrumptious and encourage me to test out even some of the unfamiliar recipes.
The one thing that I would have like to see with this book is for it to be an enclose spiral binding to allow it to lay flat. Because it's such a thick book, it doesn't like to stay open. You definitely need a recipe book stand for this type of book if you plan on using it while cooking.
The Kitchen EcoSystem is a beautiful recipe book for those who love to not only use fresh ingredients but also preserve food while at it's freshest point. If you want to fully utilize the foods coming in to your home and not waste anything, this is a cookbook for your kitchen. It will help you think just a little differently about your food – even the scraps.
Disclosure:  I received this book from Blogging for Books for this review. A positive review is neither expected nor guaranteed. All opinions are my own.