I received a copy of this Bible from the publisher for review purposes.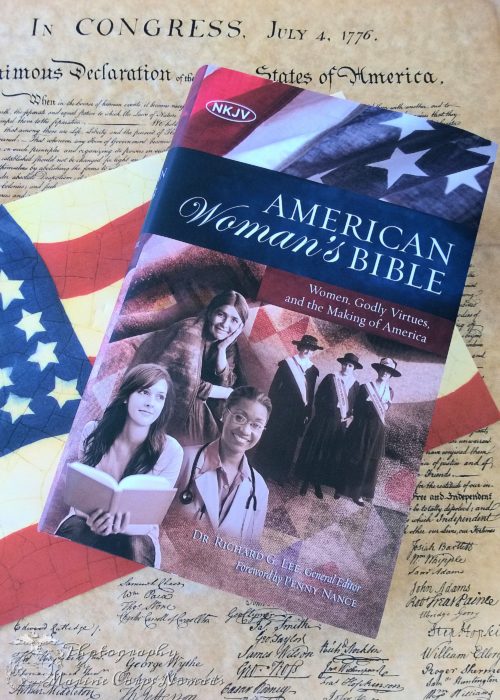 Who can find a virtuous wive? For her worth is far above rubies. The heart of her husband safely trusts her; so he will have no lack of gain. She does him good and not evil all of the days of her life…. Strength and honor are her clothing; she shall rejoice in time to come. She opens her mouth with wisdom, and on her tongue is the law of kindness…. Her children rise up and call her blessed; her husband also, and he praises her…. Charm is deceitful and beauty is passing, but a woman who fears the Lord, she shall be praised. ~Proverbs 31
How many times have we, as women, read this passage and felt overwhelmed by the challenge that it presents? I think it's important to remember that the woman being presented in this passage is an ideal, not a real person. She is a goal to strive for, but the reality of what it looks like in our own lives will vary from person to person based upon the different seasons in our lives. She is not meant to stress us out, but rather to give us inspiration.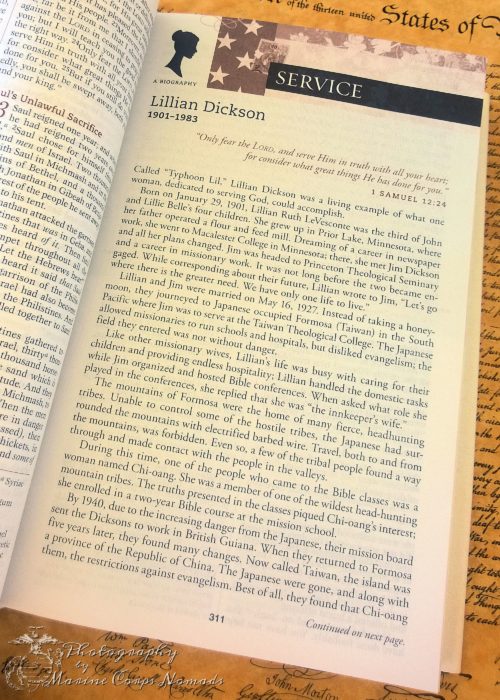 The American Woman's Bible takes that idea and gives us portraits of women who are meant to inspire and encourage us in our walk with the Lord. They, like us, aren't perfect, but the Lord still used them to achieve His purposes. This Bible begins with a helpful 10 step list to guide us on our journey to achieve our goals of becoming a godly woman. It also reminds us that our journey will be unique as we are all different.
Whether you start at the very beginning with Genesis, start at the end with Revelation, or start somewhere in between, the additional readings included in the text are meant to help you in your journey. They are not a substitute for the scripture itself nor are the individuals meant to be placed up on pedestals because they are used as examples. Instead, the portraits and stories of women, examples of virtues, and quotes give additional real life examples of the concepts being covered in scripture.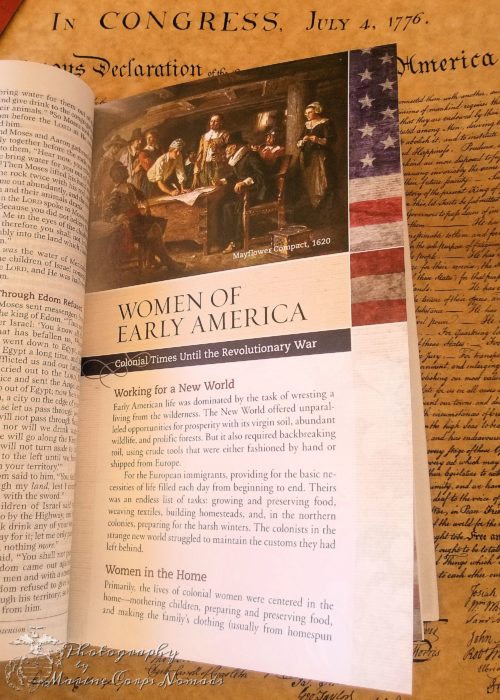 In addition to the stories, examples, and quotes throughout the Bible, there are several full-color sections that give glimpses into the lives of women during specific time periods in history. It often helps gain a better understanding of what it has been like for women throughout our nation's history.
I really like how this Bible is laid out and the information that is contained within. I have enjoyed reading about these examples of godly women who, while not perfect, have been able to further the Lord's plans by listening to His guidance for their lives. It's a good reminder that each of us has a purpose in this world, and those purposes look just a little different. The world needs our different approaches and talents. The Lord is able to use each of us – faults and all.