I've been fascinated by spiral slicers since I first saw one, but I had never used one until recently. The Brieftons Spiral Slicer is a hand-held unit that has two different julienne sizes – one on each end. The unit also comes with a finger tip guard that grips the vegetables. A small brush helps clean out the hard to clean places in the spiral slicer. I love the idea of easily being able to make delicious veggie noodles. As soon as it arrived, I jumped into trying it out with zucchini and carrots from our CSA box.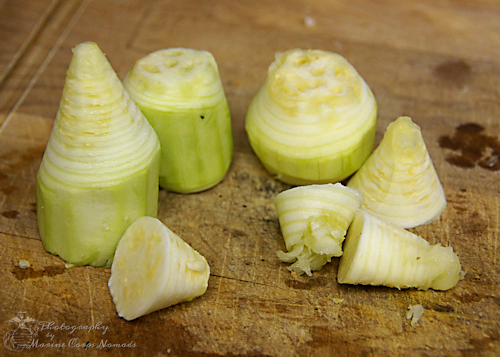 The Brieftons Spiral Slicer creates beautiful strands of zucchini, but it does create a good bit of waste as you can see above. I just chopped up the "stubs" and cooked them separately as I didn't want to waste anything. The spiral slicer was quite easy to use with the zucchini. You just place the zucchini in the spiral slicer and twist like a pencil in a pencil sharpener.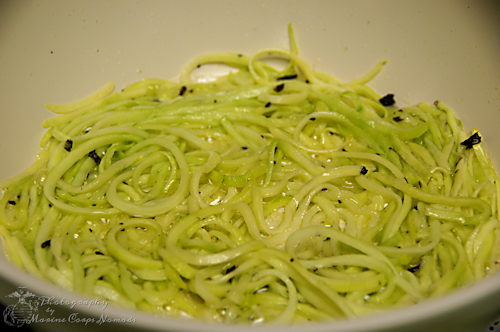 You end up with beautiful zucchini noodles that can be used either raw or cooked. I chose to cook them with some basil, olive oil, and fresh-pressed garlic. It's a fun way to eat zucchini, and it completely changes the taste/texture of the zucchini.
I tried using the spiral slicer with carrots, but it did not work for me. I don't know if my carrots weren't fat enough or what the issue was, but it was not a successful endeavor. The finger tip guard is okay, but it doesn't really grip the veggies all that well. For the most part, I used it without the finger tip guard.
The Brieftons Spiral Slicer is a compact unit that works well for creating beautiful spirals from zucchini, but in my experience, it does not work well for carrots.
Disclosure: I received one or more of the products mentioned above for free using Tomoson.com. Regardless, I only recommend products or services I use personally and believe will be good for my readers.