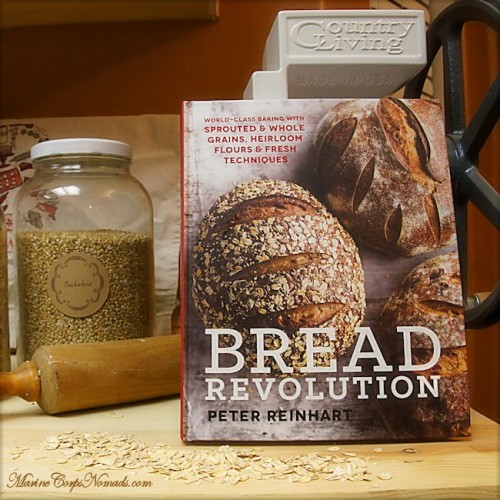 Special thanks to Blogging for Books for providing a review copy of this book.
One of my favorite things about this book is the scientific approach to baking. It goes into techniques, baking theories, tools, and ingredients before diving into the art of working with a sour dough starter and sprouted grain flours. I love reading all the technical stuff when it comes to baking, so this aspect of the book was right up my alley.
Before I go much further, I have to point out that the font in this book is really small for a cookbook. When looking at a cookbook, I want to be able to easily read it at a glance, but that's not the case with this cookbook. I'm not sure why the publishers went with this particular font/font size, but in my opinion, it was a poor choice. That being said the paper weight is wonderful, and the images are beautiful.
My family is gluten free, and I enjoy using ancient grains in my baking. I'm not a novice when it comes to baking, and I have a lot of ancient grain flours in my pantry. I was thinking that I would be sprouting my own grains for the gluten free recipes, but Reinhart expects you to purchase sprouted grain flours. Bummer. Given that we're gluten free, I'm familiar with many different flours, but there were some flours in the gluten free recipes that were even unique for the gluten free crown – ie: grape flour.
There are 8 gluten-free recipes in this book:
Gluten-Free Sprouted Flour Pizza Dough
Gluten-Free "Do No Harm" Sprouted Grain Bread
Gluten-Free Sprouted Grain Crackers
Gluten-Free Sprouted Corn Bread with Teff
Gluten-Free Many-Seed Toasting Bread
Gluten-Free Holiday Cookies
Gluten-Free Holiday Biscotti
Gluten-Free Focaccia
The recipes in this book are fairly complex and involved, so I can't say that I would recommend the book for the novice baker. I also wouldn't recommend this book for someone who is strictly gluten free as it just doesn't have enough to offer for the gluten-free crowd. The ingredients tend to be even more pricey that regular gluten-free flours.
If you're looking to expand your break-making skills and want to try out new techniques and flours, this may be the book for you. Be prepared to spend some money and time finding the ingredients needed for many of the recipes.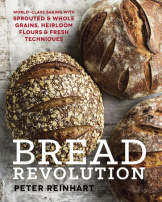 Book Description:
Renowned baking author and instructor Peter Reinhart has always been on the forefront of the bread movement—from his seminal work, The Bread Baker's Apprentice, to today. In Bread Revolution, he explores the cutting-edge developments in bread baking, with fifty recipes and formulas that use sprouted flours, whole and ancient grains, nut and seed flours, alternative flours (such as teff and grape skin), and allergy-friendly and gluten-free approaches.
A new generation of bakers and millers are developing innovative flours and baking techniques that are designed to extract the grain's full flavor potential—what Reinhart calls "the baker's mission." In this lushly photographed primer, Reinhart draws inspiration from these groundbreaking methods to create master recipes and formulas any home baker can follow, including Sprouted Sandwich Rye Bread, Gluten-Free Many-Seed Toasting Bread, and Sprouted Wheat Croissants.
In many instances, such as with sprouted flours, preferments aren't necessary because so much of the flavor development occurs during the sprouting phase. For grains that benefit from soakers, bigas, and sourdough starters, Reinhart provides the precise guidance that has made him such a trusted expert in the field.
Advanced bakers will relish Reinhart's inventive techniques and exacting scientific explanations, while beginning bakers will rejoice in his demystification of ingredients and methods—and all will come away thrilled by bread's new frontier.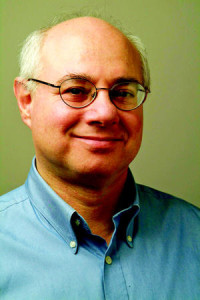 About the Author:
PETER REINHART, the author of eight books on bread and baking, including three James Beard Award winners, is a baking instructor and faculty member at Johnson and Wales University.
Book Details:
Hardcover: 256 pages
Publisher: Ten Speed Press (October 21, 2014)
Language: English
ISBN-10: 1607746514
ISBN-13: 978-1607746515
Product Dimensions: 8.2 x 1 x 10.3 inches
Retail Price: $30.00
Electronic Versions also available
Disclosure: I received this book from Blogging for Books for this review.