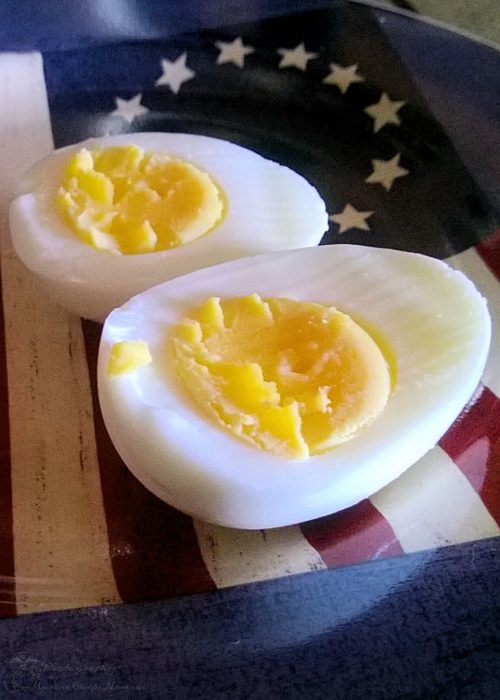 The quest for the perfect hard boiled egg… When we lived at sea level or lower altitudes, hard boiled eggs weren't that difficult to make. I used the same techniques that my mom used, and I ended up with yummy hard boiled eggs. It wasn't until we moved to a high altitude area that I realized how high elevation changed everything when it came to baking and cooking – including hard boiled eggs.
I tried a variety of techniques to achieve good hard boiled eggs, and the results were okay. What I didn't like is that the results weren't consistent each and every time. I wanted needed a technique that would produce great hard boiled eggs every time. I tried different times, ice bath cooling, no ice bath cooling, room temp eggs, fridge temp eggs… and numerous combinations of those things until I came up with this one that I now use.
Previously, I brought eggs to a hard boil and then turned off the stove. I timed the cooking time and then plunged them into an icy bath. That technique needed to change, so this is what I came up with that works for me. I read about steaming eggs and thought it was a bit odd, but I was up for the challenge to see if it would work for me.
You'll want to set your eggs out and allow them to come to room temperature before you start the cooking process. Once they are at room temperature, you can them place them in your steamer. You'll want the eggs to be in a single layer, so adjust the size of your pan/pot according to your cooking needs.
Now, you'll bring the water up to a heavy boil. Once the water is boiling, you'll place the steamer over the boiling water to begin the steaming process. Set the timer for 15 minutes. You might need to play with the time a little depending on your altitude as I found that the time can vary slightly between altitudes in areas classified as high altitude.
When the timer goes off, remove the eggs from the steamer and place them in ice water. You're going to allow the eggs to come to a temperature where they are comfortable to handle before removing them from the water. As soon as they're out of the water, you'll put them in the fridge to cool completely before attempting to peel them.
Now, you can peel the beautiful hard boiled eggs and eat them as is or turn them into deviled eggs, egg salad, or even toss them in a salad. I liked to keep hard boiled eggs in the fridge pretty much all the time as they make a great snack or addition to a meal. D likes me to add them to his lunch as they work well for a quick pick-me-up during the day.