Beauty can be found all around us. There are times when you have to search a little harder to find that beauty. The storms of life can make it difficult to see the beauty, but it's still there. A glimpse of sunlight through the clouds. A rainbow after a huge thunderstorm. A tiny green bud peeking out of a muddy, flooded area.
As of late, my family has been in survival mode. We've been striving to find the beauty in the many storms that keep hitting us one after another. Ironically, the weather around us seems to be mimicking life. While we face figurative storms, we're also facing literal storms. It's been interesting, to say the least. Just as we seem to weather one storm another one hits.
Shortly before we moved, Munchkin and I watched a series on Netflix – Lemony Snicket's Series of Unfortunate Events. It's based on the book series of the same name. For those who aren't familiar with the book series, it chronicles the lives of the Boldier children who suddenly found themselves orphans after they lost their parents and home in a fire. They can't catch a break as one thing after another goes wrong in their lives.
After watching the Netflix series, we decided to start reading the book series. Little did we know that our lives would become a series of unfortunate events. Thankfully, unlike the poor children in the books, our family has stayed safe throughout all of the craziness. We have chosen to stay focused on that fact.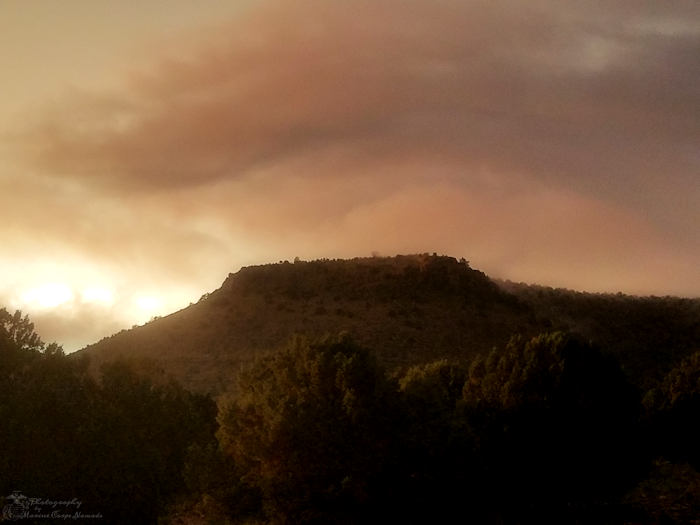 Our move began with D's truck breaking down only a couple of hours into the trip. Thankfully, we had someone with us who was able to stay with him and get him safely to our new location. Munchkin and I had to keep going as we had the animals, and it was too hot to stop for any length of time. We later learned that D's truck would need to have a new transmission or the transmission to be rebuilt.
Since that time, we've experienced a wide variety of unfortunate events including other vehicle issues. It's always fun to have your wipers go out while driving in a thunderstorm or your brake lights stop working as you prepare to stop on a main road. Having your house taken over by packrats and surrounded by Mojave rattlesnakes is rather overwhelming. Days of thunderstorms that lead to leaks all over the house can take a toll on household morale. These are only a few things that have happened in a little over a month's time.
Through it all, we've tried to find beauty in our situation. I've had the opportunity to spend some quality time with my girl before she heads off to college. Even though there has been a lot of craziness, we are all safe and, for the most part, healthy.