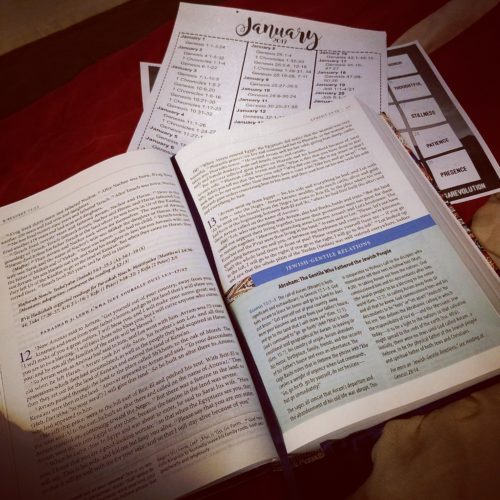 The beginning of a new year seems to spark the new to start fresh, to create new habits and break old habits. I don't make new year's resolutions, but I do set goals for myself. While goals are set throughout the year, the first of the year lends itself to setting goals for the year. I've read through the Bible in the past. Munchkin and I did the 90 day Bible challenge a few years ago. This year, I've decided to join the Women in the Word facebook group as they read through the Bible chronologically.
The group provides some accountability as well as a printable reading schedule. I'm using the Complete Jewish Study Bible for my readings this year. This particular Bible gives me different insight into the Word as it shares more about the culture as well as has different wording on some scripture passages. Reading the Bible chronologically also changes the way I view the scripture readings as it places everything in a different order. Yes, it means skipping around the Bible as I read through it, but I find it interesting.
I've chosen not to do journaling in the Bible even though others in the group are enjoying that process. I'll keep a separate journal for any insights that I might have along the way. If I have the need to express myself creatively through coloring or sketching, I can use that journal or grab one of my scripture doodle coloring books. I really need to pick up some better colored pencils as the ones that I have now have seen better days. Munchkin has the really nice colored pencils, so I'm thinking of picking up a set for myself.
I've found it difficult to get back in the habit of reading longer passages of scripture in the mornings as it means I need to be more purposeful with my time. I know that it will take a few weeks before it naturally becomes part of my routine. It's never going to be easy, but it will get easier. I'm completely changing up my routine, so it will take time to make the change stick.
Are you trying to add more scripture reading to your daily routine? Are you using a specific reading plan or just reading a little each day? I sometimes have a hard time sticking to one program as I like to try different approaches. I will be trying my best to keep with the program this year even through the craziness this year will hold. Thankfully, there are many Bible apps available for those times when I'm on the go.