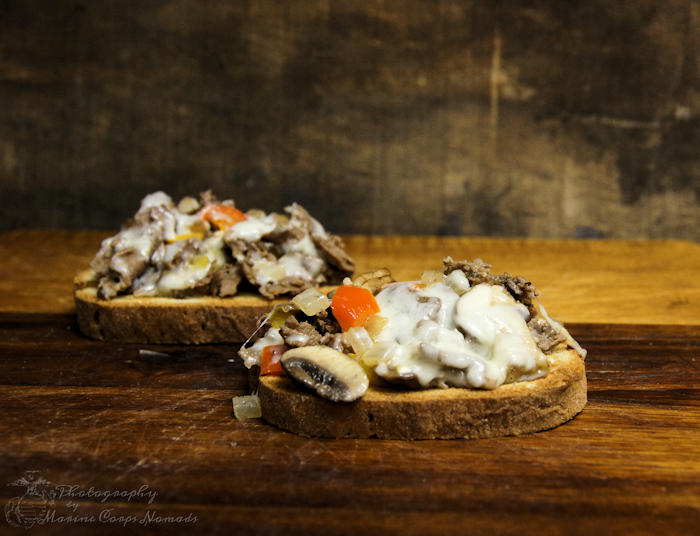 Cheesesteaks are a favorite around my house, but I don't always want to take the time to bake the gluten-free rolls needed for traditional style cheesesteaks. In times like those, I like to use gluten-free bread and make open-faced cheesesteaks instead.
Prepping the veggies for the cheesesteaks is probably the most time-consuming part of the entire dish. Using more than one color of bell pepper adds pops of color to the dish, but you can use whatever you have on hand. I happened to luck out and find an amazing deal on organic red and yellow bell peppers the day before I decided to make cheesesteaks.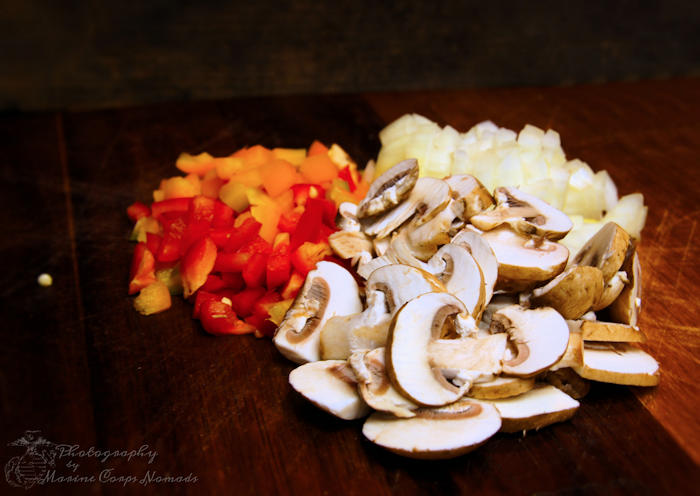 I do a rough dice on the bell peppers. Because I don't want the peppers to disappear into meat mixture, I chop them a little larger than I would for some of my other dishes. In this case, I chopped up 1 yellow bell pepper and 1 red bell pepper. I used approximately 1 cup of diced peppers for the dish and saved the rest for later.
Up next was a medium-sized organic onion which equals around 1 cup of diced onions. 1 cup of sliced baby bell mushrooms was added to the mix. I cooked them over medium-low heat with 2 Tbsp of butter. Seasonings added while cooking include a pinch of salt and some freshly ground pepper. I also like to add 1 clove of garlic, finely diced because we like the garlic flavor.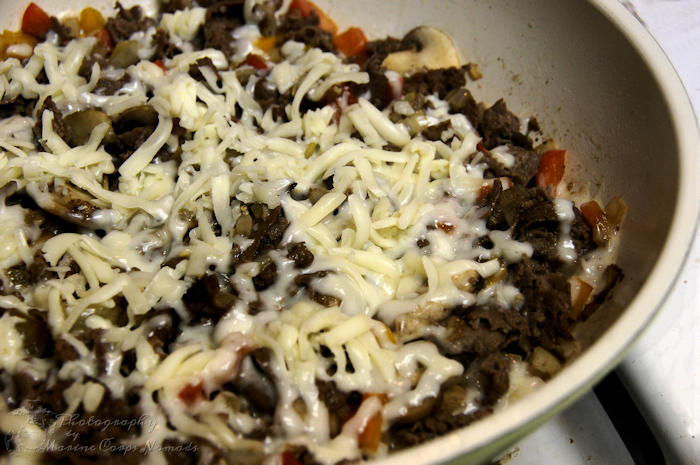 While the onion mixture is cooking until soft, I cook the thinly sliced steak. While I prefer thinly sliced grassfed beef, I have also used other meats included ground beef if that's what I had on hand at the time. Once the meat is completely cooked, I add it to the onion mixture and toss together.
Allow the onion mixture and meat to cook together for a few minutes over low heat so the flavors come together. This is a good time to taste test to see if you want to add any more salt and pepper. Don't forget that the cheese will add some salt to the dish.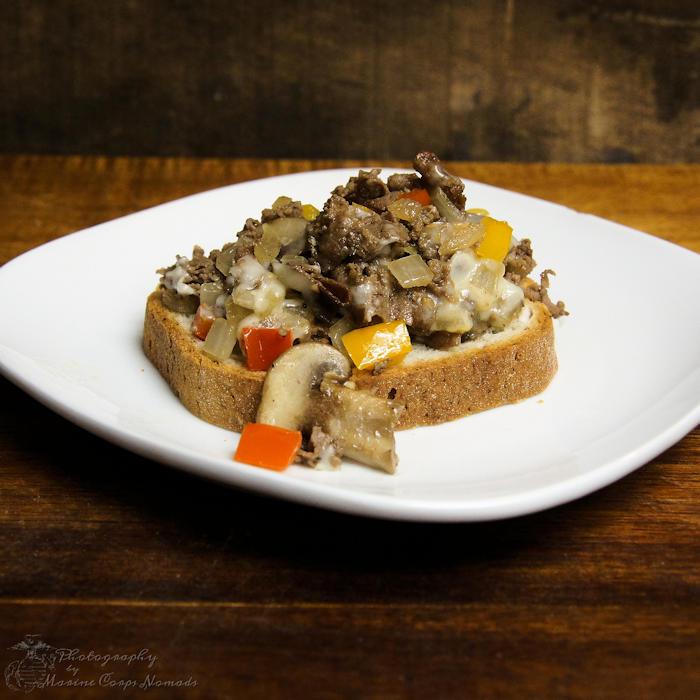 To make things easier, I like to add the cheese right over the meat mixture in the pan rather than melting the cheese once the meat mixture is on the bread. I allow the cheese to completely melt before assembling the cheesesteaks. Do whatever works best for you. Lightly toasting the bread before adding the meat mixture adds another layer of texture as well as allows the bread to hold up better with the juices from the meat mixture.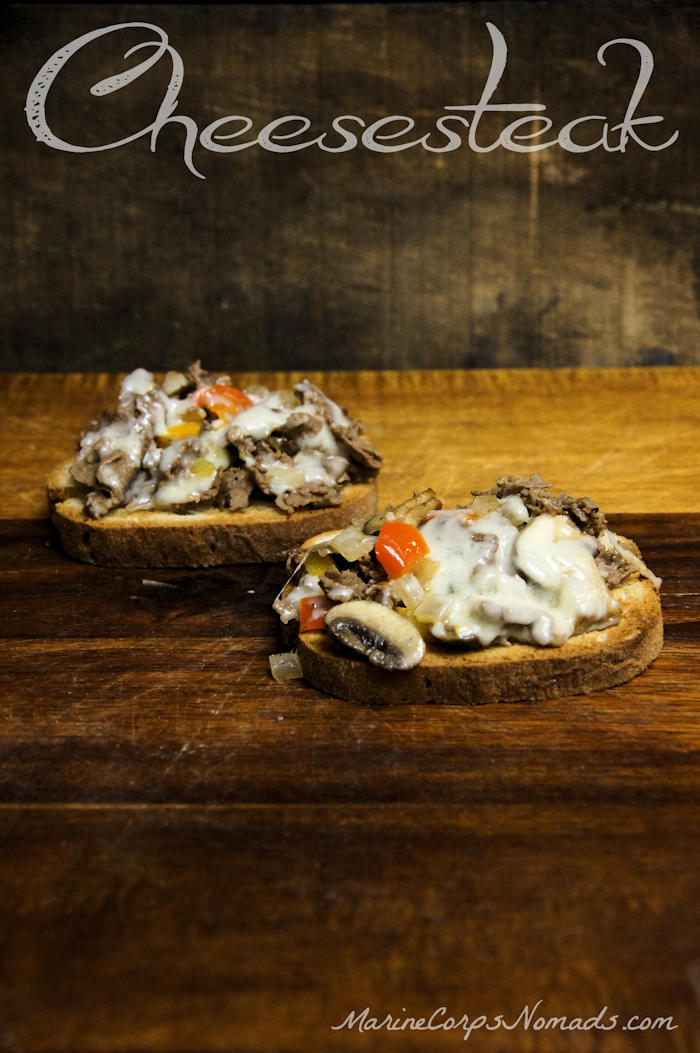 Top the slices of toasted bread with the meat mixture right before serving. I'm able to get about 8 open faced sandwiches from the recipe.
Open-Faced Gluten Free CheeseSteaks
Ingredients
3/4 pound Thinly Sliced Steak
1 cup Roughly Diced Bell Pepper
1 cup Diced Onion
1 cup Sliced Mushrooms
1 Clove Garlic, finely diced
2 Tbsp. Butter
Salt and Pepper, to taste
1/2 cup to 1 cup Cheese
Gluten Free Bread
Instructions
Saute bell pepper, onion, garlic, and mushrooms in butter over medium-low heat until soft and tender.
Season onion mixture with salt and pepper.
Cook thinly sliced steak over medium heat until thoroughly cooked.
Add meat to onion mixture. Cook over low heat for a few minutes.
Cover meat mixture with cheese.
Toast gluten free bread.
Top toast with cheesy meat mixture.
http://marinecorpsnomads.com/2017/01/open-faced-gluten-free-cheesesteaks.html