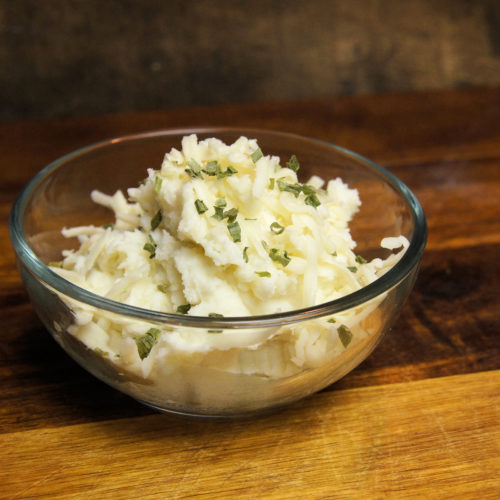 Mashed potatoes aren't just for Thanksgiving, and they certainly don't need gravy to taste delicious. These decadent loaded mashed potatoes are not light nor are they low in calories. My daughter and I like to eat them as a meal while my husband prefers to have them paired with veggies and meat.
I like to start off with organic russet potatoes, but I've also used red or yellow potatoes when I didn't have russet potatoes on hand. I scrub the potatoes really well before peeling them and removing any dark spots. Try to cube the potatoes in roughly the same size. This isn't a Food Network show where you'll be graded on your cuts but having cuts of similar sizes allows for the potatoes to cook evenly.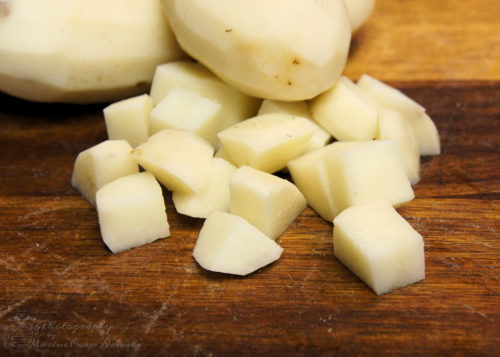 Once cubed, the potatoes head into a cold water bath. Slowly bring the water to a boil over medium-high heat and cook the potatoes until they are fork tender. It will take roughly 20 minutes. Do not undercook or you'll have lumpy or even crunchy mashed potatoes.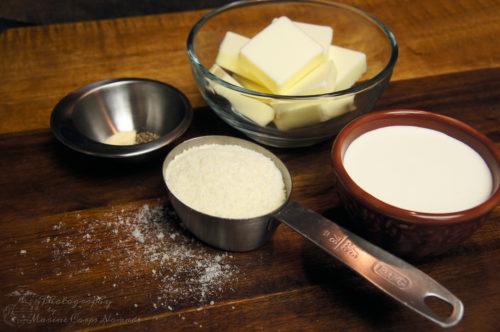 While they are cooking, you can prep the rest of your ingredients. For ease of incorporating the butter into the mashed potatoes, I recommend allowing the butter to come to room temperature. For more decadent potatoes, you'll want to use heavy cream rather than milk. It also tends to give the potatoes a creamier texture.
When the potatoes are cooked, you can either mash the fork-tender potatoes by hand, use a potato ricer, or use a stand mixer. Add the butter first while the potatoes are hot then slowly add the other wet ingredients. Once the wet ingredients are incorporated into the potatoes, you can add the dry ingredients. After the dry ingredients are added, you'll want to taste-test and add more seasoning, if necessary.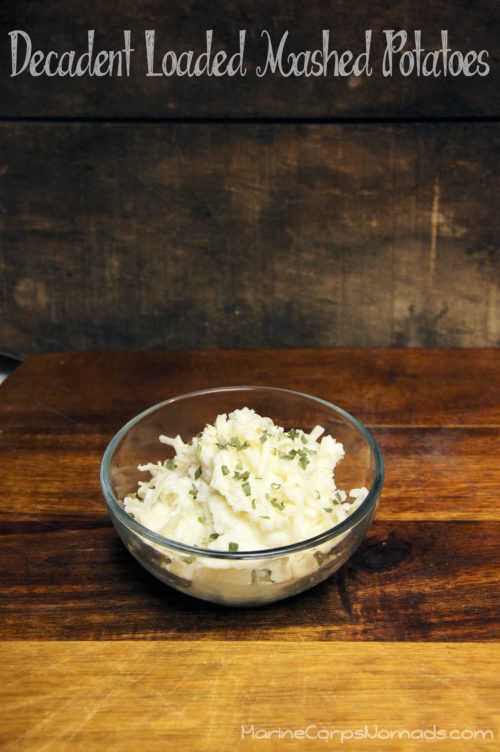 I like to top the potatoes with raw cheddar cheese and chives before serving. If I have bacon on hand, the addition of crumbled bacon is another layer of delicious decadence.
Making extra decadent loaded mashed potatoes is a must as these potatoes heat up beautifully the next day. They're perfect for lunch, dinner, or a side dish. Because of all of the add-ins and toppings, they are filling. They are not a diet dish by any means, but boy are they a tasty dish.
Decadent Loaded Mashed Potatoes
Ingredients
3 lbs potatoes, washed, peeled, and roughly cubed
8 Tbsp. Butter, cut into 1 Tbsp pats
1/4 cup Heavy Cream or Milk
1/2 cup Sour Cream
1/3 cup Parmesan Cheese
1/4 tsp. Pepper
1/4 tsp. Garlic Powder
Salt, to taste
Bacon (optional)
Shredded Cheese (optional)
Chives (optional)
Instructions
Place cubed potatoes in boiling water. Cook potatoes until fork tender. Drain.
Put potatoes in mixing boil and either mash by hand or use a mixer.
Add butter 1 Tbsp at a time into the mashed potatoes. Mix until thoroughly incorporated in the potatoes.
Slowly incorporate sour cream and heavy cream/milk into potatoes.
Combine Parmesan cheese, pepper, garlic powder, and salt.
Add Parmesan cheese mixture to potato mixture until thoroughly combined.
Top with cheese, chives, and bacon, if desired.
http://marinecorpsnomads.com/2017/01/decadent-loaded-mashed-potatoes.html