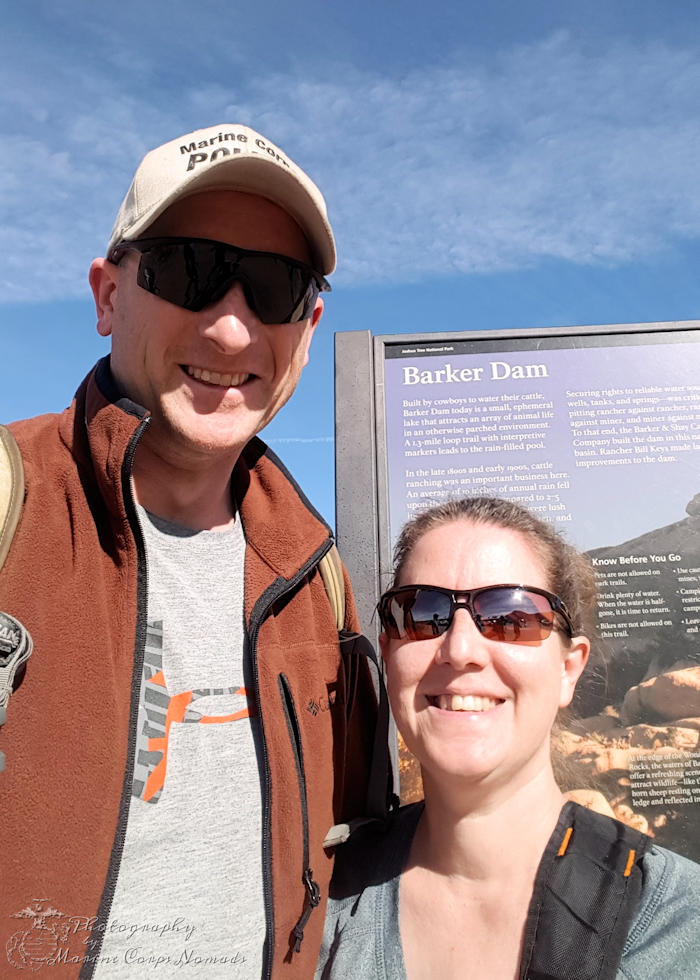 With all of the rain that has been falling, I wanted to do a winter hike over at Barker Dam. I was hoping to see the old cattle tank area filled with water. I was not disappointed.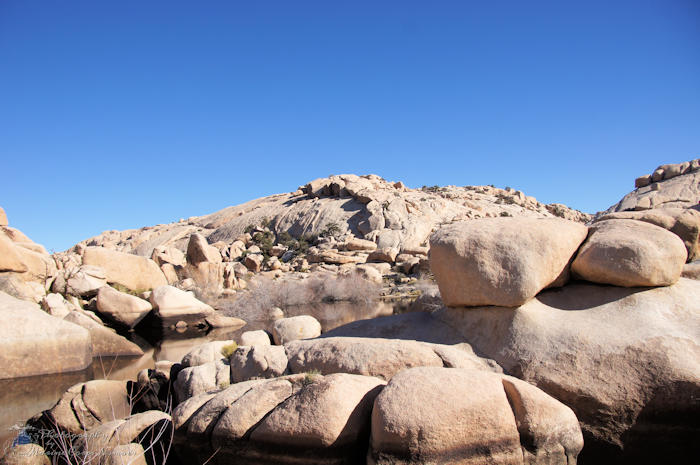 Munchkin decided that she didn't want to join us on this hike, so D and I headed out on our own. I don't mind doing a hike as a couple as it gives us a good opportunity to talk about everything. When Munchkin isn't with us, the entire hiking dynamic seems to change.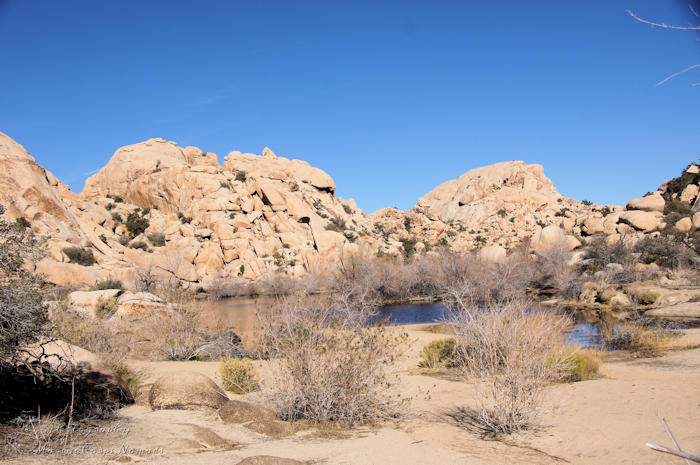 Instead of me lagging behind and taking pictures, D and I hike side-by-side. He slows down his pace and I speed mine up. We naturally fall into step with each other. The exception to this is when there are lots of boulders and rocks to climb, hike, scramble over. He easily traverses the terrain while I have to meticulously make my way through the ever-changing landscape.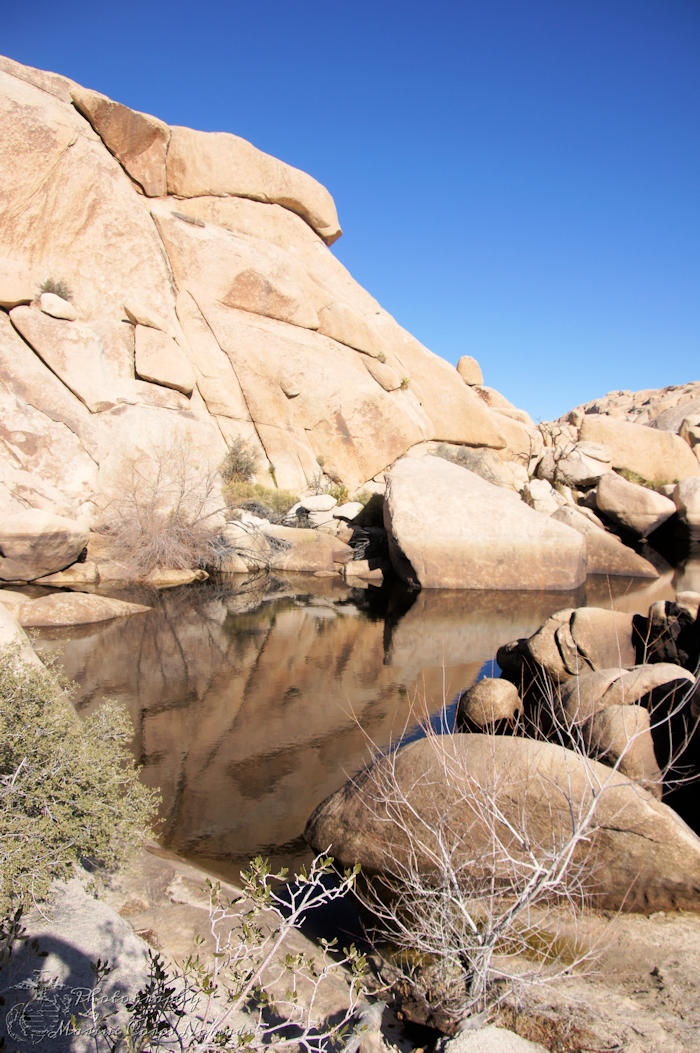 We have never been here when there was so much water – everywhere. The trail not only had puddles on it but it also had water flowing through the trail at some points. It was wet and muddy. I got excited because I knew there would be a body of water to enjoy.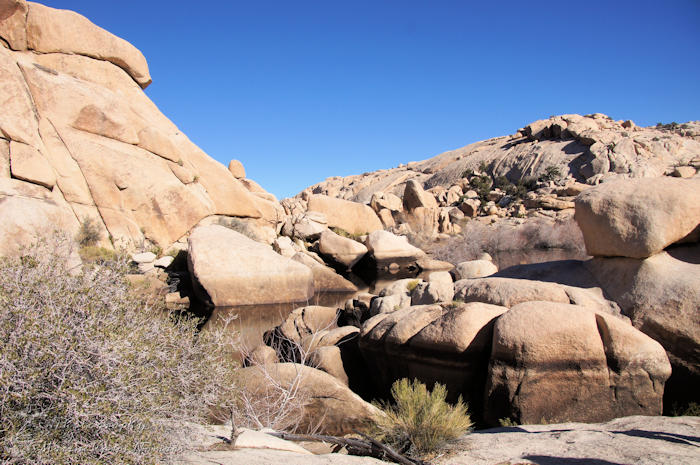 Barker Dam is an old water tank built by cattlemen for their cattle. It's a seasonal holding tank that depends completely on the rainfall for the year. While we've never seen it completely dry, we have seen it very low where it's basically a small, stagnant body of water.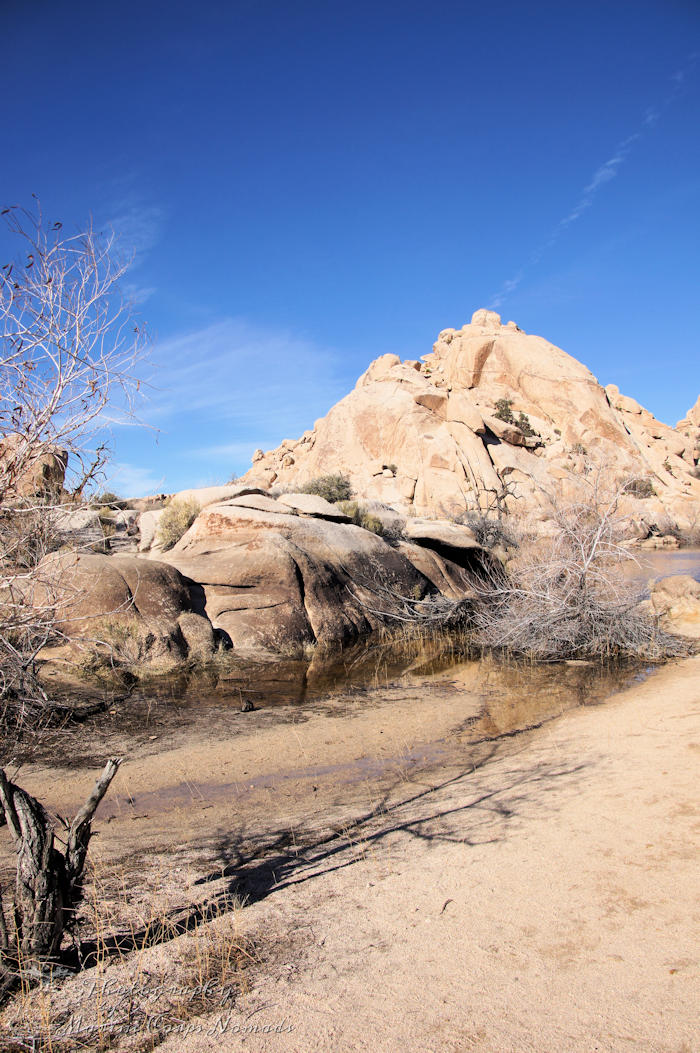 As we hiked the trail, we saw a lot of people with their climbing gear and bouldering pads heading out to some of the many climbing locations in the area. Our gear was in the Jeep "just in case".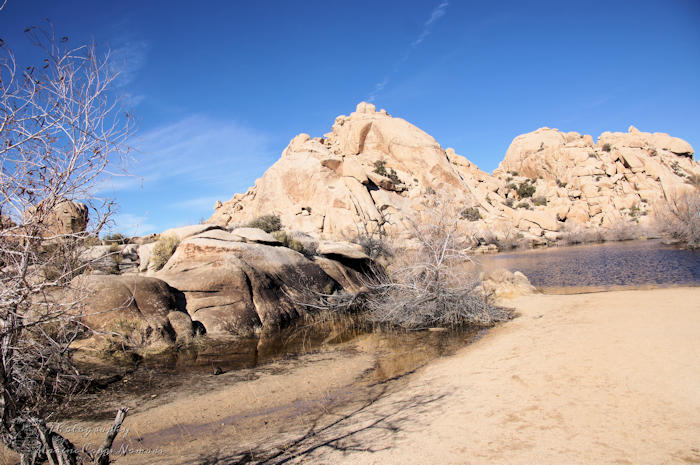 When the water came into view, I was rather excited as I had never seen so much water at this location. There were animal (and human) tracks everywhere. Everyone was certainly enjoying all of the rain we had been getting.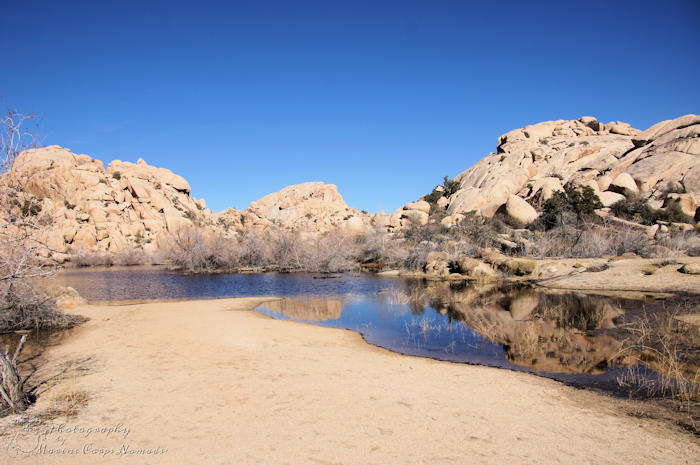 Of course, I had to spend a little time getting some pictures of all of the water. Little did I know that D was behind me snapping several photos of me taking pictures of everything. One of the things that I'm trying to do this year is to be in more pictures, so this ended up working out okay in the end. When you're normally the one behind the camera, you tend not to be featured in very many pictures.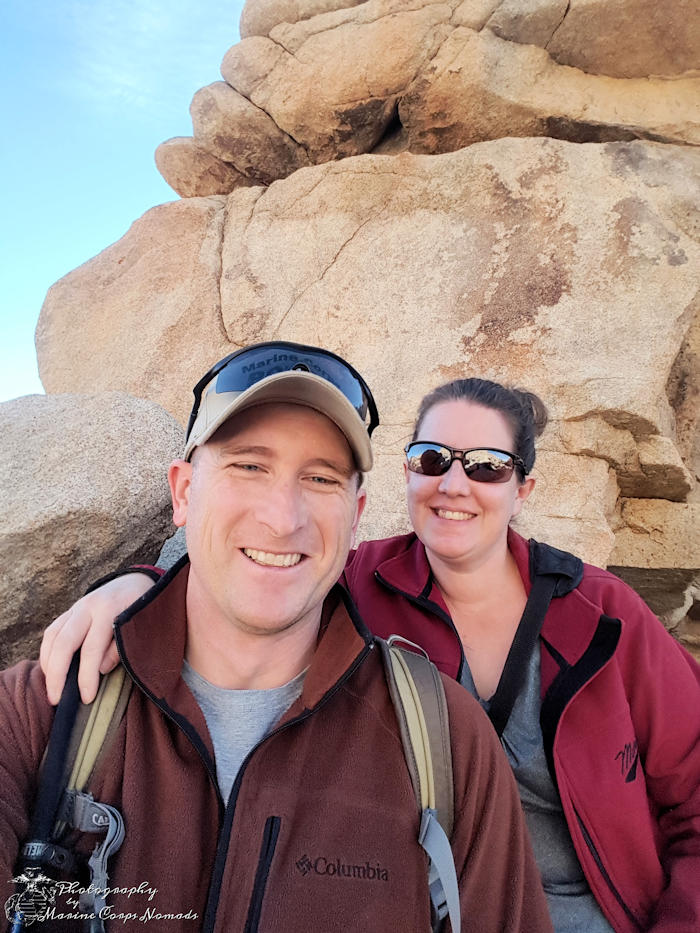 It was a beautiful day for a hike, and we certainly were enjoying our time together hiking as a couple. We found that this hike seemed to go really quickly after the other hikes that we've been doing recently. Of course, when Munchkin is with us, there tend to be more side trails taken as she and daddy go off exploring.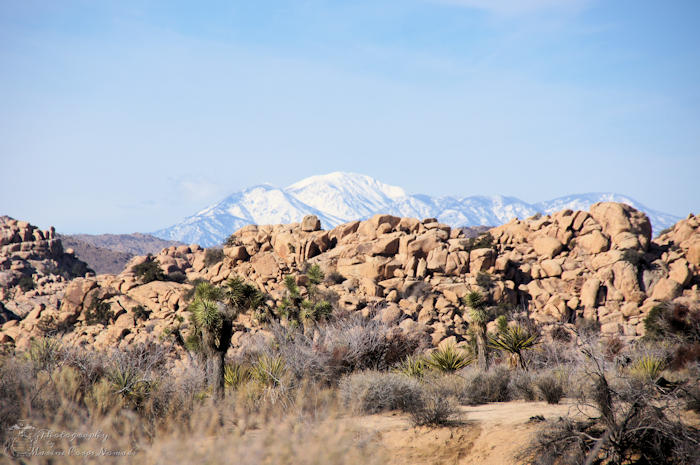 It was interesting seeing the snowy peaks in the background. The contrast between the Wonderland of Rocks and the snow-covered peaks was interesting. Two very different areas of the desert.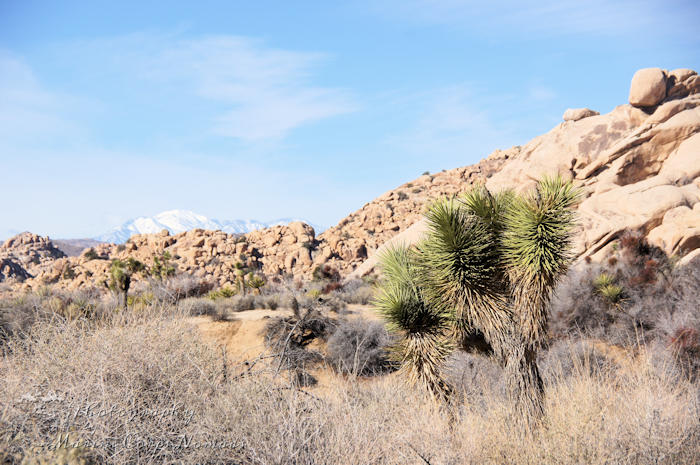 On the way back to the trailhead, we decided to take a side trip to see a couple of different bouldering areas that we wanted to try out. It was a busy day for climbing, so we decided that we would head back over earlier in the morning the next time.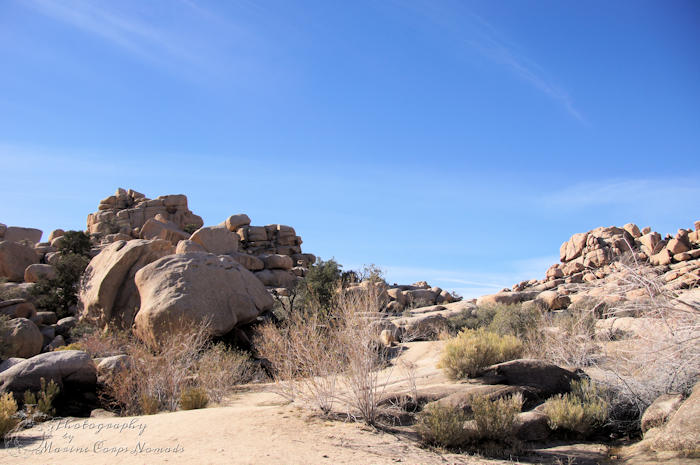 We wrapped up this trip with a little more exploring of the Hidden Valley area as well as the Keys Ranch area. We were scoping out some different trails and climbing locations. Joshua Tree National Park is definitely much busier in the winter months when the climate is milder. I love the milder temperatures, but I'm not a big fan of the busier trails, rocks, and parking areas.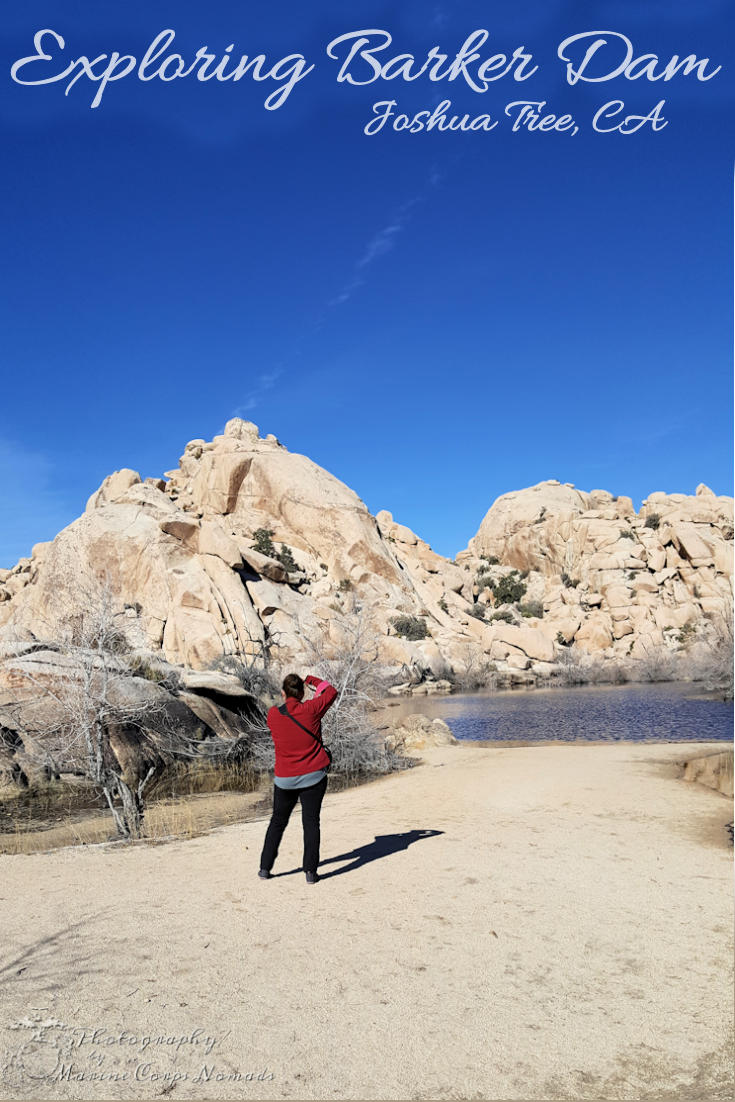 Barker Dam Loop Trail Facts
The hike on the Barker Dam Trail is roughly a 1.3-mile loop. If you take the side trail to see the petroglyphs, it will add a little distance, but not much. There are other connecting trails for those who want a longer hike.
The elevation change is around 50 feet.
The trail fairly flat until you get to the water tank where you'll need to do some easy scrambling on the boulders.
The hike is considered an easy hike, but it is not stroller-friendly due to the terrain.
The trail is open year around, but hikers need to be aware of the weather conditions for their own safety. Make sure you have plenty of water. The boulders do provide some shade along the trail. If it's been raining, the trail can experience flooding.
Dogs are not allowed on the trail.
Downloadable Barker Dam trail map
The Barker Dam Loop Trail was our third hike in the 2017 52 Hike Challenge. We'd love to have you follow us on our year-long hiking adventure.