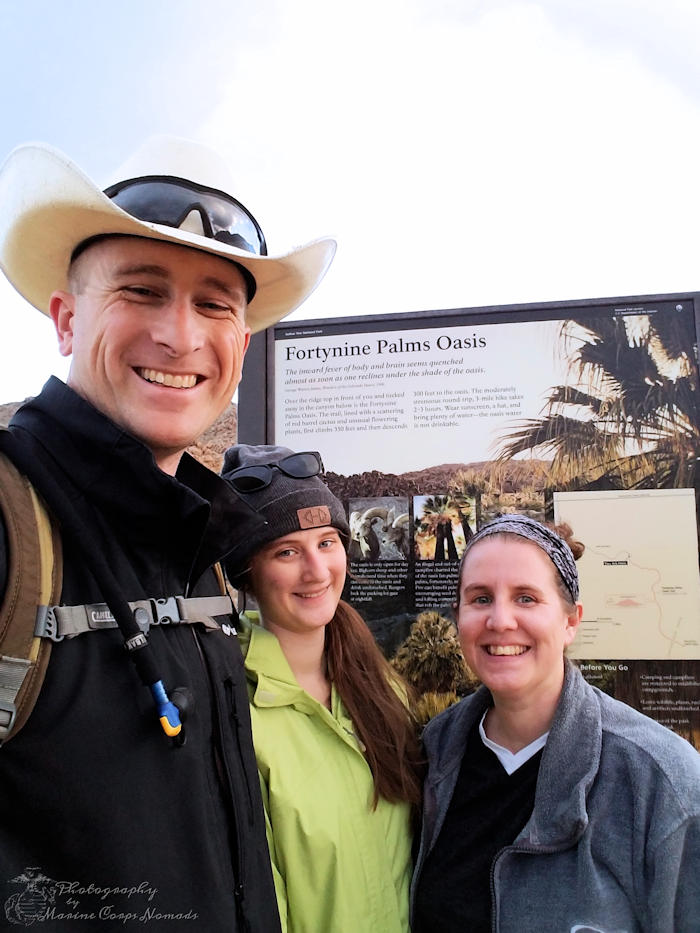 While 49 Palms Oasis Trail can be hiked in the summer, it's more enjoyable during the winter months. D has hiked the trail a couple of times with various groups, but this was our first time hiking the trail as a family. Originally, we had planned on going for a short, easy hike, but at the last minute, we headed to this trail instead as Munchkin wanted something a little different.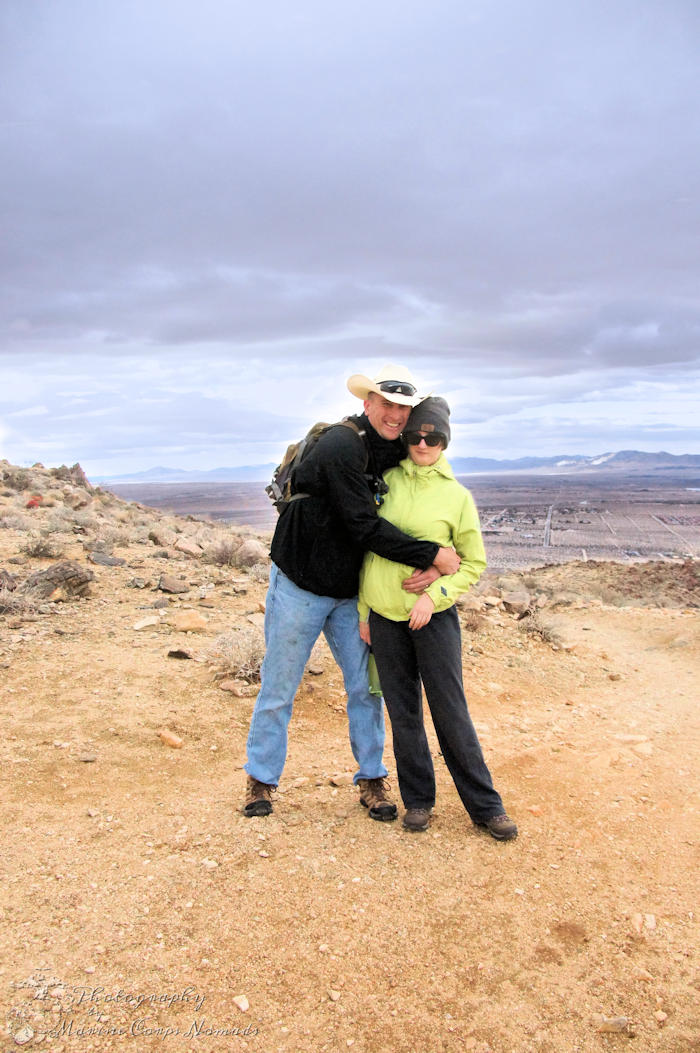 To be absolutely truthful, neither Munchkin nor I really knew what we were in for when we hit the trail. It was a little later in the day, and we were both feeling tired. The trail has a crazy 300-foot uphill climb – both ways. Yep, you read that right – both ways. Remember that story told to us by the older generation about walking to school uphill both ways, well, it turns out that it can really happen depending on your location.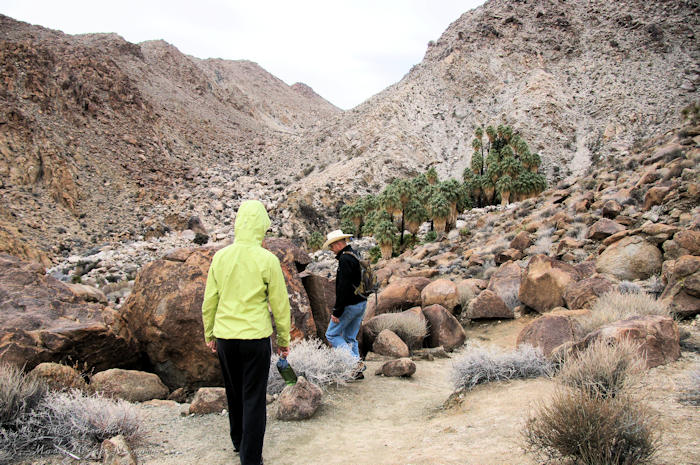 It was cloudy when we started the hike, but it wasn't raining. The further we moved along the trail, the more we realized that there was a good chance that we were in for some rain on the trail. The wind started to pick up and a chill filled the air.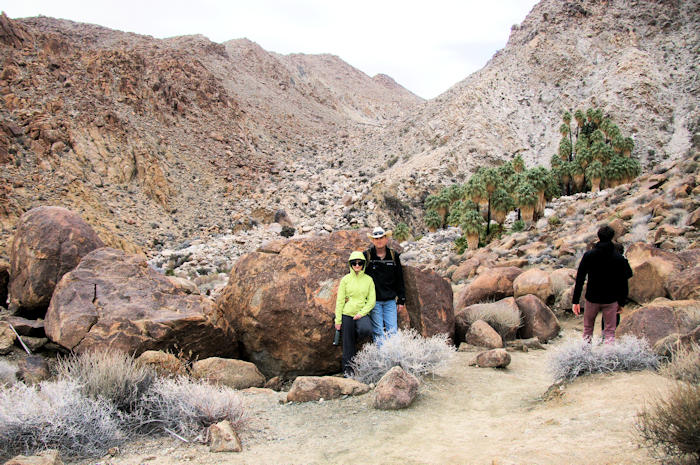 I was wishing that I had remembered to bring something to wear over my ears as they were aching. Munchkin quickly swapped out her ball cap for a knit cap to cover her ears. Even D started to tuck his hands in his pockets, but we were dedicated to completing our journey to the oasis.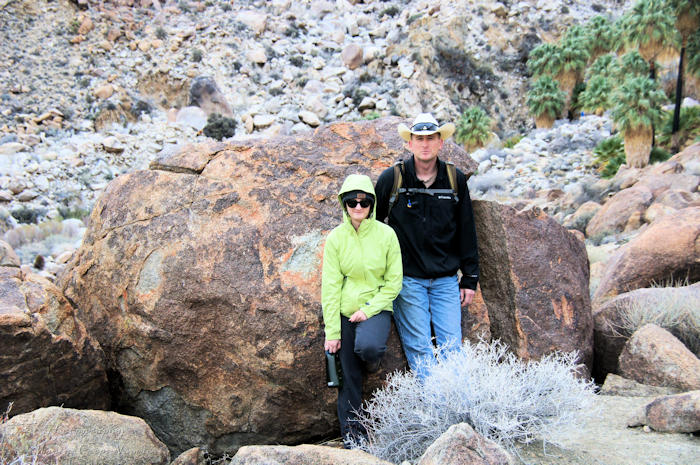 My short little legs were not liking the rocking steps. They were rather tall which lead to some rather sore thighs. Munchkin and D, with their long legs, were normally a good distance ahead of me. Of course, it didn't help my cause that I enjoy taking pictures along the way. Needless to say, between my short legs and my photography, I fell way behind more than once.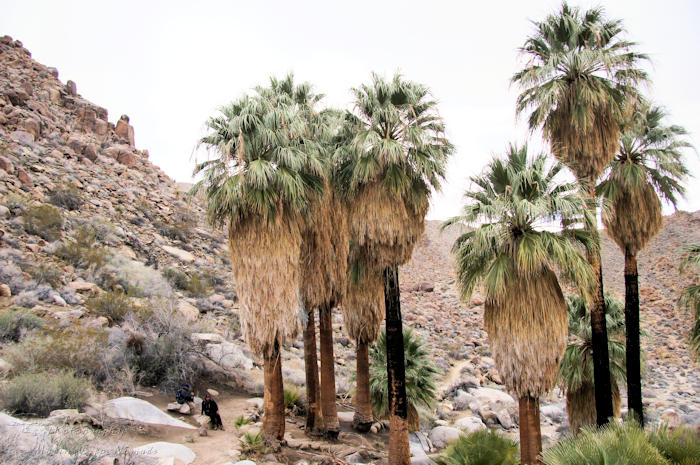 We were glad to see the palm trees in the distance as it's easier to keep trekking when you can see your destination even if there is still a good bit of hiking ahead. I found myself getting passed by faster hikers on a regular basis, but I was enjoying the journey.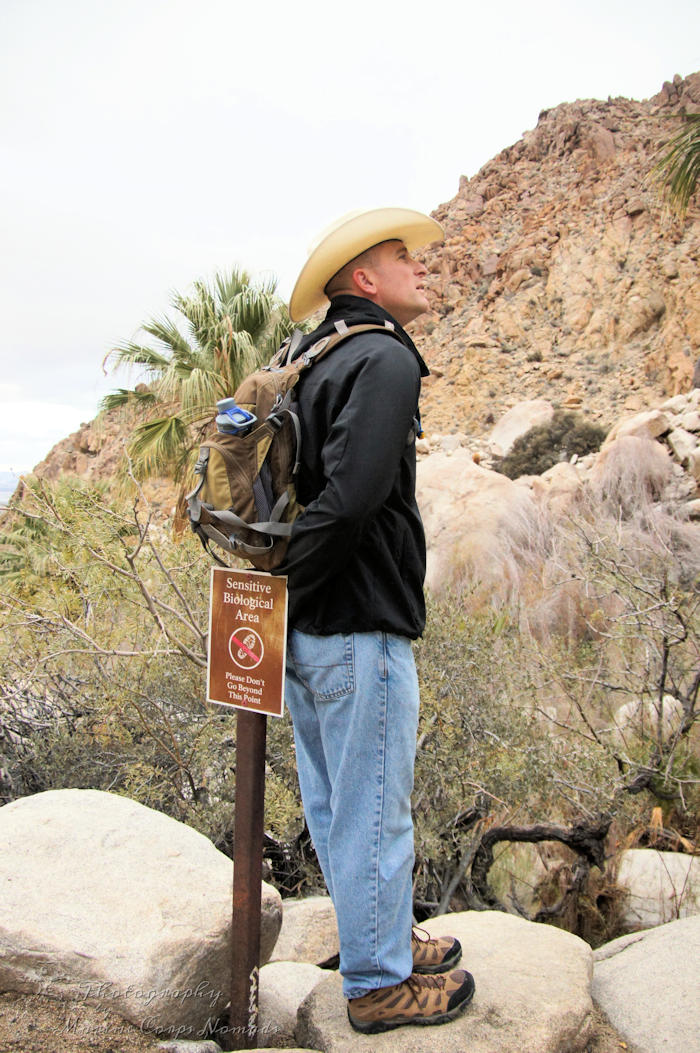 When we arrived at the oasis, the rain started to fall. Nothing major. Just a few sprinkles where we were located. The wind died down, and the clouds settled in over our heads. It didn't matter. We had made it to our destination. The beautiful oasis in the middle of the barren, rocky desert landscape.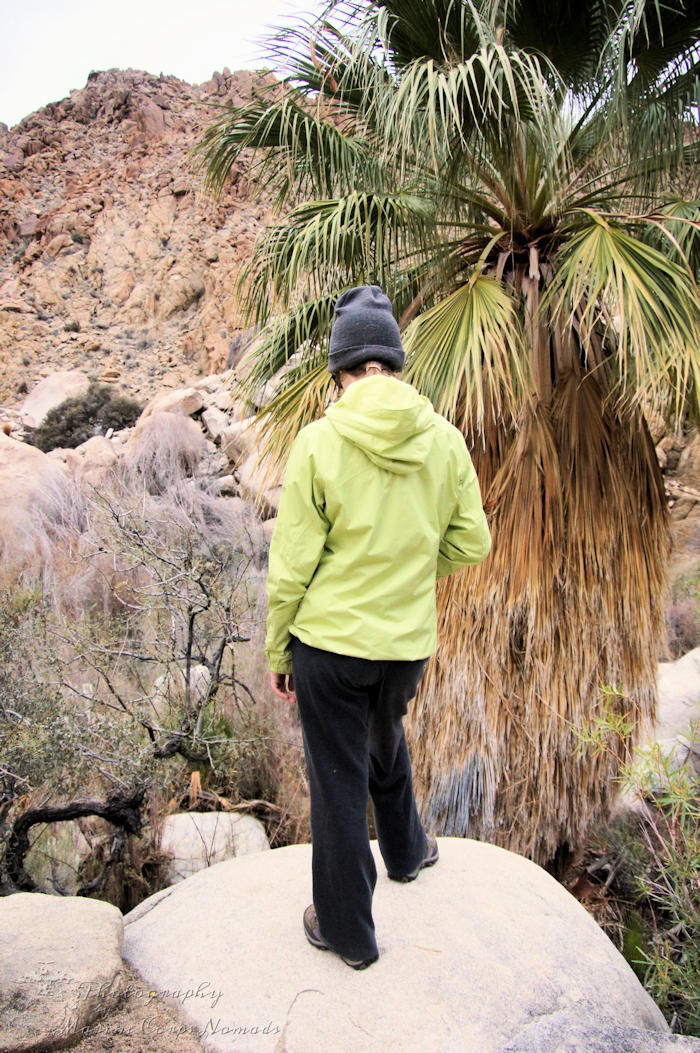 We could hear the water below us, but we couldn't see it. It took some exploration to follow the water that traveled beneath the rocks and boulders to a natural pool down below. We took time for a brief snack before making our way back up the trail.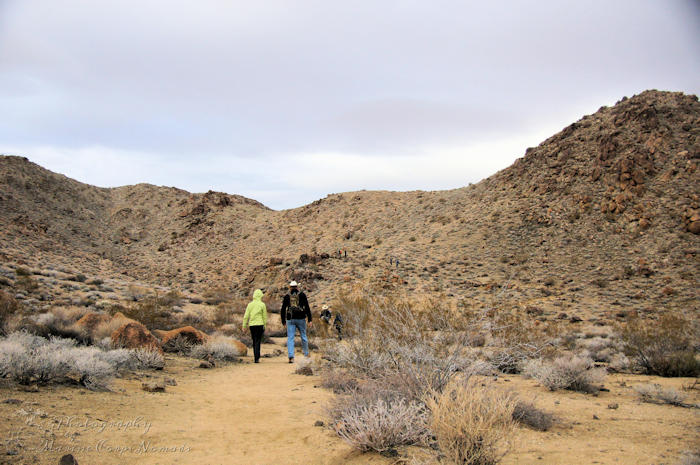 It's rather odd to know that your hike back is going to be crazy and uphill when your journey to the oasis was crazy and uphill. It doesn't normally work that way on these basic hikes.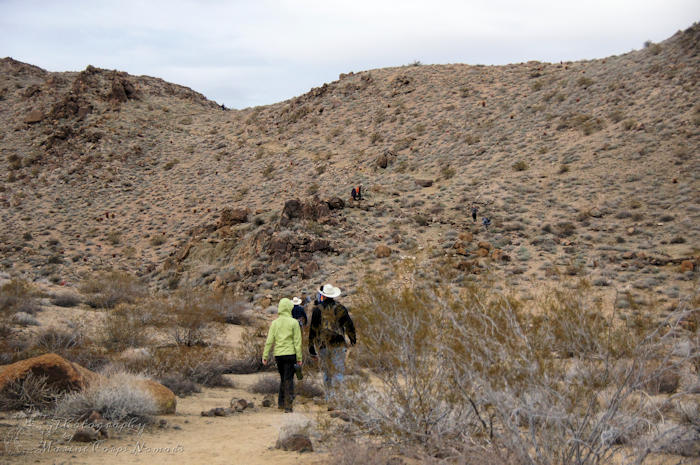 I now understand why there have been fatalities on this trail when hiked in the summer. There's no shade, and you need to bring plenty of water to stay hydrated while hiking even in the winter months.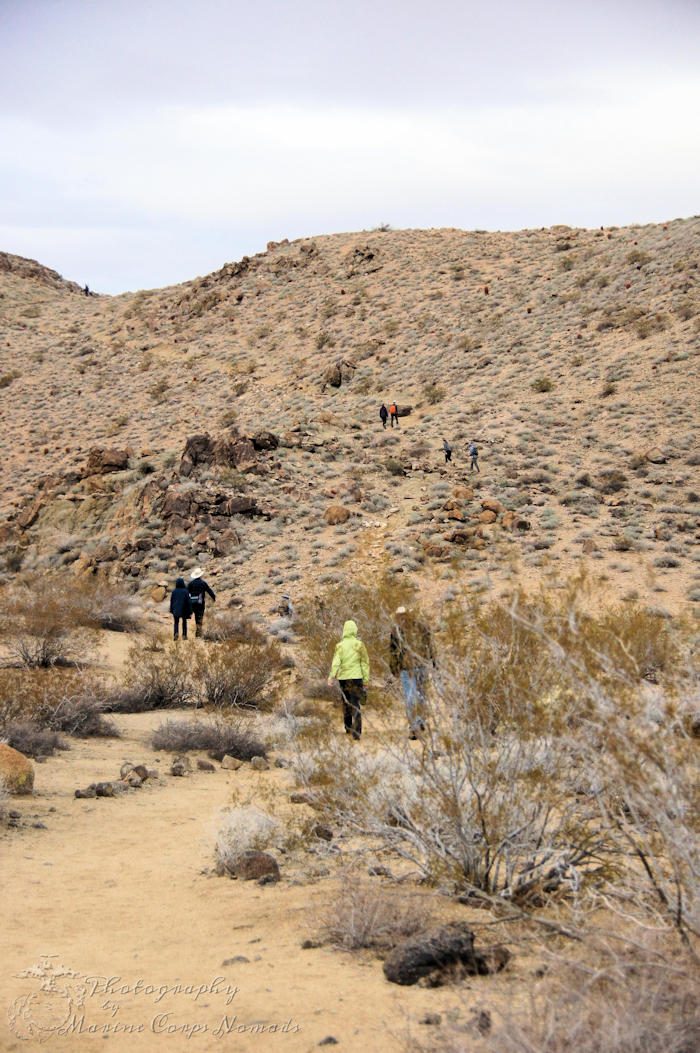 Due to the rain and the time of day, there were a lot of hikers on the trail back to the parking area. Even though there were quite a few hikers, it never felt crowded. It was interesting to see hikers of all ages from little toddlers to senior citizens on the trail. There were groups, families, couples, and individuals all enjoying the beauty of the desert. One guy was on his way back to the oasis as we were on our way out. He was carrying his motorcycle helmet in one hand and a guitar in the other. I could imagine him relaxing under the palm trees and strumming his guitar.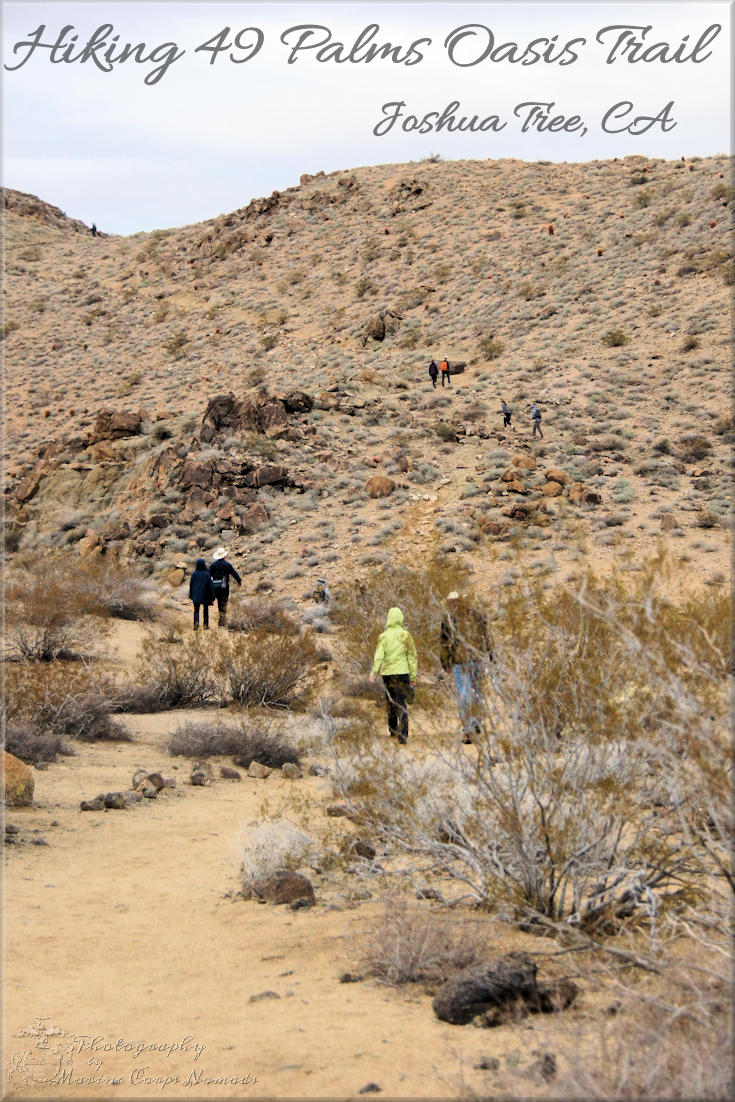 49 Palms Oasis Trail is one of the many day hikes in Joshua Tree National Park.
49 Palms Oasis Trail Facts
The hike on the 49 Palms Oasis Trail is between 3 and 3.5 miles round trip from the parking lot. Your distance will vary based upon how much exploring you do when you arrive at the oasis.
The elevation change is around 300 feet – both ways.
The rocky trail goes up and down. It has rock steps in some areas. You'll go over a variety of terrains during the hike.
The hike is considered a moderately-strenuous hike.
The trail is open year around, but hikers need to be aware of the weather conditions for their own safety. It gets very hot in the summer months, and the trail does not have shade until you arrive at the oasis. The trail may be closed if weather conditions are too severe.
Dogs are not allowed on the trail.
Depending on your pace, the hike will take between 2 and 3 hours round trip.
The trail closes at sunset and opens at sunrise.
The 49 Palms Oasis Trail was our second hike in the 2017 52 Hike Challenge. We'd love to have you follow us on our year-long hiking adventure.