This post is part of the Conspiracy of Silence Tour of Duty. I received an advanced copy of the book from the publisher. This post may contain affiliate links.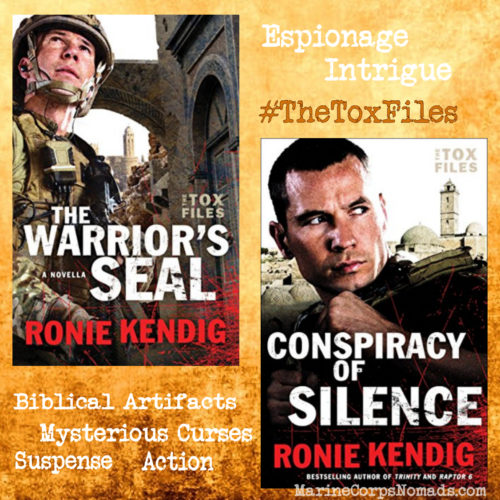 If you haven't read the free intro to The Tox Files – The Warrior's Seal, you need to go pick it up on Amazon. It's a kindle novella that you can read on any device, so there is no excuse not to be spun up on the team before you dive into Conspiracy of Silence. Fair warning, once you start reading, you will not want to put the books down. I got sucked in and ended up getting a little less sleep than I should have with both of these books.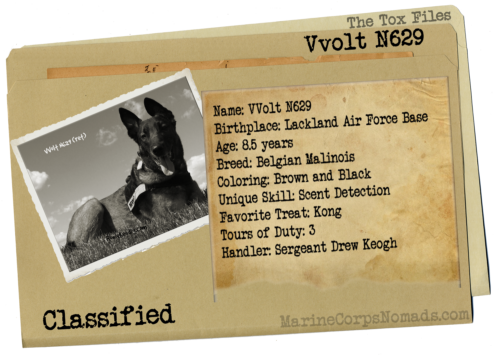 Fictional Vvolt Character Spotlight
Name: Vvolt N629
Birthplace: Lackland Air Force Base
Breed: Belgian Malinois
Age: 8.5
Coloring: Brown and Black
Unique Skill: Scent Detection
Favorite Treat: Kong
Tours of Duty: 3
Handler: Sergeant Drew Keogh
Vvolt, the military working dog featured in The Tox Files, was based upon the real life Vvolt. For those who don't know, it's pronounced Volt not vee-volt. Vvolt adopted Ronie and her family as his forever family once he retired from active duty. Special thanks to Ronie and Vvolt for taking the time out of their busy lives to do this interview.

Vvolt Interview
1. What kind of training did you go through to prepare you for your job as a military working dog?
My training started when I was just a little pup. I was with a foster family that would take me out to all different kinds of places for socialization. I learned the world was a fun place to explore full of people that loved me.
My foster parents taught me to be bold and courageous, and that if I was unsure of something I could count on my handler for guidance.
Once at boot camp, I learned to recognize odors my handlers wanted me to find and how to best search for them. I also learned how to look big & scary & bark in a deep, loud bark to intimidate bad people. I also learned how to protect my handler from harm & to trust him to do the same for me.
2. What would you say was the most difficult part of the training? Were there certain aspects of the training that were more difficult for you than others?
The hardest part of training was the shock of going from living in a home with my foster family to going to live in the DoD kennels at 7 months old, when I went off to "puppy boot camp." I no longer had my nice comfy couch to laze around on. I was in a kennel with hundreds of other dogs around me and was expected to start training with a new handler. This makes or breaks many dogs. Some cannot adjust and just want to go back home to their family and won't work for the trainers.
3. When did you first get assigned your handler? Did you connect right away?
I went to my first duty station around 2 years of age & was paired with my 1st handler then. In puppy school & DTS I had a couple of different trainers during the time. Despite what is seen in a lot of movies, a working dog often has more than one handler. Most military working dogs aren't assigned to one handler forever. Even after my deployment, I had a couple of handlers.
4. What is the hardest thing about working in country?
**Classified**
5. Did you have a hard time adjusting to being back home when you returned from your deployment?
I did one tour overseas, but then I spent the next couple of years as a training dog for handlers at my base in Florida, so that wasn't too bad, though I worked hard training and tearing up bite sleeves. My last handler said I was "a lot of dog," and I think that was a great compliment!
6. What's your favorite thing to do in your down time?
I love swimming, but there aren't a lot of places around here for to me to dive in. Next to that, I love playing Keep Away with the Kong. Mostly, I dare my family to get my Kong before I can bite their hands off. Just kidding. Mostly.
7. Is there anything else that you'd like to add…
Mom might not appreciate me saying this, but I accept all donations of bully sticks and Kongs. #truestory #noshame #servedmytime
Also – we are thankful to Lora Harrist, a foster mom with the DoD Foster Puppy Program, for helping VVolt remember the details when he was more interested in sharpening his razor-sharp teeth and going a million miles an hour.
Connect with Ronie and Vvolt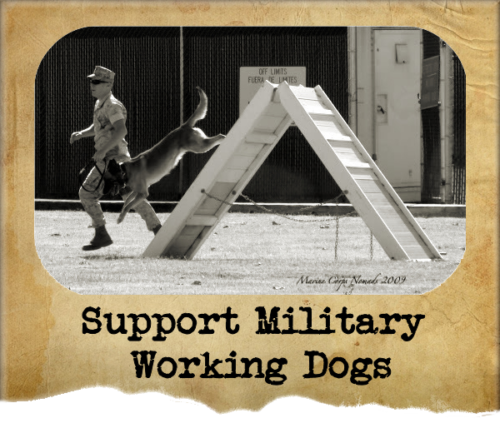 Military Working Dogs
A wonderful organization that supports retired military working dogs is Combat Canines: The DDoc Foundation, and their namesake is DDoc L258 (ret). This foundation gives back through financial aid, transportation, education, and adoption. The DDoc Foundation has helped my adoptive mom with some of my bills, too. They are a wonderful, reputable non-profit.
ALLK9Stuff shows support to K9 Teams and supporters. They make some great products, and some of their profits go back into supporting K9 teams/ supporters.
Side note: If you love reading about military working dogs and their handlers, you won't want to miss out on the Breed Apart Trilogy by Ronie.