This post contains affiliate links. I purchased this slackline kit at a discount to provide feedback based upon my family's experience with it.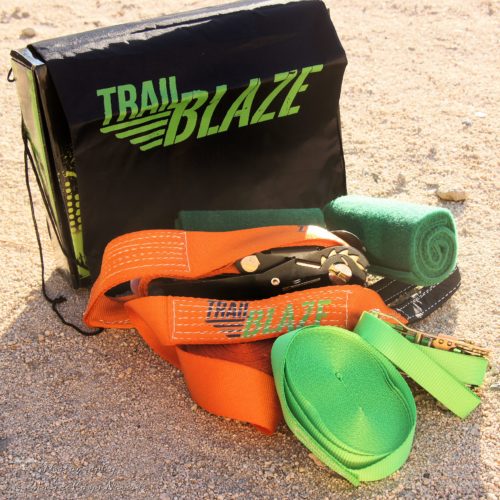 Do you remember when you were little and you tried to balance on anything and everything? Most kids start out balancing on things close to the ground and then work their way up to higher things. Munchkin loved trying to balance on a variety of things when we went for walks or to the park. As she got older, she liked to try to walk (with assistance) on rails and short fences. Balance beams at gymnastics were part of her regular routine.
Like many kids before her, the appeal of trying to balance on anything and everything seemed to pass with time. She moved on to other things until she started to get involved in other activities that required her to have good balance. Then, once again, balancing became part of her life again.
When Daddy got involved in climbing, we got introduced to the idea of slacklines. Slacklines are all about balance. Slacklines are generally placed close to the ground, so it's a very safe activity. (Yes, there are some people that do some pretty extreme and crazy things with slacklines, but I'm not talking about that.) It's not only a great way to work on balance, but also great exercise. It strengthens the core muscles. It's also great for helping with flexibility in the foot and ankle.
We were recently given the opportunity to test out a TrailBlaze Slackline with training line. It's a kit that includes:
49 ft. Slackline with Ratchet
49 ft. Training Line with Ratchet
Tree Protectors
Carrying Bag
Setup and Use Guide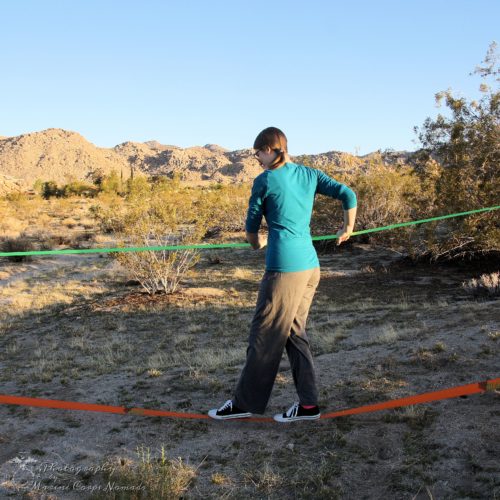 This setup is designed for one person (331 lbs. max) to use at a time. The minimum recommended height is 20 inches from the ground. Your tree or pole should be a minimum of 39 inches in circumference. The instructions give thorough, step-by-step instructions with pictures. It's important to closely follow the instructions for safety reasons.
All parts of the slackline are well-made and heavy-duty. The slackline is 2 inches wide. The training line is 1 inch wide. I really like that this kit no only came with a training line but also with tree protectors, so it really is everything you need to get started. It's also nice that the slacklines come with a 12 month guarantee.
Slacklining is fun, but man is it hard. I'm so grateful for the training line because there is no way we'd be able to do it without it at this point in time. A lot of the people that we've watched do slacklining make it look so easy. I can definitely see why it strengthens your core. Whew! What a workout! 🙂