This post contains amazon affiliate links. Some items were purchased at a discount from the company in exchange for feedback about the product. These items will be marked with an asterisk.
Last week, Munchkin started her college career at a local community college, but next year, it looks like she's going to be heading off to college. She has a school in mind which means that she needs to take a tour of the campus and see if it's the place for her. Somehow, she's going to need to balance her new classes here while going across country to check out the school. It will be an adventure.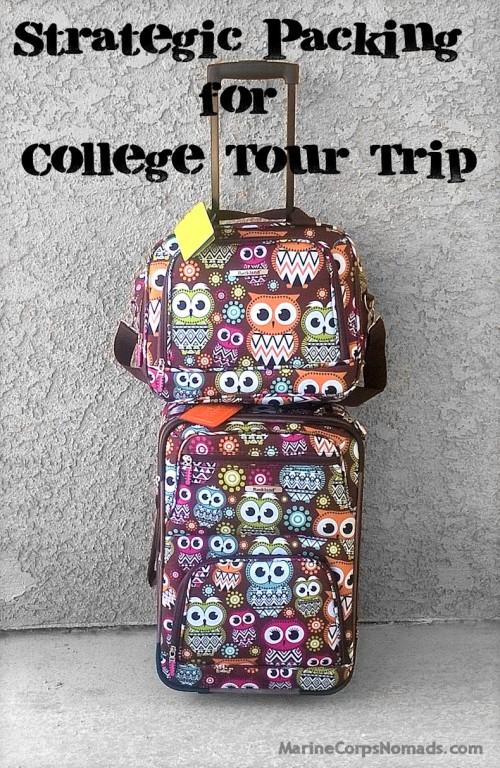 In preparation for the upcoming trip, we've starting putting together the various items that she'll need. Since the airlines have changed some of their policies for carry-on luggage, we ended up needing to purchase her a new carry-on bag. We're trying to fit all her clothing and what not into her carry-on luggage, so we don't need to pay to check any luggage. She ended up picking out this adorable owl pattern luggage from Rockland. Unfortunately, her laptop doesn't fit in the smaller bag, so she still needs to figure out what she's going to use for her laptop bag.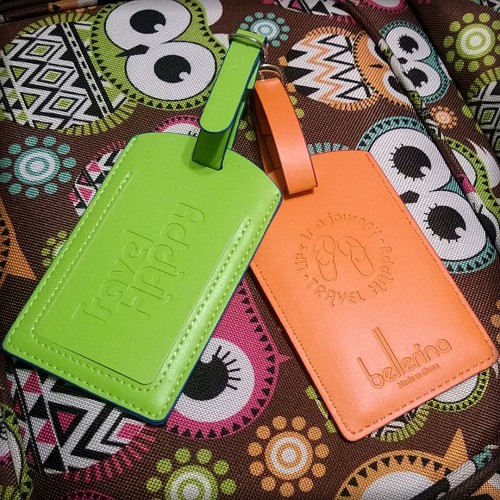 The luggage tags* from Bellerina are a fun way to make her luggage stand out. Let's hope that, as these vibrant synthetic leather tags say, Munchkin will be able to travel happy. I had to smile as I saw the little saying on the luggage tag – "Life is a Journey" – as that is definitely how we view life.
Travel Tip: Secure your luggage tags with coordinating zip ties to make them more secure on the luggage.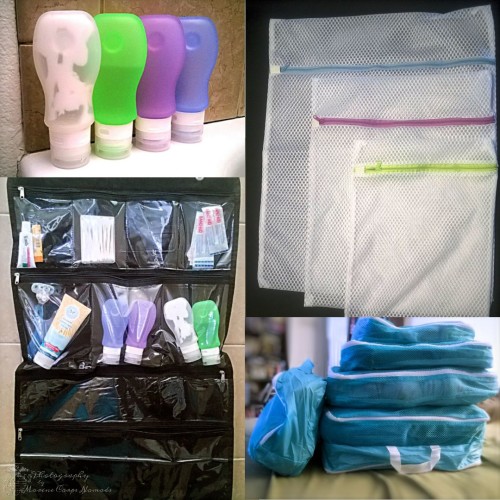 Since we're doing the carry-on only thing, we need to be more aware of what is being packed and how it is being packed. Some serious strategic packing is required. I found these travel cubes* to organize her carry-on bag. By rolling most of her clothes, I'm able to fit a weeks worth of clothes in these cubes which then fit nicely in her carry-on. The shoe bag helps keep her clothes clean.
Travel Tip: Rolling clothes is a great way to save space in luggage. If done carefully, it can also cut down on wrinkles in the clothes.
I don't know about you, but I hate having to sort and do all the laundry after a trip. While there is no way to get around having to do laundry after the trip, the zippered laundry bags* will at least make doing laundry much easier upon arrival at home as the laundry will be sorted ahead of time and kept neatly contained in the luggage. It will just be a matter of tossing the dirty laundry in the machine upon arrival at home.
Of course, since we're going the carry-on route, we needed to make sure that all of the liquids in her luggage met the airline guidelines of not more than 3.4 oz per container. These silicone containers* are a lot nicer than the cheaper plastic containers. They're easier to fill and use. All of the clear, zippered pockets on this travel organizer* makes it easy to keep toiletries organized and easily accessible.
I think we have everything set up and ready, but there always seems to be last minute stuff that we forget. Do you have any travel tips for strategic packing?