Special thanks to L&Z Inc. for providing a sample of the tencel sheets.
We've in countdown mode until our guests arrive for Munchkin's open house. It's been a long time since we've had the opportunity to have this many family members visit at the same time. To say we're excited is huge understatement. It will be a blast getting to see everyone, spend time with them, and have them here for this special occasion.
While we're thrilled that they are all coming, it does involve a little more planning when you have multiple families come at the same time. You need to think about food and sleeping arrangements. Because we have food restrictions due to needing to be gluten free, the food situation is the thing that I tend to focus on first. After making sure there aren't any dietary restrictions, I start thinking about making sure our guests are comfortable and feel welcome.
Given that we're a little family of 3 (plus a bunch of animals), I don't have a lot of extra towels and bedding around the house, so I started looking at the different options that are available that we would still be able to use even after we have said our sad goodbyes to our guests, our family. Knowing that it's probably going to be warmer around the time of Munchkin's graduation, I wanted to make sure the bedding wasn't too hot and felt comfortable for everyone involved.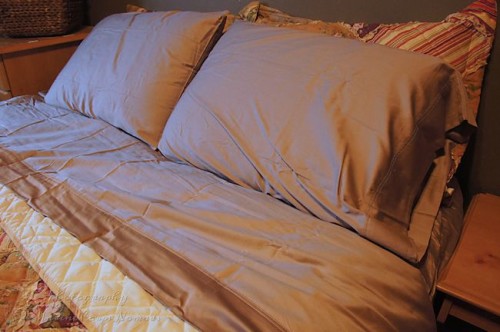 Normally, we use jersey knit sheets as they are soft and cool during the summer months, but I had the opportunity to try out some tencel sheets. In case you're not familiar with tencel (I wasn't prior to this), it is a biodegradable material made from wood pulp cellulose that is fully biodegradable and made from trees managed for sustained harvest. It's surprisingly soft and comfortable against the skin. It has an almost satin feel without the slipperiness that can come with satin sheets.
The fitted sheet has a very deep pocket, so it can accommodate a thick mattress. We actually have a little extra sheet due to this particular mattress not being quite as thick. We could easily add a nice thick mattress pad as well as a mattress protector with no issue at all. The flat sheet is also oversized, so you have plenty of sheet which is a nice feature. (I hate it when you have too little sheet during the night.) The pillow cases feel soft and comfortable against the skin.
I was impressed with the softness, style, and quality of this sheet set. I'm looking forward to being able to offer these comfortable sheets to our guests.